Fresh chatter suggests Rio may gazump Wesfarmers in battle for Kidman
---
Lithium stocks have been knocked down of late. But big car makers are forecasting huge increases in EV sales in the medium term, which may help explain why there is more talk that Rio could gazump Wesfarmers in the battle for Kidman and partly why Liontown shares are on a tear – and tipped to rise further.
It is wrong to think that it has been a case of total gloom and doom for lithium equities since January.
The sector is down by 50%-plus on fears of over-supply well in to the 2020s and operational shortcomings at the newer operations.
It has not mattered that one by one, the world's biggest auto groups have been pinning their futures to the electric vehicle revolution.
In a global market in which two million EV units were sold last year, VW reckons it will do five million units itself in 2025. Same with Toyota, and others have been chiming in.
The battery makers will be gearing up for the wall of demand heading their way years before 2025, so the broad expectation is that the lithium sector will come out of the trough around 2021/2022.
That's light years away for equity markets, hence the pain being felt in the sector right now.
But as mentioned, it's not all gloom and doom. The two examples offered up today are Kidman (KDR) and Liontown (LTR):
Kidman:
John Pizzey and his crew at Kidman, the 50:50 partner with Chilean lithium king SQM in the Mount Holland lithium project in WA, deserve some kind of award for securing a takeover bid at a 47% premium from Wesfarmers (WES) back on May 23.
While it might be fun to point out that Wesfarmers got the timing wrong, the fact that Kidman continues to trade at or near the $1.90 a share ($776m) agreed offer price suggests the market continues to think there is a chance Wesfarmers might yet face some competition.
If that weren't the case, Kidman would consistently trade at a much bigger time-value-of-money and brokerage discount to the $1.90 a share offer.
An independent expert's report and scheme booklet for the takeover is due in early August and will be followed by a meeting for shareholder approval in September.
If there is a group out there thinking about taking on Wesfarmers – and it is a very big if – the standard advice would be to keep their powder dry until after the early August release of the scheme documents and before the shareholder early September shareholders' meeting.
Now your columnist has written before (MiningNews.net, May 8) that if Wesfarmers is to get some competition, it could well come from none other than Rio Tinto.
Rio knows lithium well thanks to its long-dated development option at its Jadar lithium-borate project in Serbia. But it is deep and comes with the complication of having boron as part of the mix.
Developing Mt Holland's high grade and near-surface spodumene and processing it in to the battery industry's preferred lithium hydroxide at a new refinery to be built at Kwinana with SQM's expertise on hand stands as an easier option.
Rio was also widely reported to have been the under-bidder in last year's sale by Canadian fertiliser company Nutrien of a 24% stake in SQM to China's Tianqi Lithium for US$4.06 billion. And it is known to have all the info it wanted from the Kidman data room before it was closed due to the agreed bid by Wesfarmers.
So it wants into the lithium industry.
It's just a matter of whether Jadar will do, or whether it is better to partner up with SQM in the integrated model that Mount Holland will underpin.
Having said that, whether Wesfarmers gets some competition does not really matter. The bigger point here is that while lithium equity values have been widely smashed, there are some big games being played out in the sector.
It is what should be expected because the metals required for the EV revolution, and the battery storage of renewable energy, is a massively disruptive event, forcing miners and others to ask themselves if they want to be part of it.
Liontown:
Those same forces could well be a factor in the stellar run of Tim Goyder's 18 per cent-owned Liontown (LTR).
Mentioned here in January when it was a 2.4c stock, Liontown has swum against the tide in the lithium space to trade yesterday at 14c for a market cap of $213m.
It has obviously made a clear break from the lithium wannabes that are struggling for market attention.
The reasons for that are simple enough.
Since January, Liontown has confirmed its Kathleen Valley project alongside the Goldfields Highway near the well-serviced nickel and gold mining hub of Leinster in WA as the lead candidate in WA's second wave of lithium mines.
Above average grades, access to infrastructure and the recent addition of scale to the project with an updated resource estimate of 75Mt, also means Kathleen Valley becomes a project of interest to all of the players along the battery supply chain.
Those are all points likely to be raised on an investor roadshow in the Eastern States next week led by CEO David Richards, a seasoned geologist who has parlayed his success as a gold explorer over the years into success in lithium.
The roadshow is being squired by Bridge Street Capital Partners, the company's corporate advisors. Bridge's veteran analyst and former fund manager Chris Baker has just penned a note on Liontown in which the valuation was increased from 11c to 22c.
While it was in the wake of the massive resource upgrade at Kathleen Valley, Baker said the increase was based on changes to financing assumptions. He also noted that Wesfarmers' bid for Kidman was supportive of the 22c valuation.
---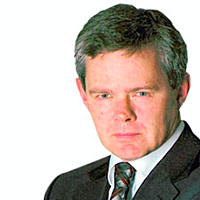 Principal
Independent Journalist
One of Australia's leading business journalists, Barry FitzGerald, highlights the issues, opportunities and challenges for small and mid-cap resources stocks, and most recently penned his column for The Australian newspaper.
Expertise