From Bondi to Badgerys: A Tour of Sydney residential property
---
This week I attended a tour of Sydney residential projects stretching from Bondi to Badgerys Creek. The Moreton project at Bondi highlights everything that is great about Mirvac's residential business. Firstly to gain control of the site in Bondi, and secondly the quality of the product. Mirvac launched this project in March 2015 with ~70 of the 191 apartments selling to repeat Mirvac customers. Ten customers bought multiple apartments with one buying four to house the whole family! The average sales rate was $17.3k/m2 with an average apartment price of $1.3m. The top price was the penthouse for $3.8m and the cheapest was a 45m2 one bedroom apartment with no carspace for $750k = $16.7k/m2. There's been a few resales at ~10–15% higher than what they paid 18 months ago.
Green Square / Zetland
An area that used to house an old incinerator, a police dump and a council depot is being transformed into 1900 apartments. It's only a few km's to the CBD, the airport, the beach and the universities = ticks all the boxes.
When Mirvac started their first development here (Ebsworth), they recognised that whilst it was a great location, the first residents would be living in a construction for quite a while and thus they adjusted their price expectations down. They sold 174 apartments around Nov-14 at an average price of $11.2k/m2 which compares to an estimated price of $15k/m2 today (+34%). They've subsequently pre-sold an additional 310 apartments with construction works commencing on those. The quality of the completed product was better than I had expected, with many repeat customers thanks to the Mirvac brand. Some competing developers only intention is to maximise each projects profits with little regard for their long term brand. Mixed use developments will be a feature of Mirvac's developments going forward and Ebsworth features a soon to be opened supermarket on ground floor.
Darling Square
Lend Lease (LLC) is helping to shape an often overlooked part of the cities edge in Haymarket (near the old entertainment centre). The project includes a low rise campus style office building for the CBA, plus a family and leisure precinct. LLC will develop six apartment buildings housing ~1100 units that have all been pre-sold between 2014 to 2016. We understand that the first release of Darling Square was pre-sold at ~$16.5k/m2. The focal point for the precinct will be a community and lifestyle building that will be the new home of the City of Sydney's library, an innovation exchange, a child care centre, open air retail at ground level and the bar on level 6. The design by Japanese-based Kengo Kuma Architects (KKA) includes a wooden screen wrapping the exterior, that's already being referred to as a birds nest, a meringue, and a slinky. Where's the respect for the arts?
One Sydney Harbour
The final stage for LLC at Barangaroo South is their prestigious One Sydney Harbour project. One Sydney Harbour will consist of three Renzo-Piano designed buildings positioned next to the Crown Casino Tower. Five and six-bedroom penthouses cap off each of the three towers reaching 71, 59 and 29 storeys. The 775 apartments aren't expected to be completed until 2023 so it's a balance between trying to capture the current strength in the market and not going too early given we're six years away from completion. We were lucky enough to gain early access to their VIP sales suite and after being sworn to secrecy, all I can say is that's very impressive. While it's very early days, using other projects sales rates it is expected that the sales rates will average ~$35k/m2 across all three towers with the higher offerings set to exceed $45k/m2.
Willowdale (Leppington)
We then took a drive out to the western regions of Sydney, visiting two sites north and south of the proposed Badgerys Creek airport. Both are controlled by Stockland.
Willowdale is a 350ha site which is ~50kms south-west of the Sydney CBD in Leppington. It will eventually incorporate >3000 residential lots, a retirement village, primary school, retail centre and extensive open space. The target market is first home buyers (FHB) and they account for ~40% of sales. There's already over 900 occupied dwellings with the first settlements having occurred in FY14. A 450m2 lot now sells for $473k per lot, up ~70% from the $280k at project launch in 2013. Demand for recent releases remains strong with prospective buyers camping overnight in front of the sales office to secure a lot. The sales rep suggested that a large number of initial purchasers had taken advantage of the growth and sold, only to repurchase in other parts of the estate. You can get a four bedder house on a 250m2 block for $620k. Current house and land packages were advertised as follows in Dec 2016:
Elara (Marsden Park)
The 230ha site is located ~50kms north west of the Sydney CBD and will eventually include >2500 dwellings and ~230 medium density dwellings. Stockland acquired the site in 2012, rezoned it in 2013 and settled their first lots in 2015. They have developed ~1300 lots already with ~50% price movement being recorded since the sales in 2014. A house and land package costs $665k for a three bedder on a 280m2 block.
After visiting both Brisbane and Sydney's residential sites in the past few weeks, it's clear that while Sydney's supply is high, it's relative to their larger population and thus a lower % of the existing stock. It's also well spread across the metropolitan region, whereas Brisbane has a large amount of supply relative to stock and largely focussed upon the CBD markets.
---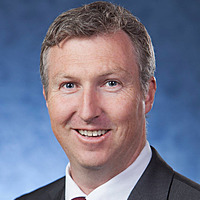 Pat Barrett has twenty five years experience in the listed and direct property industries, most recently covering property securities, infrastructure and utilities analysis at UBS.
Expertise