From Wesfarmers to Porsche and Pilbara, the big boys are positioning for EV-lithium market to turn
---
Spare a thought for Wesfarmers' boss Robb Scott.
To the surprise of no one, shareholders in Scott's $776 million lithium takeover target, Kidman Resources, voted overwhelming yesterday to accept the $1.90-a-share bid Scott lobbed back on May 2.
It really was a case of "as well they might". The ASX lithium sector has been beaten up badly since the bid was announced.
Using the WA spodumene producers as a proxy – the brine producers and developers have performed better – it could be argued that Wesfarmers' has over-paid by 40%, or some $315m, including the original 47% premium in the bid.
Remarkably, there were 154 Kidman shareholders holding 12.02m shares, or 5.35%, of the shares that were voted who reckoned $1.90 a share was not good enough. Given what has transpired in the lithium market since May 1, they were dreamin'.
Scott has, naturally enough, kept up a brave face, telling analysts at Wesfarmers' recent profit briefing that the acquisition was about the long term and that "nothing has happened in the market in the last few months that we did not anticipate, so still excited about the opportunity".
He repeated that the Kidman acquisition was all about parlaying Wesfarmers' chemical expertise to take a position up the value-added lithium-ion battery supply chain, rather than merely being a spodumene producer.
Given what has transpired since early May, Scott might be wishing he had taken an alternate route and simply secured some offtake agreements in the currently over-supplied spodumene market to feed the chemical ambition.
However, that would have meant flying solo without the security of having Chile's lithium king SQM on board through its 50:50 partnership with Kidman in the integrated but yet-to-be built Mt Holland project.
All that is of course said with a big dose of hindsight.
To cheer Scott up, and bolster the argument that paying too much now for an entry into the lithium business is no big deal because everything will be right in the end, it's worth pointing to two greenshoot-type events this week from Porsche and Pilbara Minerals (PLS).
Porsche
Porsche served up a big reminder this week that the battery electrification of the world's car fleet (along with the demand for lithium and the other battery materials) is a truly momentous event.
Launching its first all-electric vehicles – the Taycan Turbo S and the Taycan Turbo for $US185,000 and $US150,000 respectively - Porsche said that by 2025, more than 50% of all of its vehicles will come with a plug.
At the Niagara Fall launch, the head of Porsche's North America unit, Klaus Zellmer, said the automotive industry would "see more change in the next five years than we have in the past 50".
"The future is electric, whether you want it or not," Zellmer said.
All that is being repeated across the industry and it's why the current over-supply and price pressure on the lithium chemicals that go into the batteries, and the precursor spodumene produced in WA, is not locked in forever.
Apart from what is coming from the gathering pace of the electric vehicle revolution, the lithium producers have been cutting their cloth, with Canaccord Genuity saying that pullbacks, project cancellations and the odd mine closure has resulted in a "material" scaling back of its supply expectations.
It has removed about 200,000t of probable lithium carbonate equivalent from its supply expectations out to 2022, and it reckons that much more favourable markets conditions will begin to emerge in 2020-2021.
Canaccord nevertheless cut its spodumene concentrate price expectations by an average of 17% out to 2023 to an average of $US530/t (its long-term price is $US700t, and it has actually lifted its hydroxide price by 25% because of convertor capacity reductions).
From that can be taken that the WA spodumene producers need to protect margins by getting costs down, as well chasing downstream conversion opportunities where the value-add delivers higher margins.
Pilbara Minerals (PLS)
Wesfarmers can also take heart from Pilbara Minerals' successful $91.5m placement this week, which included the entry of China's biggest lithium-ion battery maker CATL on to Pilbara's share register as an 8.5% shareholder.
The placement at 30c a share – it is being followed up with a $20m share purchase plan – resolves the liquidity issues Pilbara faced in the current lithium market doldrums as it works away at getting its Pilgangoora operation humming and advances its downstream processing ambitions.
Pilbara was a 60c stock back in early May so there has to be some anguish about having to raise the fresh funding at the placement price.
But the importance at the macro level from the entry of CATL – it put its hand up for $55m of placement – cannot be over stated.
As Credit Suisse noted (it now has a 60c price target on Pilbara), CATL accounts for more than 40% of the Chinese battery market but it is not a direct cathode producer i.e. it does not require direct supplies of spodumene.
"Its strategic investment appears more a move to gain insurance over future supply of this critical raw material (the move came after five months of due diligence)," Credit Suisse said.
"Unlike current investors, CATL is looking through the current market weakness, perhaps suggesting that its internal battery demand growth forecasts indicated a future spodumene or broader lithium shortfall."
Those comments go to the idea that while ASX values for lithium stocks have taken a big hit recently, there are more telling events occurring up and down the supply chain which point to better times ahead.
It is something Pilbara boss Ken Brinsden brought together nicely in his comments announcing the $111.5m capital raising:
"While there has been commentary talking down the current state of lithium markets, it has belied the significant interest we have continued to see from the strategic players in the lithium-ion supply chain and their focus on lithium raw material supply."
Hot Chili (HCH)
A diary entry suggests that Chilean copper explorer Hot Chili (HCH, trading at 3c for a market cap of $38m) is one to keep an eye on next week.
That's because latest exploration results from its recently optioned Cortadera copper-gold porphyry prospect are expected.
If the results are anything like the 750m hit reported in June/July grading 0.6% copper and 0.2g/t gold from 204m, including 188m grading 0.9% copper and 0.4g/t, then the market will have to take notice.
While the market has looked the other way since the June/July hit was reported, international copper groups on the lookout for a potential Tier 1 target (5 million tonnes of copper) have been busy acquainting themselves with the project.
As mentioned here in June, Hot Chili optioned up Cortadera in February with the family company of a Chilean billionaire.
Some $US15m had been spent on the property before Hot Chili's arrival but results from the 2011-2013 discovery of a swarm of copper-gold porphyries while it was in private hands had never seen the light of the day.
Hot Chili confirmed the potential with the June/July results, and has since moved on to a second phase drilling program that is all about confirming Cortadera should be thought about as an early stage Tier 1 in the making.
---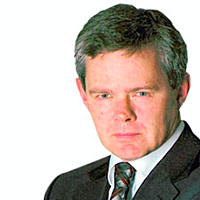 Principal
Independent Journalist
One of Australia's leading business journalists, Barry FitzGerald, highlights the issues, opportunities and challenges for small and mid-cap resources stocks, and most recently penned his column for The Australian newspaper.
Expertise