Galileo's soaring share price shows exploration success outweighs broader market woes every day
---
Plus, Chalice stablemate Minerals 260 hunting for a Julimar of its own.
The junior explorers have been down in the mouth of late as the big switch to risk-off in equity markets takes its toll on their share prices.
Given the on-going supportive backdrop of historically high commodity prices, the painful sell-off in the juniors has been something to behold.
But among the gloom, the explorers can be relied on to serve up a reminder every now and then that impressive exploration results will win out over broader market weakness each and every time.
There was a prime example of that during the week from Galileo (GAL), the junior explorer backed by renowned "prospector" Mark Creasy and lithium/nickel producer IGO.
It has notched up an impressive palladium -platinum discovery, of all things, next to the gold town of Norseman in WA, of all places.
The discovery hole at the Callisto prospect returned a 33m hit grading 2g/t 3E (palladium, platinum and gold) along with copper and nickel values from a depth of 144m.
Wednesday's announcement put a rocket under Galileo's share price, with the 20c stock closing 217% higher at 63.5c. Some profit taking in the four-year-old ASX stock on Thursday brought the price back to 49c for a still impressive gain of 145%.
Despite the share price retreat, enthusiasm for the find remains hot.
A lot of that has to do with veteran geologist Brad Underwood, Galileo's MD, who spent eight years as general manager of Creasy's privately funded exploration effort at Norseman and the Fraser Range before Galileo was listed.
He is a straight talker and has a way of distilling the story into something we can all understand, with all of the right "ifs and buts" that you would expect in an early-stage exploration success story. That came through on an investor webinar he hosted on Thursday morning.
Making the point that the hidden Callisto find – it starts at about 120m with no outcrop and is flat-lying – is no overnight success, Underwood said the company has had palladium and platinum sniffs over the past two years.
"But now they have been translated into a discovery," Underwood said. "We talk about it being a discovery because it is a mineralised system that looks to be capable of hosting economic grades of palladium and platinum.
"We've put down six drill holes (assays pending from five of the holes, with the hole assayed prioritised based because it was visually the more interesting) and we believe it is a genuine discovery.
"The next steps for us are to identify how big a resource exists at that location and all the other factors that go into a prospective mining operation.
"What is very important to understand though is the potential scale of these targets. We have over 5km of prospective strike length (identified from magnetics and aircore drilling). So potentially at least, it could be a significant find."
While there was discussion around comparisons with South Africa's fabled PGE deposits, and other remote sensing techniques that might be deployed at the find, Underwood was keeping things simple.
"We have got a discovery intersection," he said. "We have a fairly good idea which way it is running through the earth. We are high risk by nature being an exploration company, and we're just going to go out and drill (from mid-June)."
It was refreshing stuff, with the hit at Castillo itself giving the exploration sector a confidence boost just when one is needed.
Importantly, Galileo is well funded for the drilling push. At last count it had $8m in the till.
MINERALS 260 (MI6):
David Richards is another straight-talking veteran geologist best-known for his discovery of the Kathleen Valley lithium deposit which has made Liontown (LTR) the $2.76 billion lithium developer it is today.
A preference for kicking rocks rather the nuts and bolts of a mine development saw Richards switch over last year to Minerals 260 (MI6), the Liontown spin-off created to house its Julimar province copper-gold-PGE-nickel exploration interests.
Richards is MI6's MD and while the 50c shares in the $30m IPO last October are now back at 38c, he is as excited as he lets himself be about MI6's chances of making the next significant mineral discovery in the province following on from the trail-blazing Julimar PGE-nickel-copper discovery of the now $2b Chalice (CHN) in March 2020.
Liontown (now MI6) was actually taking up ground in the emerging province a couple of years ahead of Chalice's Julimar find, allowing it to pick up prime ground around the large Mt Yule magnetic anomaly about 95km north of Julimar before the pegging rush that followed Chalice's success.
Its early arrival and funding from the IPO meant MI6 was able to hit the ground running after its October float. Drilling to date has yielded three significant early-stage discoveries, with MI6 having $25m in the till to advance them further.
Richards reckons the cash balance is a major point of difference for the company given the likelihood that the current risk off environment will see the taps turned off for easy equity raisings by juniors to keep up the hunt.
And now that WA's COVID iron curtain has come down, Richards is planning to get out and about - including a speaking spot at Resources Rising Star's Gold Coast conference on June 7-8 - to make sure the significance of the company's three-from-three Mt Yule exploration drilling successes are not lost on the market.
The three-from-three (Mynt copper/gold, Zest copper/gold and Angepena (gold) sit in MI6's 100% owned Mt Yule ground.
At the Mynt prospect a 2km-plus long zone has been identified with a best result of 24m grading 1.9% copper and 0.7g/t gold. The mineralisation is associated with a strong geochemical anomaly with coincident geophysical features which suggest it is potentially a big system.
Zest is a bit different in that there is no geochemical anomaly and geophysical work was not possible because of likely interference from a nearby powerline. So it was drilled on a geological hunch. It didn't disappoint, returning hits up to 12m grading 1.4% copper and 2g/t gold.
Angepena was the first prospect tested post-listing. It has a 900m long zone of interest and returned a 43m hit grading 1.8g/t gold plus copper and cobalt values. The idea now is to get in and follow up with more drilling.
That is easier said than done in the wheatbelt where exploration generally goes into hibernation in the winter months so as not to clash with the sowing season. But by actually engaging with the farmers, MI6 is putting together a winter drilling program which means newsflow will remain strong.
Never miss an insight
If you're not an existing Livewire subscriber you can sign up to get free access to investment ideas and strategies from Australia's leading investors.
And you can follow my profile to stay up to date with other wires as they're published – don't forget to give them a "like".
---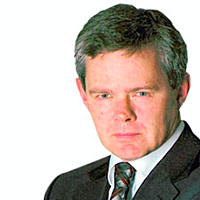 Principal
Independent Journalist
One of Australia's leading business journalists, Barry FitzGerald, highlights the issues, opportunities and challenges for small and mid-cap resources stocks, and most recently penned his column for The Australian newspaper.
Expertise