Give an aged bull market a chance
---
It seems a number of respected commentators have decided a bear market in equities is upon us. Perhaps this is so, but for now, this house is going to give the aged bull market the benefit of the doubt. We explain our reasoning here, and outline 3 new stocks we have taken positions in.
The history of secular bull markets highlights that year 9 in the advance is frequently problematic for investors, via heightened volatility, ahead of a resumption of the primary trend. The 2018 episode resulted in a US stockmarket valuation reset of ~ 3 PE points, reputedly the 3rd most aggressive in 40 years. A PE rating of ~15.8 x better reflects the somewhat slower growth outlook moving forward. Market noise is at an elevated pitch right now with a Government shutdown, a trade impasse, imminent recession, a fitful FOMC and slowing eps momentum.
Give an aged bull a chance
Since December 26, the US market has deftly climbed the proverbial wall of worry, with the S&P500 rallying ~13% and small caps higher by 17%.
The VIX (measure of fear/volatility) now sits at 19, having spiked to 36. This suggests calm.
Credit conditions (expressed through investment grade and high yield spreads) are once again normal and valuations (absolute and relative to bonds) range from reasonable to highly appealing, on the basis that forward earnings estimates are not overstated.
Regular readers will be familiar with my use of Equity risk premiums - ~4.8% in the US and ~ 8% in Australia. These are a long way from derailing the case for equities.
They will be intrigued to learn that I recently happened upon an old investment curio-the Rule of 20. Popular through the ages (valid signals since the early 1960's) and now all but abandoned. The rule of 20 is a basic industrial stock investment yardstick summing the Industrials PE with the CPI. < 16.5 = BUY and > 21 = SELL. Today that measure sits at around 17.5.
Three new stock ideas 
Helloworld is a retail (via a franchisee network), wholesale and travel service company well known to the travelling public. Perhaps less well known is the substantial turnaround being actioned by Andrew Burnes and his management team. A recent investor day confirmed a strong first quarter FY19 performance with a forecast trajectory of improving EBITDA margins (20% in FY18, 22.5% FY19e and 25% FY20e) on better corporate and retail turnover, including new corporate account wins. Helloworld is continuing its investment in technology/innovation that should, for instance, enhance economies of scale in both the sale and purchase of airline tickets. Offshoring of several processing functions has also been deployed with pleasing results.
Bapcor had been de-rating (lower PE ratio) since September from 21x to ~ 17x largely on concerns around a deteriorating macroeconomic environment and a missed opportunity to acquire K-Mart Tyre & Auto. We believe these concerns to be overplayed given the relatively light retail exposure (~20% of group EBITDA) and the resilience of the core trade/wholesale business. We are indifferent to the group's Asian expansion plans but enthused about their runway for local store roll-outs, wholesale M&A, increased private label penetration and not insignificant back-of-house/supply chain synergies
Brickworks is a long established, diversified group with exposure to Australian brick (chiefly via the Austral brand) and building products (eg Bristile and Auswest brands) as well as significant property investment and development activity. Brickworks also has a significant shareholding in Washington H. Soul Pattison that essentially means investors are paying almost nil for the aforementioned construction materials business. Management have proven adept at managing the Australian construction cycle historically and the group's recent acquisition of Glen-Gery, the 4th largest brick producer in the US, is an interesting development for the group.
Never miss an update
Stay up to date with the latest news from Eley Griffiths by hitting the 'follow' button below and you'll be notified every time I post a wire. 
Eley Griffiths are style agnostic and can own both growth and value companies to construct portfolios that will outperform, something that we have consistently achieved through a variety of market conditions over the past 15 years. Hit the 'contact' button to get in touch with us.
---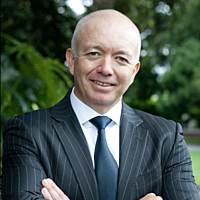 Principal and Portfolio Manager
Eley Griffiths Group
Ben Griffiths is the managing director and a senior portfolio manager at Eley Griffiths Group and has over 30 years of financial markets experience. He Co-founded Eley Griffiths Group in 2002 with Brian Eley following a successful career as joint...
Expertise