Glencore backs the EV revolution
---
Glencore's CEO focused squarely on copper, cobalt, lithium and nickel at a recent Bank of America Merrill Lynch presentation; Citigroup publishes a report backing the same thematic and local players Galaxy and Pilbara; and new study gets gold junior Egan St a valuation twice its current price. 
Glasenberg backs the EV revolution
Glencore's Ivan Glasenberg is plugged into commodities markets like no other. It comes from being able to draw on the intelligence gathering efforts of some 4000 Glencore marketing and trading types on the ground in about 50 countries.
So when Glasenberg devoted a big chunk of his presentation to the Bank of America Merrill Lynch metals and mining conference in sunny Barcelona during the week to the electric vehicle revolution, it might pay to absorb what he had to say.
Glasenberg declared the EV revolution is "happening and its impact is likely to be faster than expected'.'
Now he is not Pat Malone with such a call. It is something that billionaire mining entrepreneur Robert Friedland has been saying. And in the downstream space, Elon Musk has proved to be a dab hand in promoting the story.
But at least Glasenberg has clarified the impact for the mining sector by putting some hard numbers on what could evolve, saying the revolution will "require a significant change in material flows of the global economy, including the installation/rebuild/replacement of supporting EV infrastructure''.
The big four metals of the revolution as it is currently understood are copper, cobalt, lithium and nickel (to which the non –metallic graphite could be added). Glencore is a big producer of three of them – copper, cobalt and nickel.
So there is an element of Glasenberg talking his book in Barcelona. The presentation is up on the Glencore website and is worth a peek. It draws on a range of sources. Its clincher statement is that a "rapid'' EV adoption scenario (ie 95 per cent of global vehicle sales in 2035 are EVs) would create demand for 20 million tonnes of copper, 1.8m tonnes of nickel and 679,000 tonnes of cobalt.
That's kind of interesting given the current global mine supply of copper is 20m tonnes while for nickel it is 2m tonnes, and for cobalt it is all of 97,000 tonnes. "The electric vehicle revolution needs our commodities,'' Glasenberg said.
And from a broader industry perspective, it would seem clear that higher commodity prices are required to incentivise re-investment to offset a declining resource and ageing asset base. None of that is a short-term fix for the battered nickel producers, or for the copper producers finding things a touch harder at $US2.50 a pound copper. But it doesn't hurt either. As for cobalt, it is in a world of its own.
OZ pair to feed the revolution
If further confirmation is needed that the EV revolution is well and truly underway, then have a look at an extensive report on the lithium juniors by the local equities desk of the US investment and financial services behemoth Citigroup.
The 64-page tome is a very balanced piece of work, noting among other things that the lithium market is an arm wrestle between strong demand growth that is being increasingly driven by the EV market (70 per cent of the incremental lithium demand by 2020) versus a building wave of supply from existing and new producers.
But the real interest here today is that after its deep dive in to the lithium sector, Citi has decided to initiate coverage of two of the key local players – Pilbara Minerals (PLS) and Galaxy Resources (GXY). In yesterday's down market, Pilbara went against the trend with an 8 per cent gain to 42.7c while Galaxy was off 6 per cent to 43.2c.
After its deep dive, Citi set a share price target for Pilbara of 65c and 55 cents for Galaxy. That sort of (potential) upside is hard to find in the resources space at the moment, what with prices for iron ore, coal, copper and a bunch of others well and truly giving up their early 2017 highs. 
"Both companies are at the forefront of the wave of lithium supply expected to hit the market over the next few years and by 2023 each is expected to contribute about 11% of global supply,'' Citi said.
Wow! Australia is plugged into the EV evolution (with cobalt and nickel as well), even if it no longer has a car industry.
Egan Street exploration kicker
With all the turmoil in a Trump Washington (Monday to Friday at least), the gold space is looking a lot more interesting than it was a couple of weeks ago.
Notwithstanding the strength in the Aussie dollar, the local gold price at around $1687 an ounce late on Wednesday remains as good an incentive the gold boys and girls need to keep on exploring and to keep working away at getting into production pronto.
It is in the latter category which today's interest, Egan Street Resources (EGA), is found after the release earlier this week of a pre-feasibility study (PFS) in to the development of its high-grade Rothsay gold project in WA's South Murchison.
Egan Street is last September's over-subscribed $6m float that takes its name from the street in Kalgoorlie which is home to the WA School of Mines from which managing director Marc Ducler and the chief operating officer Lindsay Franker both graduated.
And given that in itself reflects some good humour, they won't mind it being pointed out that the street takes its name from Richard Egan, a prospector who struck it lucky in the late 1800s and was known as Diamond Dick.
The PFS confirmed a robust project based on the production of 200,000 ounces of gold over an initial mine life of 5.5 years with peak production annual of about 50,000 ounces at an all-in sustaining cost of $A1020 an ounce after upfront capital costs of a very doable $33.9m (including $8.9m in working capital and a $3.3m contingency).
First gold production is targeted for mid-2018 and the sweet grade is expected to allow for a rapid capital payback period of 23 months.
The net present value at a $A1600 gold price was estimated at $58.1m, which was more than double the NPV estimate in the earlier scoping study due to the addition of 100,000 ounces of gold in to the PFS courtesy of a modest drilling program.
Patersons liked the PFS results and slapped a 54c price target on the stock, which is more than double Wednesday's 25c share price. The bulk of its valuation work reflected what was in the PFS, with Rothsay's exploration upside making up only a small component.
It has got to be said that is where interest lies in Egan Street from here on. The current market cap is more than covered by the PFS figures. The kicker from here will be what exploration turns up across the five prospective shear zones along 14km of strike.
And there is good reason to think it will be worth watching. Scratchings by oldtimers dating back as far as the 1890s serve as a guide along the strike, as do modern ground magnetics.
As the PFS demonstrated clearly, even small additions to the resource base can have a dramatic impact for the good on Rothsay's NPV. So what was outlined in the PFS can be taken as very much the start of the story for Egan Street.
---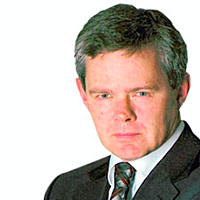 Principal
Independent Journalist
One of Australia's leading business journalists, Barry FitzGerald, highlights the issues, opportunities and challenges for small and mid-cap resources stocks, and most recently penned his column for The Australian newspaper.
Expertise