Global activity rising—but so too are some risks
---
"To become an extremist, hang around with people you agree with."             Cass Sunstein
The curtailment of human activity as society attempts to contain the spread of the COVID-19 pandemic has had a much larger and less familiar impact on the services sectors in economies (as opposed to manufacturing production and global trade sectors that usually bear the brunt of economic downturns). The collapse to virtually zero for cinema attendance, restaurant bookings and use of public transport across the world has been severe.
The closing of internal and external country borders has also been evident for flight numbers, which (according to FlightRadar24) collapsed by 71% between mid-February and early April. However, as BCA Research highlights in our chart today, recorded flights are turning around through May, rising by 162% from mid-April to 21 May. As BCA notes, this will clearly overstate the true pick-up, as flights will be running with sharply reduced capacity.
Still, it is indicative of the piecemeal opening of economies around the world and easing of lockdown restrictions. Restaurant bookings and traffic congestion is also on the rise. It increasingly suggests the low point for global growth was buried deep in the middle of Q2 2020. If this continues it will lend further support to the optimism for recovery that has built through May, underpinning risk assets, such as equities and oil prices.
Clearly still ultra-low global bond yields and support for the gold price and the US dollar suggest many investors are, as yet, unconvinced that recovery is coming (albeit we would still argue it's the odds-on favourite—even if it is more U-shaped than V-shaped). There are risks about. Emerging markets, such as Brazil, Russia and India, increasingly look troublesome in terms of the rapid rise of new COVID-19 cases, low testing and more limited social distancing regimes. An emerging market human catastrophe could become a global issue and renewed rapidly rising plane travel may intensify that issue elsewhere. Trump's approaching election and penchant to distract with another trade war could also pose a risk, and one that's hard to predict.
Global flight numbers improving sharply
Source: Fightradar24.
Be the first to know
I'll be sharing Crestone Wealth Management's views as new developments unfold. Click the 'FOLLOW' button below to be the first to hear from us.
........
General advice notice: Unless otherwise indicated, any financial product advice in this email is general advice and does not take into account your objectives, financial situation or needs. You should consider the appropriateness of the advice in light of these matters, and read the Product Disclosure Statement for each financial product to which the advice relates, before taking any action. © Crestone Wealth Management Limited ABN 50 005 311 937 AFS Licence No. 231127. This email (including attachments) is for the named person's use only and may contain information which is confidential, proprietary or subject to legal or other professional privilege. If you have received this email in error, confidentiality and privilege are not waived and you must not use, disclose, distribute, print or copy any of the information in it. Please immediately delete this email (including attachments) and all copies from your system and notify the sender. We may intercept and monitor all email communications through our networks, where legally permitted
---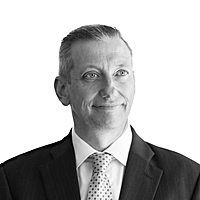 Chief Investment Officer
LGT Crestone
Scott has more than 20 years' experience in global financial markets and investment banking, providing extensive economics research and investment strategy across equity and fixed income markets.
Expertise