Global dividends rise strongly, while Australia continues to lag
---
According to the latest edition of the Janus Henderson Global Dividend Index (Index), global dividends shrugged off concerns about the world economy, rising 7.8% on a headline basis and reaching a first-quarter record of US$263.3bn.

Regional highlights
While the Asia Pacific ex-Japan region has seen the world's strongest dividend growth since 2009, Australia itself has shown no growth in dividends over the last five years. Once BHP's special dividend and franking credit is taken into account, Australia saw modest growth of 3.8% during Q1 2019.
Chart 1: Janus Henderson Global Dividend Index by region since inception
Source: Janus Henderson Investors, Janus Henderson Global Dividend Index Edition 22.
The biggest contribution to growth came from Woodside Petroleum, which is restoring its dividend after a couple of challenging years. Telstra cut its payout again, while the largest payer, Commonwealth Bank, held its dividend flat, in common with the recent trend in the wider banking sector in Australia.
Asia Pacific ex-Japan saw a total dividend payout of US$18.1bn in Q1, up 14.7% year-on-year, breaking the record for first-quarter payouts, though this was mainly due to one-offs in a seasonally quiet quarter for dividends. Underlying growth was a more modest 3.8%, with Hong Kong leading the way, while Australia lagged behind.
All-time quarterly records were broken in the United States and Canada (which are less affected by seasonal payment changes). Growth in North America was the fastest in the world on an underlying basis, and its seasonally large weighting in the first quarter meant it made a significant contribution to overall global dividend growth.
In the US, dividends totalled a record US$122.5bn, up 8.3% on a headline basis, with underlying growth even better at 9.6%. US growth has exceeded the global average 70% of the time over the last five years, as company profits have benefitted from a robust economy and favourable tax changes. Almost nine tenths of US companies in the Index raised their dividends, with the largest increases coming from the banking sector.
Emerging markets were weaker than their developed counterparts, as they were the first to feel the effects of tighter US monetary policy and global trade concerns, both in their exchange rates and in company profitability. Underlying growth was up 2.2% due largely to strong performance from India.
Sector snapshot
Pharmaceutical dividends were the largest-paying sector in the first quarter, contributing US$1 in every US$8 paid globally. Novartis alone paid US$1 in every US$30, with Roche close behind. The sector delivered an all-time record of US$30.1bn, though its underlying growth rate was lower than the global average. The much smaller leisure sector also delivered a record payment, boosted by a large special dividend from the UK's Intercontinental Hotels.
Chart 2: Janus Henderson Global Dividend Index by sector since inception
Source: Janus Henderson Investors, Janus Henderson Global Dividend Index Edition 22.
On an underlying basis, financial dividends grew fastest, thanks in particular to US banks and real estate companies, but their growth rate was matched by utilities. This is traditionally a high-yielding, slow-growth sector, and even after the strong first quarter, dividends are unchanged in a decade. Oil dividends also bounced back, up by a tenth year-on-year. They are the second-slowest growing sector after utilities over the last ten years.
What's ahead?
For the full year, we expect global dividends to reach a record US$1.43tn. Higher special dividends than originally expected (our base case assumes each year that they revert to the longer-run average) are likely to be broadly offset by a more negative impact from exchange rates (based on the US dollar's current level).
What is the Janus Henderson Global Dividend Index?
The Janus Henderson Global Dividend Index is a long term study which tracks the world's 1,200 largest firms by market capitalisation, measuring the progress global firms are making in paying their investors an income on their capital.
Glossary
Headline dividends The sum total of all dividends received.
Headline growth Change in total gross dividends.
Special dividends Typically, one-off payouts made by companies to shareholders that are declared to be separate from their regular dividend cycle.
Underlying dividend growth Headline dividend growth adjusted for special dividends, change in currency, timing effects and index changes.
---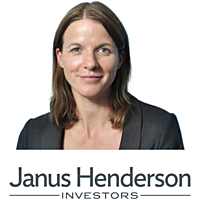 Portfolio Manager
Janus Henderson
Jane Shoemake is a Client Portfolio Manager on the Global Equity Income Team at Janus Henderson Investors. Prior to joining Henderson in 2006, Jane spent two years at Threadneedle Investments and five years with J.P. Morgan Asset Management, where...
Expertise