Goldman: Vaccine approved by end 2020
---
Goldman Sachs' economists write this morning:
We now expect that at least one vaccine will be approved by the end of 2020 and will be widely distributed by the end of 2021Q2. We have incorporated this timeline as our baseline forecast, and now assume consumer services spending accelerates in the first half of 2021 as consumers resume activities that would previously have exposed them to Covid-19 risk. As a result, our growth forecast is more front-loaded and modestly upgraded.
That is in line with the view that we have expressed since the crisis began based on our own immunological advice: namely, that vaccines will arrive much earlier than the market/experts originally expected because of: (1) unprecedented global medical research commitments; (2) unprecedented regulatory approval speed; and (2) unprecedented global funding support. Recall in February/March, most experts were saying that vaccines would take at least 18 months to develop in a best-case scenario.
But we frankly need some luck for this to play-out. In particular, the phase three trials need to progress smoothly with demonstrable efficacy and manageable side-effects. Mass production has already commenced for the likes of Moderna's vaccine with the leading candidates all asserting they will be able to produce up to 1-2 billion doses per annum.
On the subject of good luck, the infection data out of Victoria has been trending better for several days. Our fingers are crossed that this continues. As the screen-shot from our systems below shows, there is some evidence that Victoria may have peaked between 29 July and 4 August. Of course, this might be trumped by new data this week. We're all hoping for our Victorian families that the peak is indeed behind us.
In our Victorian COVID-19 forecasts published on 12 July we concluded that the peak should be somewhere between 13 July in an absolute best-case and around 26 July if Victoria's infection containment efficacy was poorer and more comparable to Italy and the UK, or say only 75 per cent as good as South Korea, France or Germany. In fact, we published 14 different possible infection trajectories (images below), a total of 8 of which pointed to 26 July. (There was a little confusion here because the title of the post incorrectly stated 13 to 20 July, which was subsequently corrected.) At the time, I wrote:
The forecast results are summarised in the two images below, which are screen-shots from Coolabah's COVID-19 tracking and forecasting system (click on the images to see a better version). If we condition on the prior Australian lockdown experience, Victorian infections should peak by 15 July. If, on the other hand, we use South Korea (or Italy) as the benchmark, the peak should be by 22 July (or 26 July). Throwing in France, Germany, and/or the UK into the mix similarly implies a peak around 22 to 26 July. You can see the conditioning country on the far right-hand-side of the box in the image.
Get investment insights from industry leaders
Liked this wire? Hit the follow button below to get notified every time I post a wire. Not a Livewire Member? Sign up for free today to get inside access to investment ideas and strategies from Australia's leading investors. 
........
General Disclaimer: Past performance does not assure future returns. All investments carry risks, including that the value of investments may vary, future returns may differ from past returns, and that your capital is not guaranteed. This information has been prepared by Coolabah Capital Investments Pty Ltd (ACN 153 327 872). It is general information only and is not intended to provide you with financial advice. You should not rely on any information herein in making any investment decisions. To the extent permitted by law, no liability is accepted for any loss or damage as a result of any reliance on this information. The Product Disclosure Statement (PDS) for the funds should be considered before deciding whether to acquire or hold units in it. A PDS for these products can be obtained by visiting www.coolabahcapital.com. Neither Coolabah Capital Investments Pty Ltd, EQT Responsible Entity Services Ltd (ACN 101 103 011), Equity Trustees Ltd (ACN 004 031 298) nor their respective shareholders, directors and associated businesses assume any liability to investors in connection with any investment in the funds, or guarantees the performance of any obligations to investors, the performance of the funds or any particular rate of return. The repayment of capital is not guaranteed. Investments in the funds are not deposits or liabilities of any of the above-mentioned parties, nor of any Authorised Deposit-taking Institution. The funds are subject to investment risks, which could include delays in repayment and/or loss of income and capital invested. Past performance is not an indicator of nor assures any future returns or risks. Coolabah Capital Institutional Investments Pty Ltd holds Australian Financial Services Licence No. 482238 and is an authorised representative #001277030 of EQT Responsible Entity Services Ltd that holds Australian Financial Services Licence No. 223271. Equity Trustees Ltd that holds Australian Financial Services Licence No. 240975. Forward-Looking Disclaimer: This information may contain some forward-looking statements. These statements are not guarantees of future performance and undue reliance should not be placed on them. Such forward-looking statements necessarily involve known and unknown risks and uncertainties, which may cause actual performance and financial results in future periods to differ materially from any projections of future performance or result expressed or implied by such forward-looking statements. Coolabah Capital Investments Pty Ltd undertakes no obligation to update forward-looking statements if circumstances or management's estimates or opinions should change except as required by applicable securities laws. The reader is cautioned not to rely on forward-looking statements.
---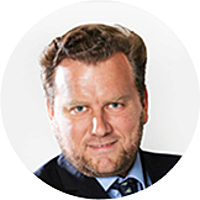 Portfolio Manager & Chief Investment Officer
Coolabah Capital
Chris co-founded Coolabah in 2011, which today runs over $8 billion with a team of 26 executives focussed on generating credit alpha from mispricings across fixed-income markets. In 2019, Chris was selected as one of FE fundinfo's Top 10 "Alpha...