Government benefits boosting bank accounts
---
Recent data has been better than expected in Australia through May and June. After a collapse in activity in April, retail sales have rebounded solidly in May, while the latest weekly data from the Australian Bureau of Statistics' new payrolls survey shows that the cutting of jobs has ended. This week's CBA purchasing manager indices for June, like those in the US and Europe overnight, rebounded strongly (moving above the key 50 mark in Australia's case).
As this chart from CBA shows, focusing on the blue bars, the past few weeks have started to see a small recovery in wages and salaries being paid into CBA's customers bank accounts. More interestingly, when combined with the Government's generous stimulus packages (red bars)—JobKeeper and JobSeeker—bank accounts are looking pretty healthy, growing at more than twice their pace pre-COVID-19. Of course. some of those bank accounts will likely be held by the around 800,000 people who have already lost their job.
This may explain why the saving rate rose sharply in Q1—and has likely rise again in Q2 (as uncertainty drives precautionary saving). It may also explain the jump in retail sales as consumer confidence recovered. While a substantial share of benefits will likely be wound back at the end of Q3, the elevated savings rate is likely to act as a bit of a buffer, smoothing out any pull-back when government payments wind back for many.
Wages and government benefits paid (contribution to growth, 1 week smoothed)
Source: CBA.
Follow our daily updates
We share Crestone Wealth Management views on a range of macro topics that we're watching. Click the 'FOLLOW' button below to be the first to hear from us
........
General advice notice: Unless otherwise indicated, any financial product advice in this email is general advice and does not take into account your objectives, financial situation or needs. You should consider the appropriateness of the advice in light of these matters, and read the Product Disclosure Statement for each financial product to which the advice relates, before taking any action. © Crestone Wealth Management Limited ABN 50 005 311 937 AFS Licence No. 231127. This email (including attachments) is for the named person's use only and may contain information which is confidential, proprietary or subject to legal or other professional privilege. If you have received this email in error, confidentiality and privilege are not waived and you must not use, disclose, distribute, print or copy any of the information in it. Please immediately delete this email (including attachments) and all copies from your system and notify the sender. We may intercept and monitor all email communications through our networks, where legally permitted
---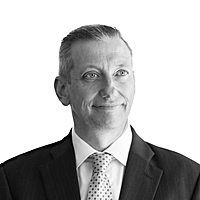 Chief Investment Officer
Crestone
Scott has more than 20 years' experience in global financial markets and investment banking, providing extensive economics research and investment strategy across equity and fixed income markets.
Expertise