Grassroots Tour of India - Day 2
---
Pune is known for its manufacturing and automobile industries as well as its research institutes of Information Technology, Education and Management. Our thoughts on Day 2 was to take delegates to another city within India via the highway system. The Mumbai to Pune highway provides a  comfortable route via coach. It also provides an opportunity the escape the metropolis of Mumbai and see a broader India. Pune is the second largest city in Maharashtra and the seventh most populous in India.
For those that missed the insights and highlights of Day 1, please click on the following link Grassroots Tour of India – Day 1
Local and foreign automotive companies such as Bajaj Auto, Tata Motors, Mahindra & Mahindra, Mercedes Benz, General Motors, Land Rover, Jaguar, Renault, Volkswagen and Fiat have set up manufacturing facilities in Pune. Additionally, there is a significant IT presence with over 70,000 employees. IT is the natural selection for many of Pune's students given operations from India's largest companies like Infosys, Wipro, Tata Consulting, HCL Tech as well as global firms like Microsoft.
The two companies we visited provided us with some broad perspectives:
India's manufacturing capabilities (as highlighted in a report by Harvard's Centre for Research) is becoming globally competitive for value-added exports. These businesses are building a global client list through their IP and excellence
Information Technology is very much a people business. Indian IT firms have understood that retention is critical to building knowledge to improve solutions to clients and build on areas like Big Data, Cybersecurity and Artificial Intelligence. Hence providing attractive campus facilities and lifestyle is critical
Bharat Forge (BF) is a Pune-based Indian multinational company involved in industries such as automotive, power, oil and gas, construction & mining, marine and aerospace. The company was founded by Nilkanthrao Kalyani in 1961. The current chairman is Baba Kalyani and is part of the Kalyani Group – a US$2.5bn conglomerate, with a 10,000-strong workforce. Amit Kalyani, the son of Baba Kalyani is an Executive Director and one of the promoters of the company and the delegates met with him personally to discuss the business, growth opportunities even his thoughts on the Adani coal mine!
The company has made a strong foray into the defence and aerospace sectors and is moving from being a components manufacturer to a complete product maker. Having been a manufacturer for large clients around the world for some time has led to now being able to play a consultative role, given knowledge and insight gained.
In the automotive segment, clients include the who's who of the car industry i.e. Daimler, Volkswagen, Audi, Porsche, GM, BMW, Ford, Toyota, Honda, Saab, Chrysler, Mitsubishi, Volvo and Renault. Amazingly, one out of every 2 commercial vehicles on the road in the US have a BF part in them. On a broader industrial front, clients include Boeing, Rolls Royce, Cummins, Caterpillar, GE, John Deere, Haliburton, Siemens and Alstom.
BF has revenue of US$1.3bn and a market cap of around US$4.5bn. Core products include axle beams, steering knuckles, connecting rods and crankshafts. The business has been diversifying into industries like Oil & Gas, Infrastructure, Marine and Defence.
The tour of Bharat Forge's manufacturing plant in Pune provided the following significant insights:
Interestingly BF had adopted automation in its plants since the 80's. Today there are even fewer blue-collar workers than might have been expected, given India is a low-cost labour region. This can be attributed to design and use of robotic and machining capability to significantly improve efficiency and output
The company is increasingly about exporting IP to its global client base as well as serving India's demand. This IP is gathered from the diversity of BF's business and passed across the value-chain of the client.
The plant was impressive for its use of robotics, volume, precision, capex-spend and significant spend on R&D
Whilst we didn't have time to visit BF's R&D centre, we discussed with management their research laboratory facilities. The R&D centre is recognised by the Department of Science and Technology, India and acknowledged as an approved lab by Rolls Royce and Boeing. Research in areas of manufacturing such as 3D printing, Electron Beam Welding and Laser Processing to name just a few have helped the company innovate and build substantial IP.
Infosys is an Indian multinational corporation, founded in 1981, that provides business consulting, information technology and outsourcing services. Infosys is within the top 600 companies in the world by revenue (US$10bn) and has a market capitalisation of US$43bn. The company has over 200,000 employees globally with 36% of them being women. 89% are based in India of which 79% are software professionals. The attrition rate for FY17 was 15% albeit dropping from 23% in Q1FY15. Attracting high quality talent and retaining them is critical in this business.
The company is massive in its scale and over the last 10 years has made the transition from a growth company to a more mature business. Infosys, sources close to 95% of its revenue from other geographies and is more a play on successful leadership, tapping into India's IT comparative advantage, increasing cash flow and dividends and global growth, than necessarily playing an India demand thematic.
New services introduced by the company over the past three years include mainframe modernization, cloud applications and infrastructure, enabling the API economy, internet of things, cybersecurity, digital experiences and complex analytics. In April 2017 the company launched its next generation AI platform, Infosys Nia converging big data/analytics, machine learning, knowledge management and cognitive capabilities amongst many other capabilities.
The tour of Infosys's Pune Campus provided the following significant insights:
The campus is smart and sustainable and houses 35,000 employees. The campus can be called a second home and is an example of work-life balance to keep the retention ratio high
Facilities are world class in terms of pools, gym, sporting amenities, food courts, coffee shops and restaurants. We were amazed to see "Google-like" campuses which catered for much of the young Indian IT demographic
Significant resources have been poured into areas like Big Data, Cybersecurity and Artificial Intelligence. We witnessed firsthand their cyber security operations where they monitor security real time for large corporates globally
In the next couple of days we will discuss the events of the final day, back in Mumbai, where we visited a bank branch, met with Government and Reserve Bank officials and tasted some local delicacies.
Stay tuned…
---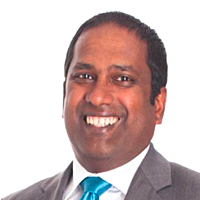 Managing Director
India Avenue
Mugunthan Siva is Managing Director of India Avenue, an Australian based boutique asset management company with offices in Sydney and Mumbai. He has over 25 years experience in Australia and is lead portfolio manager for the India Avenue Equity Fund.
Expertise