Greenwashing your portfolio: what to do with dirty stocks
---
Critics of cancel culture rejoice - there's a case for holding on to your stocks through a growing decarbonisation trend. It's not enough to just throw your dirty stocks away, it's time to take a more active approach to ESG. Fidelity International has spruiked an intermediary role for fund managers to play in the push for decarbonisation.

At a recent briefing, Fidelity Australia CEO Alva Devoy said:
"It's not about wholly penalising bad companies. It's about working via corporate engagement with companies to improve their ESG statistics and move them forward." 
The 2021 Fidelity International Analyst Survey, released this week, interviewed 144 analysts around the world on the most pressing issues for companies today. This is off the back of thousands of meetings throughout the year with corporate and sector-based experts, said the report editor. The interviews were conducted at the end of 2020 and the start of 2021. 
As expected, there was a significant sentiment rebound off the back of COVID-19 recovery efforts and the vaccination rollout. There was also a strong, but uneven, shift towards decarbonisation with some industries feeling the sweat while others are benefitting from more efficient and innovative systems.
The report showed that European companies are the most advanced on the decarbonisation trend, with a third of all European companies expecting to be carbon neutral by the end of the decade. This is compared with only a quarter of companies globally expected to meet that target. More analysts are reporting a rising focus on ESG, with 58% of companies increasing their ESG attentions, up from 49 per cent last year.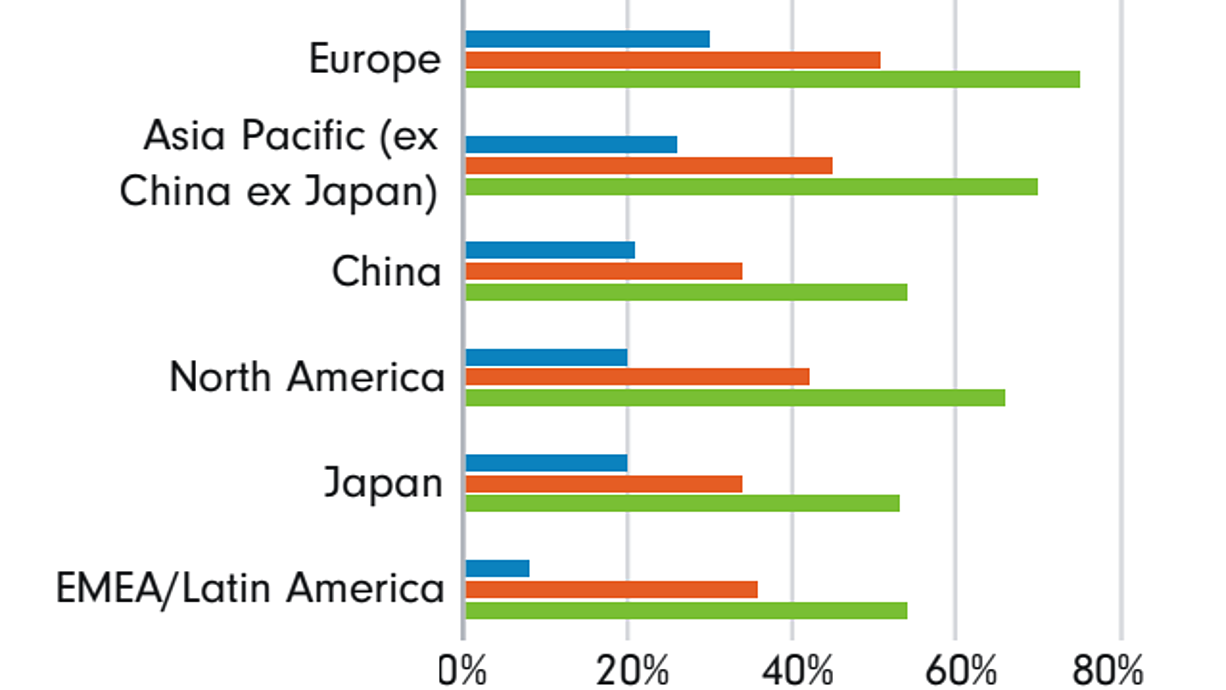 Source: Fidelity International Analyst Survey.
For Fidelity Australia these are the key factors for a fund manager to consider in three dimensional investing:
Fiduciary obligation, first and foremost
Balancing risk and reward
Then a movement toward impact investing
"Why is ESG a thing?"
At the same briefing as Devoy, Kate Howitt portfolio manager of the Fidelity Australian Opportunities Fund said the decarbonisation trend is analogous to increasing work health and safety standards, which revolutionised unsafe practices in the workplace.
"Look at the safety revolution. We used to think 'mining and manufacturing are dangerous jobs you're going to have fatalities, there's not much you can do about it'. And then the community decided it's not acceptable for someone to not come home from their job," said Howitt.
"We've had decades of funds management without ESG being a 'thing'," said Howitt.
She believes the push for greater ESG in funds management has partially been a failure of process. She has seen a rising frustration in the public domain. Where once communities would have had their standards expressed through voting for politicians, politicians would make the laws and companies would comply with the law, now, for "a whole variety of reasons" Howitt believes this process has broken down and is no longer effective.
But while the response to this, so far, has been rapid and outspoken divestment - Fidelity thinks there is a much better way to tackle the rising community expectations.
Investors are now empowered to set the standard
"Investors say even though there's no carbon price, we want you to behave as if there's a carbon price," she said.
Howitt has seen some extreme opinions on decarbonisation, such as the idea that if we all divest, we'll send the fossil fuel companies broke and therefore an alternate power source will rise up.
"I don't think that's how the world works. If we all just divested the dirty companies then private equity would do really well and it wouldn't actually save the planet," said Howitt.
There's a better approach, she believes, which empowers investors and the finance industry to change the world for the better.
"It's a financial intermediation problem - you need something like $110 trillion deployed over the next 10-20 years to get there. Mobilising capital is what the finance industry should be doing," she said.
There's a clear case for making use of existing infrastructure to build up a more carbon-neutral strategy moving forward. 

"In this need to spend a lot of money and decarbonise, are you better off funnelling all of it into greenfield-newcomers to their industry? Or are you better off making use of some of the existing kit that's already out there?"
Use what we've got to make a difference 
"The most efficient way to do it is for existing companies to migrate and retrofit and use what they've got. And there's a lot of other permutations of this. Whereas a kind of naive ESG view would actually lead to sub-optimal economic outcomes and we just can't afford to not be efficient," said Howitt. 
So rather than ditching companies which are inefficient, slow to transform and not yet carbon neutral, Howitt believes we should become part of the solution and push for efficiencies through fund manangers. 
"Our view is.. if you've got a coal company that is just going to be selling thermal coal, then probably their financial future is limited because our largest customers of Australia's thermal coal exports have all said they're going to be carbon-neutral and therefore it's a sunset industry, whatever we think about it, our customers have told us it's a sunset industry.
"But where you have other companies that you see have these investment opportunities and are working towards it... if they're at a relative advantage because of their infrastructure they can pivot towards it," she said.
Then we should be supporting them, even if right now they are 100% fossil fuel. If they're going to be part of the solution and an efficient part of the solution... how does the finance industry come out of this with something we can be proud about and something we can tell our kids that we helped solved this problem," said Howitt. 
The 2021 Fidelity International Analyst Survey believes that there are some sectors pushing for decarbonisation strategies now and this will help them to outperform the market. The materials and utilities sectors are some examples. 
"Demand for metals will boost the sector, while analysts argue that companies with strong decarbonisation strategies will outperform this year," said the report. 
"Utilities firms are expected to divert funding towards capex this year, as analysts argue that investing in renewable energy sources will help companies stay competitive," it said. 
But, as I mentioned, the world is tracking pretty unevenly towards decarbonisation. The Fidelity Analyst Report said: Don't hold your breath on the energy sector. 
"Energy firms will need to change to survive. But the current pace of change is slow. While 90 per cent of analysts report a greater desire to communicate and implement ESG policies at their companies, they expect only 2 per cent of firms to be carbon neutral by 2030 (compared to a global average of 24 per cent). Don't hold your breath." 

Never miss an insight
These are just some of the highlights from the Fidelity International 2021 Analyst Survey and separate Fidelity Australia briefing. If you would like to download the full report you can access it here. You can also follow Fidelity International on Livewire.