Growth at a reasonable price with Downer
---
With the release of its full-year result for FY18, Downer has delivered on its earnings guidance for the seventh consecutive year. Its ability to do this in a volatile sector highlights the breadth of the business and strength of the Company's management team. It also adds weight to the company's forecast of a 13% increase in earnings in 2019. We see Downer as a rare opportunity to buy growth at a reasonable price. 
A preferred partner for government clients
Downer is exposed to buoyant end markets. Road and rail investment continue apace, and the company is uniquely positioned to benefit, not only from construction but also from maintenance of these projects. Consolidation of the sector in recent years has left Downer as a preferred partner for government clients. Several large tenders will occur this year with Downer well positioned for the $2 billion Parramatta Light Rail project.
Mining, oil and gas investment has bottomed 
Downer is also well positioned to benefit from the wave of investment in brownfield iron ore expansion and beyond this, from likely expansion in the LNG sector. Woodside has articulated a clear growth strategy and Downer will again participate, not only in construction but increased asset maintenance.
The mining division has reduced costs and margins are improving. Some recent contract wins give support to the buoyant outlook, with the delivery of Oz Mineral's Carapateena mine a key contract to follow.
Spotless a drag on the price
Despite this profile of growth over the medium term, the company trades at a sizeable discount to the broader industrials market. This is likely a result of the company's acquisition of Spotless, which was questioned both strategically and financially.
The potential benefit for the company comes from combining hard and soft services and delivering integrated contracts to clients. To date, only minimal progress has been made in executing on this strategy and we expect contract announcements this year.
Specific concerns have also lingered around the troubled Royal Adelaide Hospital contract, where Spotless is currently losing money - providing ammunition for the bears who believe Downer overpaid for the acquisition. Today's result gave more clarity as to ongoing discussions with the South Australian Government about a commercial resolution.
A rerating on the cards?
Growth is currently expensive in the share market. Based on buoyant end markets, we believe Downer has a clear pathway for higher earnings over the medium term.
Strong market positions and a track record from management suggest there is scope for a re-rating of the company.
---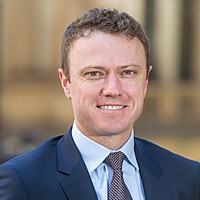 Analyst
Watermark Funds Management
Tom joined Watermark in December 2009, and is responsible for researching a number of industry sectors and managing positions within the portfolio. He holds a Bachelor of Aerospace Engineering from the University of Sydney and is a CFA charterholder.
Expertise