Hamish Douglass - COVID-19, a Black Swan event
---
In what Hamish calls a classic Black Swan event, he and David discuss the recent impact of the COVID-19 pandemic across global financial markets. Initially presenting as a localized epidemic in China, COVID-19 has evolved into a global pandemic that has wreaked havoc on financial markets around the world.
Despite there being no modern rule book on how to navigate investments during the pandemic, Magellan's Global Fund has held relatively strong. Hamish attributes this to a lower-risk portfolio that was built to withstand such unforeseen 'Black Swan' events and elaborates on the additional measures that the Magellan team have been taken to further protect downside risks. By example, the Magellan Global Fund has increased cash levels from 6% to over 15% during March till now.
Hamish remains cautious of events that may unfold over the coming months and discusses the key indicators that he believes are necessary to reduce financial market risks and allow investors to determine the shape of recovery that they can expect.
More podcasts
If you're enjoying Inside the Rope and don't want to miss a future episode, subscribe now to get notified when a new episode is released or email David at david.clark@kodacapital.com.
........
This research note has been prepared without consideration of any client's investment objectives, financial situation or needs. Before acting on any advice in this document, Koda Capital Pty Ltd recommends that you consider whether this is appropriate for your circumstances. While this document is based on the information from sources which are considered reliable, Koda Capital Pty Ltd, its directors, employees and consultants do not represent, warrant or guarantee, expressly or impliedly, that the information contained in this document is complete or accurate. Koda does not accept any responsibility to inform you of any matter that subsequently comes to its notice, which may affect any of the information contained in this document. © Copyright Koda Capital 2020 | AFSL: 452 581 | ABN: 65 166 491 961 | www.kodacapital.com
---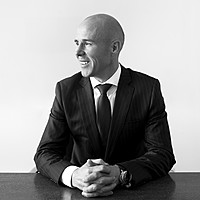 Adviser & Partner
Koda Capital
David Clark is an Adviser & Partner at Koda Capital. In his podcast 'Inside the Rope', David interviews some of the leading minds in wealth management.
Expertise