Healthscope hurdles a symptom of pressures on healthcare stocks
---
You'd think owning a private ­hospital would be a licence to print money. There are certainly a number of favourable underlying drivers for private hospital operators in Australia — not least the ageing population — resulting in increasing service volumes per person. 
Extended lifespans and improving medical treatments ensure more services are demanded by each person now and in the longer term.
And while much is made of the pressure on private health insurance and possible reforms to healthcare, the bottom line seems to be that fiscal constraints on governments limit their ability to meet increasing healthcare needs through the public system. So despite the inevitable fits and starts, the long-term pros­pects for HSO and other private hospital operators such as Ramsay Healthcare and Sonic Healthcare offer organic growth rates above GDP.
Of course, those fits and starts can have significant implications for share prices in the interim.
Witness the near 30 per cent share price decline in Healthscope, in just a few days last September, when the company announced a soft September quarter of volumes, forcing investors to reappraise previous estimates of 10 per cent annual EBITA growth.
What's more, slowing volume growth in hospitals, as illustrated in the quarterly APRA data and monthly Medical Benefits Schedule statistics is the result of a number of factors.
 First, there has been a slowing in the growth of the number of people opting for private health insurance thanks to premium increases of 5-8 per cent a year. Private health insurance is the primary base of people from which private hospitals services (separations) are demanded.
Second, our private health insurance system is based on what is known as the Community Rating System, which seeks to provide affordable insurance for anyone, irrespective of age. But young people have worked out they aren't getting value for money when subsidising the premiums of older members and are opting out. This puts pressure on insurers through high claims growth rates.
Private hospitals are also casualties in the trend that sees public hospitals being ordered by their respective state governments to put pressure on patients to claim on their private health insurance for services. State governments are in effect enhancing their federal government MBS revenues at the expense of private health insurers and directly competing with private hospitals for private hospital patients. This is despite private health insured patients receiving the same service as any other public patient.
This adds to the claims cost base of the private health insurance sector — such as Medibank Private and Australian Unity — which needs to be recouped as higher premiums, rendering private cover less affordable and resulting in higher churn.
On top of that, we have been told public hospitals — and doctors in public hospitals — are being directed to meet a targeted percentage of patients (we have heard as high as 25 per cent) admitted on a private basis. If this is true, it is taking ­patients out of private hospitals to enhance state government ­revenue. At its worst it's reminiscent of the favoured treatment of first-class passengers on the Titanic — the social cost is enormous, with public patients pushed further down waiting lists.
Recovery path
The question is how this all plays out for investors in healthcare stocks, which have been strong performers for a long time.
Perhaps as a direct result of the above pressures, Healthscope's profit margins were disappointing in the last couple of results. This was also due to softer volume growth overall and a slower than expected commissioning of two new large facilities and the decommissioning of older facilities.
It will take a few years for demand to grow and fill the new facilities, particularly the Northern Beaches hospital which is due to open in 2019, and for the right mix of services to be provided. These are critical factors for Healthscope's future profits and we are currently optimistic about the company's prospects.
But the various Federal Government reviews and inquiries of the nation's healthcare system creates some risk around margins and revenue for hospital operators. Of particular note is the potential for changes to prosthetics prices, and in turn, the rebates hospitals receive from manufacturers.
The current declining penetration of private health insurance must ultimately be resolved by the Federal Government, lest it wind up funding the ageing populations growing healthcare needs itself – something it cannot afford. In the nearer term we expect the Federal Government to act on the State Government's double dipping on public hospital revenues.
Of course any increased risk, even if only perceived, has an amplified impact on the share price of a high multiple stock like Healthscope. But share price dives are often the result of the market treating that which is temporary, as permanent.  Like many companies at the moment there are near term headwinds, but the long term structural dynamics tend to win out.
The Montgomery funds own shares in Healthscope, Ramsay Health Care and Medibank Private.
To read more articles by me, click here.
---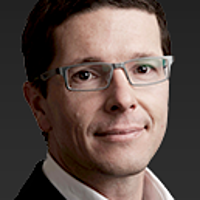 Founder and Chairman
Montgomery Investment Management
Roger Montgomery founded Montgomery Investment Management, www.montinvest.com in 2010. Roger has than three decades of experience in investing, financial markets and analysis. Roger also authored the best-selling investment book, Value.able.
Expertise