How Morningstar picks the top tech stocks
---
The year 2020 is one that will stand out in the history books, most notably for the COVID Pandemic but also the seismic shift in the geopolitical landscape. On the local and global investment scene, technology stocks have been front and centre.
In our universe, arguably the purest global tech play available to Aussie retail investors is the ETFS Morningstar Global Technology ETF, (ASX code: TECH).
TECH is up 15.6% this year as at 31st of August 2020, and provides exposure to 50 global technology names, tracking the Morningstar Developed Markets Technology Moat Focus Index.
Talking Tech
Brian Colello, Director of Technology, Equity Research for Morningstar Research Services recently joined us for a discussion on the technology sector in today's pandemic ravaged world and the outlook for global technology equity stocks.
Brian highlighted the current investment climate with a spotlight on the winners and losers in the tech sector.
He noted 
"There have been strong tailwinds within tech for the past few years and COVID-19 has only strengthened those tailwinds. Whether it's cloud computing, artificial intelligence, the beginning of 5G networks, there are some great things going on in tech that should lead to strong growth. But with more remote workers, companies have become even more reliant on technology."
Demand for tech stocks is coming from multiple sources, said Brian.
"There's a lot of COVID related stimulus money in the US, and we believe some of that capital may be going into the tech stocks."
Brian also notes, "we're obviously in a very low interest rate environment. The US has cut rates down to effectively zero, so bonds might be relatively less attractive as well and then finally, we certainly have sectors that have been hit hard by COVID."
A new safe haven?
There's a re-rating of tech to 'safety' according to Brian.
He said "We would argue that tech represents relative safety in these times. Tech has never really been thought of as safety, but we are not cancelling our Microsoft Office subscriptions or our Salesforce subscriptions among salespeople because of COVID, so there's still some resiliency there."
Defining 'Tech' in 2020
Brian also addressed the vexed question of what a tech stock actually is, and where some of the FAANGs like Facebook, Amazon and others sit.
"We could talk to a hundred different investors and they could define tech via a hundred different ways. So the way we model it is similar to the GICs codes and there've been some shifts in coverage of names like Google and Facebook that are now considered media names or advertising names."
According to Brian, even though Amazon is considered a consumer stock, obviously it has a hefty tech component.
"The way we focus on tech and sort of the expertise of our group is in semiconductors software, hardware, networking, as some of these other names are within other teams, but we recognise there's overlap. We obviously keep an eye on them but that's how we classify this group when we're looking at tech stocks."
So what are the key trends in technology?
Cloud computing is probably the biggest trend - renting out IT capacity in the cloud rather than building it yourself.
'Software as a Service' continues to grow and be a bigger piece of the pie as companies continue to move to the cloud model and a subscription model of accessing the latest and greatest software at all times, that is secure.
5G is another one for technology. The companies that enable that 5G technology, the semiconductors, the equipment are certainly favourable trends in technology.
Artificial intelligence - It's being done by the leaders in order to simplify and streamline, whether it's apps, software operations, or whether it's to glean insights from big data.
Then 'The Internet of Things' is something we continue to hear more about - making devices smarter, more sensors, more processors, connectivity.
How to find value in Tech
"We would say today that technology is overvalued," noted Brian.
He said: "The median technology stock that we cover at Morningstar has a price to fair value ratio of 1.12, so 12% overvalued. At the height, maybe a few weeks back, it was as high as 24% of our value. This is the highest peak we've seen since 2007, so not only is the sector expensive, but it's the most expensive we've seen in at least 13 years. Some of our fair value estimates are even higher than they were two or three months ago yet it looks like the market is even more optimistic than we are expecting."
The ETFS Morningstar Global Technology ETF (ASX code: TECH) tracks the Morningstar Developed Markets Technology Moat Focus Index. It's more than just a tech sector play and combats some of the valuation concerns across the tech sector.
Morningstar applies a fair value screen to its analysis of companies in the Index, setting it apart from many others, said Brian.
"When we analyse companies, we provide a fair value estimate, it's the intrinsic value of what we think of businesses worth at any point in time. We look for companies with a price to fair value discount where the stock price is significantly below our fair value estimate. It's important that we identify firms that trade with a decent margin of safety. Microsoft is a name we think is fairly valued, so compared to our fair value estimate, we think the stock price is about right today."
The second defining feature of the Index is Morningstar's Moat methodology.
"A moat is the sustainable competitive advantage that companies possess and even though tech is a fast moving sector some companies have them. If you think about the competitive advantages of firms like Microsoft and Amazon Web Services – these are some of the strongest moats we probably see in the world to the point that there's antitrust concerns today."
Access to a range of opportunities
Investors wanting to capture the growth of global tech can use products such as the ETFS Morningstar Global Technology ETF to intelligently access a diverse basket of global tech stocks with an economic moat over competitors. 

........
This document is communicated by ETFS. This document may not be reproduced, distributed or published by any recipient for any purpose. Under no circumstances is this document to be used or considered as an offer to sell, or a solicitation of an offer to buy, any securities, investments or other financial instruments and any investments should only be made on the basis of the relevant product disclosure statement which should be considered by any potential investor including any risks identified therein. This document does not take into account your personal needs and financial circumstances. You should seek independent financial, legal, tax and other relevant advice having regard to your particular circumstances. Although we use reasonable efforts to obtain reliable, comprehensive information, we make no representation and give no warranty that it is accurate or complete. Investments in any product issued by ETFS are subject to investment risk, including possible delays in repayment and loss of income and principal invested. Neither ETFS, ETFS Capital Limited nor any other member of the ETFS Capital Group guarantees the performance of any products issued by ETFS or the repayment of capital or any particular rate of return therefrom. The value or return of an investment will fluctuate and investor may lose some or all of their investment. Past performance is not an indication of future performance. Information is current as at date of publishing.
---

Follow Kanish Chugh's wires
---
---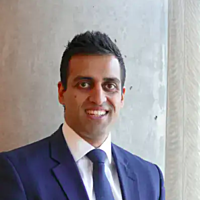 ETF Specialist & Head of Distribution
ETF Securities
Kanish Chugh is responsible for distribution covering sales and marketing strategy for institutional, intermediary and retail clients. He joined ETF Securities in 2015 and has previous experience with Fidelity International, BlackRock and...
Expertise