How Perpetual's tried-and-trusted process beat the market
---
The COVID-19 pandemic, resulting lockdowns and border closures caused chaos in March last year as the Australian sharemarket sell off set new records for all the wrong reasons. The aftermath saw a third of S&P/ASX 100 stocks reduce, defer, suspend or cancel dividends. While the ASX's sharp dip to levels last seen in 2012 was startling, the dramatic bounce back – largely driven by economic stimulus and confidence in the vaccine roll out − has been remarkable. In this article we look at how the Perpetual Equity Investment Company (ASX: PIC) was able to manage investor capital during the downturn while the rotation to value stocks has seen it handily beat its benchmark over the recovery.

Income, capital growth
Some Listed Investment Companies (LICs) have attempted to reinvent this tried-and-trusted investment structure in recent years, but the bottom line remains the same: LIC shareholders generally seek a stable income stream of fully franked dividends from their investment. And when disaster strikes, the close-ended structure can be an effective bulwark against volatility as LIC managers can continue to make investment decisions rather than be forced to satisfy redemption which otherwise may be required in structures such as traditional managed funds.
As can be seen in the graphic below, PIC shareholders who participated in the IPO in 2014 have received a pre-tax total return of 69.4%. Of this 69.4%, shareholders have received an income return of 40.8% via fully franked dividends and assuming the reinvestment of dividends.
PIC's investment objective is to provide investors with an income stream and long-term capital growth in excess of its benchmark (S&P/ASX 300 Accumulation Index) over minimum 5-year investment periods. We aim to deliver this through a concentrated and actively managed portfolio of Australian listed securities with typically a mid-cap bias and global listed securities. Active management plays a crucial role in our investment process both from a portfolio return perspective and also to generate franking credits for the payment of fully franked dividends to our investors.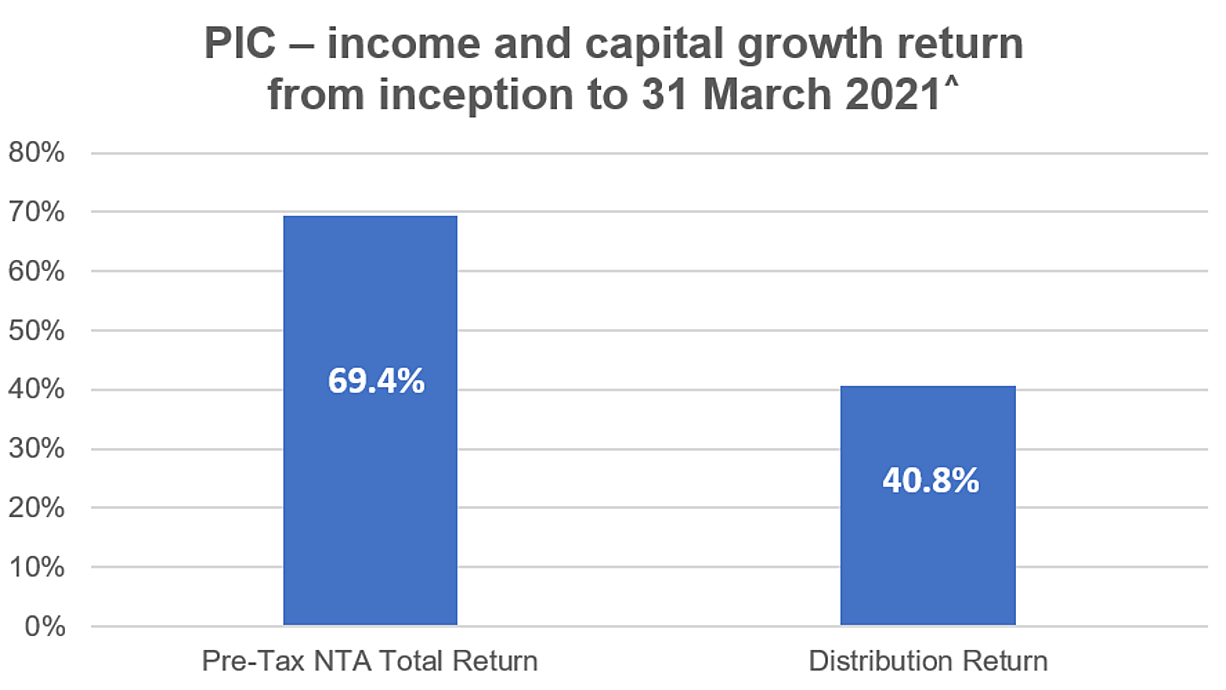 Peak performance
We believe we effectively managed investor's capital in PIC during the downturn, particularly as certain value investors and indices underperformed. As always, a critical first step in PIC's investment process is to screen companies for quality, including the robustness of their balance sheet and financial resources to survive the ups and downs of the economic cycle. It is also important to have an ongoing dialogue with management of companies to understand their approach to capital management and their outlook with regards to the economic backdrop. The portfolio can hold up to 25% in cash, providing flexibility during changing market conditions and allowing us to act quickly to invest in companies we believe are both high quality and trading at attractive, discounted valuations.
As can be seen in the second graphic, the benchmark has only recently returned to pre-COVID levels while the PIC reached this milestone in June last year, just three months after the sell-off led by COVID-19. When the S&P/ASX 300 Accumulation index returned to its pre-COVID peak in early April 2021, the PIC portfolio had already returned more than 23% (pre-tax NTA) over the same period. Over the 1 year to 31 March 2021, the PIC portfolio returned 60.5% (net of fees, expenses and before tax paid), outperforming the benchmark by 22.2%.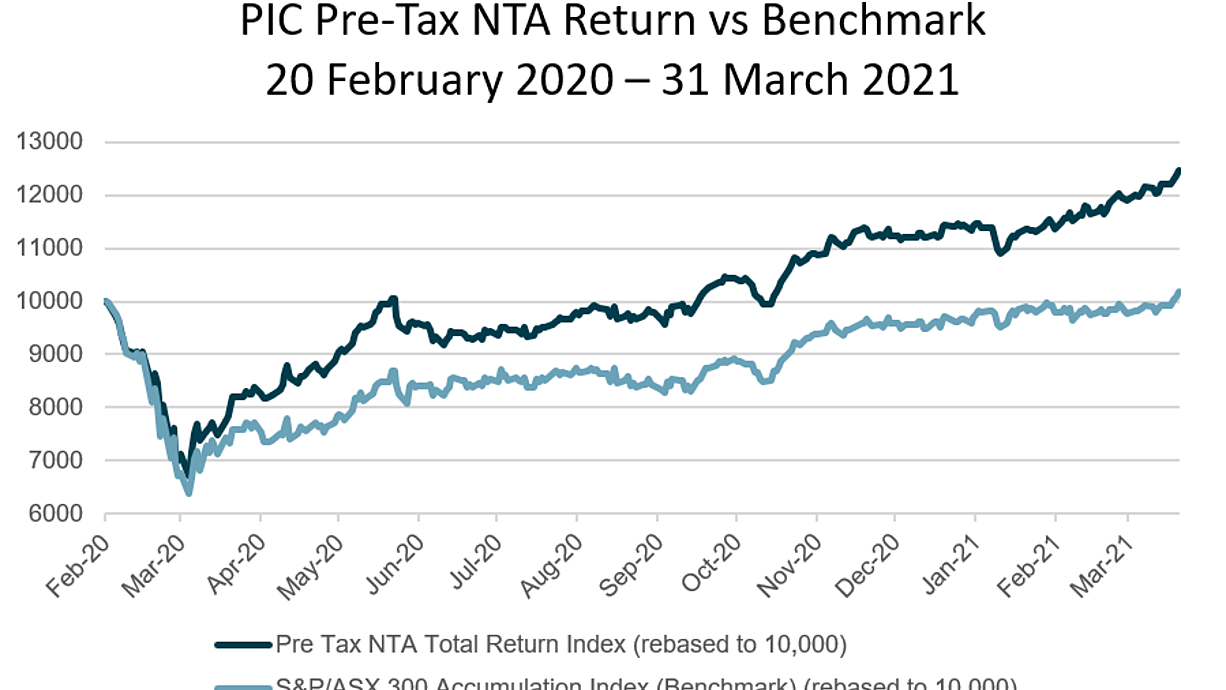 Looking ahead
We believe the rotation to value is well and truly here. PIC has been and we believe will continue to be a beneficiary of this. We remain upbeat, particularly in our view of cyclical stocks which we expect to benefit from reopening economies, access to COVID-19 vaccines and central bank support. This complements the companies in our portfolio which we have held long term and believe are experiencing structural growth.
Our view is that the market thinks the risk of inflation is transitory and has been priced in. We feel that could be incorrect and this provides an opportunity to establish positions in companies that may act as an inflation hedge. Companies in the mining and energy sectors for example, may help in managing the risk of more permanent inflation as the risk of rising fiscal dominance, trade wars, business and carbon costs become more embedded in the global economy. In any case, our active management style lends itself to being ready to adapt in all market conditions whether that be increasing our cash buffer or deploying cash into Australian listed or global listed securities which meet our investment criteria and are attractively valued.
Interested in income and capital growth?
Our strategy is to create a concentrated and actively managed portfolio of Australian securities with typically a mid-cap focus and global listed securities. Find out more by clicking 'contact' below, or visit our website for more information.
---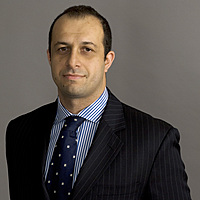 Deputy Head of Equities
Perpetual Asset Management (Australia)
Vince is the Deputy Head of Equities at Perpetual Asset Management Australia and is the Portfolio Manager for Australian Share, Geared Australian Share and the Perpetual Equity Investment Company Limited (ASX:PIC).
Expertise