Time to consider buying alternatives
---
We believe the thing investors can't ignore for 2020 is how to get exposure to alternative asset classes.

At the beginning of the year, we wrote about the reasons to be optimistic for 2019, in the face of what seemed like a wall of worry. The consensus was the cycle was ending and it was time to think about getting defensive. Since then markets have had one of the best years' ever. Australian equities are up 22% as are international equities in AUD terms. Even bonds have returned around 10% as yields have fallen. With reasonable economic data, and central banks cutting rates aggressively, we suggested the ABC portfolio – Anything But Cash.
Do we still support the ABC portfolio? The short answer is yes. 
Cash remains our least preferred asset class. Central banks are taking a "whatever it takes" approach to preventing a recession. Rates are falling and the RBA has stated it will continue to cut if necessary.
That said, valuations for equities are full and bond yields low. Australian Government 10-year bond yields are only 1.24%. Returns for these traditional asset classes for the coming 12 months will be harder to come by. 
Look to alternatives
Alternatives, by their nature, should provide lower volatility than shares but a better return than bonds. Fund options are available for those with smaller amounts of money to invest to provide diversified exposures to managers, strategies and groups of individual assets. 
Investors should consider alternatives such as hedge funds, commodities, private equity, unlisted infrastructure, listed property and direct property, to provide uncorrelated returns to bonds and stocks. 
The term hedge fund covers many strategies, but a true hedge fund is looking for some way to make a return that doesn't depend on markets going up. For example, a "special situations" strategy might entail buying the target of a takeover and selling the bidder. Another strategy is relative value. The manager may have a view that one country's share market will outperform another. The manager will buy the market it favours and sell short the unfavoured one, balancing out the risk but making money if the relative view is correct.

US election another wild ride
If we had to nominate a geopolitical event investors can't ignore it is the US election. The leading Democrat contender is talking of breaking up big technology companies and increasing taxes on the largest companies. 
Such a break up occurred in the US Telco industry with the creation of the baby Bells from AT&T. The result wasn't good for shareholder returns. We saw the impact of the last US election with massive swings in markets on the day. The coming election looks like it will polarise America again, and it will be another wild ride. 
Never miss an insight
Stay up to date with all of our latest insights by hitting the follow button below and you'll be notified every time we publish a wire. 
This wire is part of the 'One thing investors can't ignore in 2020' series. To download the full ebook please click here.
@credit suisse
---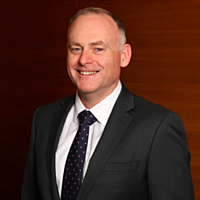 Chief Investment Officer
Credit Suisse
Andrew McAuley is a Managing Director of Credit Suisse Wealth Management Australia. As Chief Investment Officer, he is responsible for developing discretionary and advisory investment strategies across multi asset class portfolios for clients in...
Expertise