Imdex provides exposure to growth in global mining sector
---
Mining-technology company focussed on achieving higher margins, production innovation and acquisitions.
Key points
Imdex is leveraged to rising activity in mining. As commodity prices stay higher for longer this decade, resource companies will invest more in exploration, boosting demand for drill-optimisation products and technologies.
Imdex continues to benefit from its ongoing business transformation towards higher-margin software-as-a-service tools.
Product innovation offers growth opportunities. Imdex is commercialising blast-hole drilling technology used in mining production, and expanding its presence across the mining value chain.
Acquisitions are another source of growth. Imdex's strong balance sheet and cash generation puts it in an ideal position to acquire complementary firms that expand its presence on drill sites and/or accelerate its internal product innovation pipeline.
Introduction
Imdex is a leading global mining-technology company that helps drilling contractors find, define and mine orebodies. By providing real-time data on orebodies, Imdex's technology aids faster and more accurate decision-making on projects.
Imdex has four main products: drilling fluids, drilling optimisation technology, rock-knowledge sensors, and software. These products are used in mines in the Americas, Asia Pacific and Europe/Africa.1
By commodity, Imdex earns most of its revenue from gold and iron ore projects, with growing exposure to critical metals used in Electric Vehicles and renewables infrastructure.
In November 2020, PM Capital initiated a position in Imdex through the PM Capital Australian Companies Fund.
We believed Imdex offered compelling value because the market had over-reacted in the early stages of COVID-19 in 2020. At the time, investors feared commodity prices would tumble as global growth slowed, forcing resource companies to cut exploration and their workforces. But the downturn was less severe than expected.
Imdex performed strongly in 2020 and 2021, as the chart below shows. As Imdex upgraded its earnings guidance, its stock re-rated higher.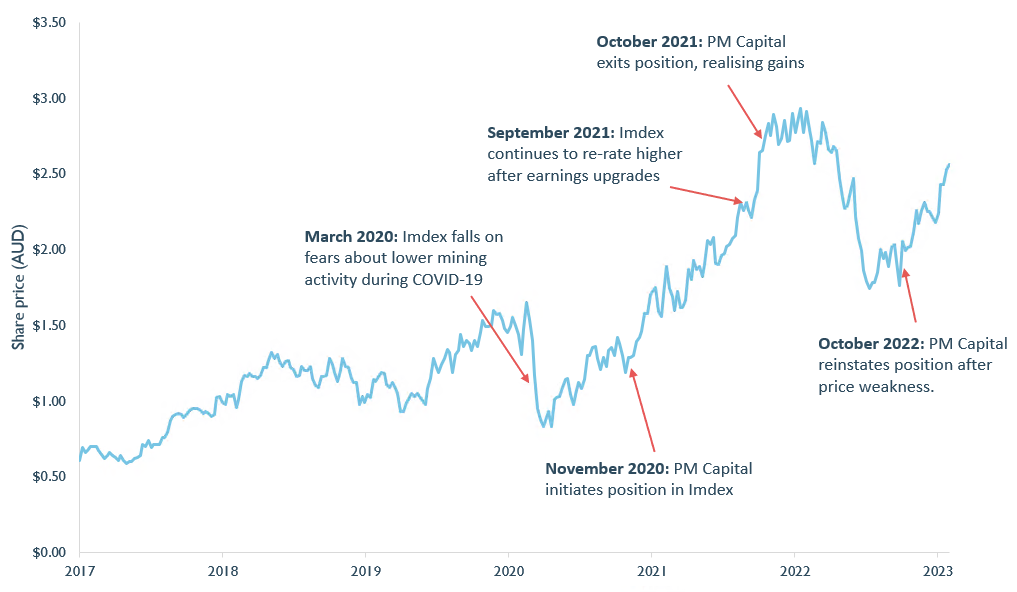 PM Capital exited its position in Imdex in the second half of 2021, taking substantial profits. We still liked Imdex's growth prospects, but its valuation exceeded our target.

In the fourth quarter of 2022, PM Capital reinitiated a position in Imdex. Lower commodity prices and the broader sell-off in global equities saw Imdex fall about 40%2 in 2022. At below $2 a share, Imdex traded on 13 times its normalised earnings and yielded around 10%. That was attractive for a company of its quality.
Our ownership of Imdex typifies PM Capital's investment style. Having identified an attractive theme, we look for the best companies exposed to that theme. Sometimes, we enter and exit the same investment, as valuations change. That allows us to take advantage of opportunities over investment cycles that typically last 7-10 years.
Key point 1: Leveraged to rising mining activity
PM Capital has a favourable view on commodities, principally copper, oil and coal. We believe long-term underinvestment in those and other commodity projects will create supply constraints, supporting higher commodity prices for longer.
We believe the commodity "supercycle" is still in its early stages and that this cycle, unlike previous ones, will be driven more by supply than demand fundamentals.
We regard Imdex as a "second derivative" play on that commodity theme. Higher commodity prices encourage mining companies to invest in exploration and production. In turn, demand for mining services – such as drilling consumables and tools – rises.
In its FY23 half-year results, Imdex said exploration budgets in South America, Africa, Europe and Australia "remain strong". In North America, ongoing or increased drilling programs are planned for 2023. Drilling activity in Asia is also improving.
Imdex noted that large- and mid-cap resource companies remain well-funded and committed to programs. Mining equity capital raisings were up 29% year-on-year (to January 2023)3, suggesting companies have extra capital to invest in projects.
Imdex said "commodity prices remain above levels to support further exploration" – particularly copper and gold prices.
Moreover, diminishing reserves and new discoveries likely to be at depth will result in larger drilling campaigns, said Imdex. These comments align with PM Capital's view that metals, such as copper, are becoming harder to find and mine, necessitating larger drilling programs for longer. That's good for Imdex.
Key point 2: Ongoing business transformation
Imdex was established in 1980 as a drilling-fluids provider. Today, Imdex earns 42% of its revenue from drilling consumables (fluids) and 58% from drilling sensor tools (rentals, software-as-a-service)4.
The Perth-based company is rapidly shifting its business model towards drilling sensor tools. In 2017, these tools generated 44% of revenue, compared to 58% today.
Drilling sensor tools have high margins. Their Gross Profit Margin of 80-85% compares to 45% for drilling consumables, a largely commoditised market. Also, mining software provides recurring income and greater earnings visibility.
Imdex maintains ownership of the tools (which it develops through its intellectual property) and leases them to customers. Mining companies pay for the tools when their drill rigs are operational. Typically, one tool is used for each drill rig, meaning Imdex benefits earlier in the mining cycle as fleet usage increases.
Drilling sensor tools have become an integral part of mining projects. Companies use Imdex's drilling sensors and fluids to optimise their drilling programs and improve productivity rates and sample drilling. Imdex's technology also enhances "rock knowledge" by providing real-time data on orebody geology.
Key point 3: Product innovation
Imdex has a long history of technology leadership in its industry. Its goal is to increase market share through targeted Research & Development programs.
Imdex wants to expand its presence in mining production projects. The company has always been more exposed to exploration projects and thus higher cyclicality in mining. Leveraging its technology into adjacent production markets – and providing software to the client at the same orebody – has a strong strategic rationale.
Imdex is developing BLAST DOG, a suite of products involved in blast-hole drilling. BLAST DOG is currently undergoing its first commercial deployment through a three-year contract at Fortescue Metal Group's Iron Bridge mine, south of Port Hedland.
BLAST DOG is an early-stage business. PM Capital currently ascribes no value to BLAST DOG in our modelling of Imdex. However, we acknowledge that BLAST DOG could have a material impact on Imdex's valuation if its product trials succeed.
The BLAST DOG technology targets a large market and sits in the production phase of mining. Successful commercialisation of the technology would deliver three main benefits for Imdex. First, it would help the company achieve its strategic goal of increasing its market share in mining production.
Second, the production phase of mining is less cyclical than exploration. If Imdex can build a larger presence in mining production, the market will ascribe a higher valuation multiple to Imdex.
Third, BLAST DOG can potentially make a meaningful contribution to Imdex's future earnings, given the size of its market and expected profit margin.
Key point 4: Growth through acquisitions
In March 2023, Imdex completed its acquisition of Devico AS for A$324 million. Devico, a Norwegian company, is a global leader in drill-site technology, including sensor and directional drilling technologies.
Devico will deliver Imdex the top market position in Europe and add to the latter's global position. It would also provide leading technology in a growth market, strengthen Imdex's position in drill sensors and add another product line: directional drilling tools.
Importantly, Devico's directional drilling tools and drill sensors are applicable to resource delineation in mining production – a strategic focus for Imdex.
PM Capital believes the acquisition, funded through a mix of debt and equity, was done on an appropriate valuation multiple, given Devico's growth prospects. PM Capital participated in the entitlement offer and capital raising for the acquisition.
Imdex has the balance-sheet strength to pursue other acquisitions and further consolidate the mining-technology industry. In early 2023, Imdex entered into a Heads of Agreement to acquire a 40% interest in Krux Analytics Inc for $6.42 million in cash. The Calgary-based Krux develops drilling-analytics software.
In November 2021, Imdex acquired a 30% interest in Datarock, an image-analysis company, for $5.5 million and has since lifted its stake to 40%.
Conclusion
Imdex has a strong position in a long-term growth market: mining technology. Through ongoing business transformation, product innovation and acquisitions, Imdex is focusing more on higher-margin drilling technologies and mining production.
This strategy is being successfully implemented at a time of strong exploration demand due to higher commodity prices – a trend PM Capital expects to continue this decade.
At the end of February 2023, Imdex traded on 16 times its normalised earnings, according to PM Capital forecasts. We believe this multiple does not adequately reflect the improving quality of Imdex's business or its prospects for above industry-average growth during this commodity cycle.
We expect Imdex will continue to increase its market share in the global mining-technology market as it expands its presence across the mining value chain and into more locations. The result should be faster earnings growth this decade and the market ascribing a higher valuation multiple to those earnings.
About the author
Kevin Bertoli is a Co-Portfolio Manager of the PM Capital Global Companies Fund and PM Capital Australian Companies Fund. 

---
Notes
1 The Americas constituted 45% of Imdex revenue in the first half of FY23. The Asia Pacific region comprised 31% and Europe/Africa delivered 24% of revenue. Source: Imdex FY23 half-year results presentation.
2 On a peak-to-trough basis.
3 Source: MST Bloomberg. At 23 January 2023.
4 Imdex FY23 half-year presentation. 
Never miss an update
Enjoy this wire? Hit the 'like' button to let us know. Stay up to date with my current content by
following me
below and you'll be notified every time I post a wire
Welcome to Livewire, Australia's most trusted source of investment insights and analysis.
---
To continue reading this wire and get unlimited access to Livewire, join for free now and become a more informed and confident investor.
We aim to build long term wealth together with our co-investors by finding and exploiting investment anomalies around the world, using a focused, patient and considered approach to finding simple investment ideas.
........
This Insight is issued by PM Capital Limited ABN 69 083 644 731 AFSL 230222 as responsible entity for the PM Capital Australian Companies Fund (ARSN 092 434 467), the "Fund". It contains summary information only to provide an insight into how we make our investment decisions. This information does not constitute advice or a recommendation, and is subject to change without notice. It does not take into account the objectives, financial situation or needs of any investor which should be considered before investing. Investors should consider the Target Market Determinations and the current Product Disclosure Statement (which are available from us), and obtain their own financial advice, prior to making an investment. The PDS explains how the Fund's Net Asset Value are calculated. Past performance is not a reliable guide to future performance and the capital and income of any investment may go down as well as up. 
---
Never miss an update
Get the latest insights from me in your inbox when they're published.
---
---
We aim to build long term wealth together with our co-investors by finding and exploiting investment anomalies around the world, using a focused, patient and considered approach to finding simple investment ideas.
Expertise