Income beyond fixed income
---
The struggle to find income is not new, but is currently complicated by expectations of rising government bond yields and heightened inflation, creating risks for holders of core government bonds or longer duration assets.
The strengthening economic recovery has bolstered the earnings outlook. This should lead to a recovery in dividends as companies return capital through higher dividend payouts.
For those looking for potentially more stable income streams with a lower correlation to equities, alternatives, such as real estate and infrastructure, present predictable inflation-linked income options.

Fixed income to low income
Years of financial repression by central banks as well as longer-term secular forces have created a downdraft of income in the traditionally held parts of the fixed income market.
There are still sources of income within the fixed income market, such as U.S. HY bonds or EM debt, or the relatively newer China government bonds. But investors must be more selective in their allocations given market and idiosyncratic risks to these assets.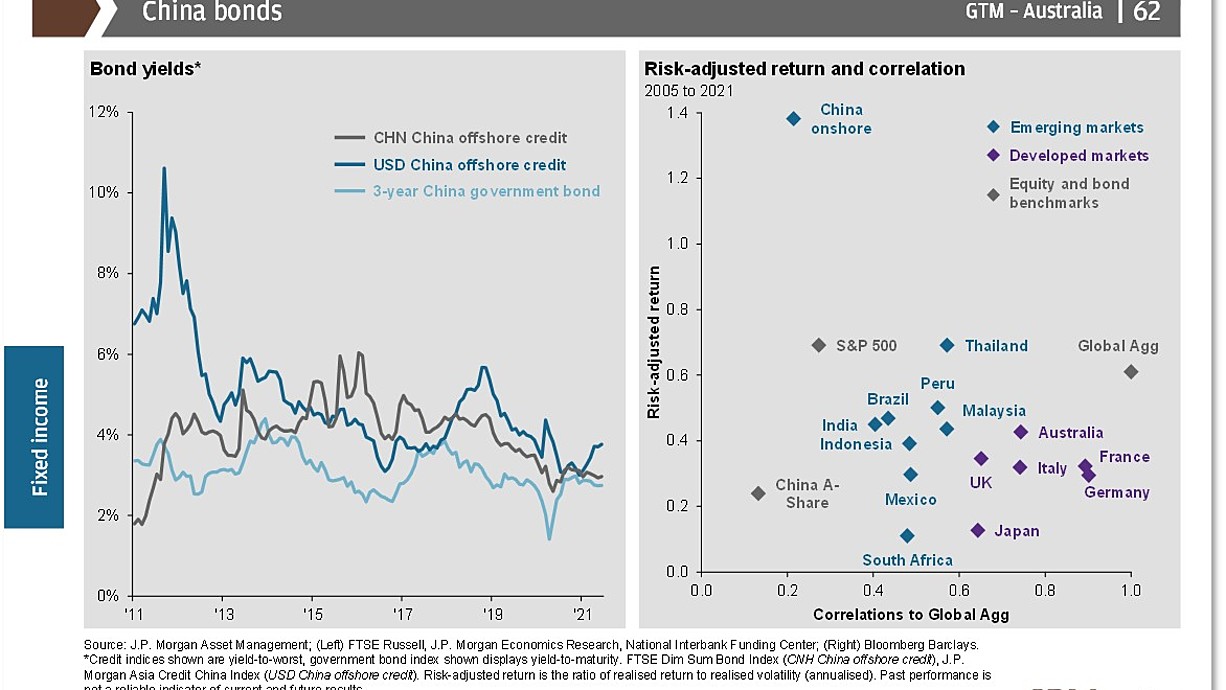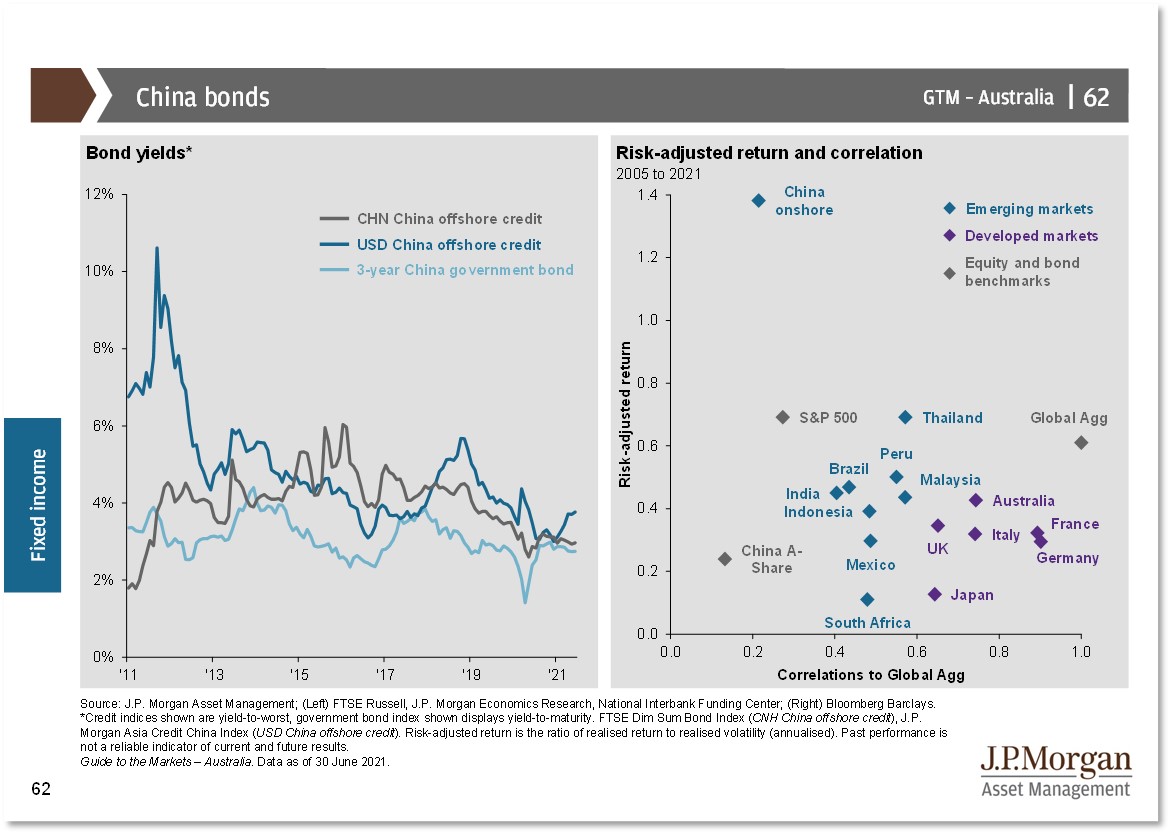 Divide(n)d we stand
The popularity of growth stocks, traditionally lower dividend payers, has reduced the dividend component of total shareholder return.
In the U.S., for example, 22% of the 10.2% average total return since 2002 came from dividends. In the last five years, this number has fallen to 14% given the boom in U.S. growth stocks. However, the change has not been as swift in Asian markets as dividends have still accounted for 24% of total returns in the last five years (28% since 2002).
This trend may be starting to turn as elevated valuations in growth sectors greatly diminish return prospects and investors rotate towards value and higher dividend payers.
In the depths of the COVID-19 pandemic, dividend forecasts collapsed alongside earnings expectations. Regulatory changes also prevented some companies from paying or increasing dividends during the period. However, a V-shaped recovery in many economies has led to a sharp increase in dividend forecasts, which are noticeably stronger in Asian markets.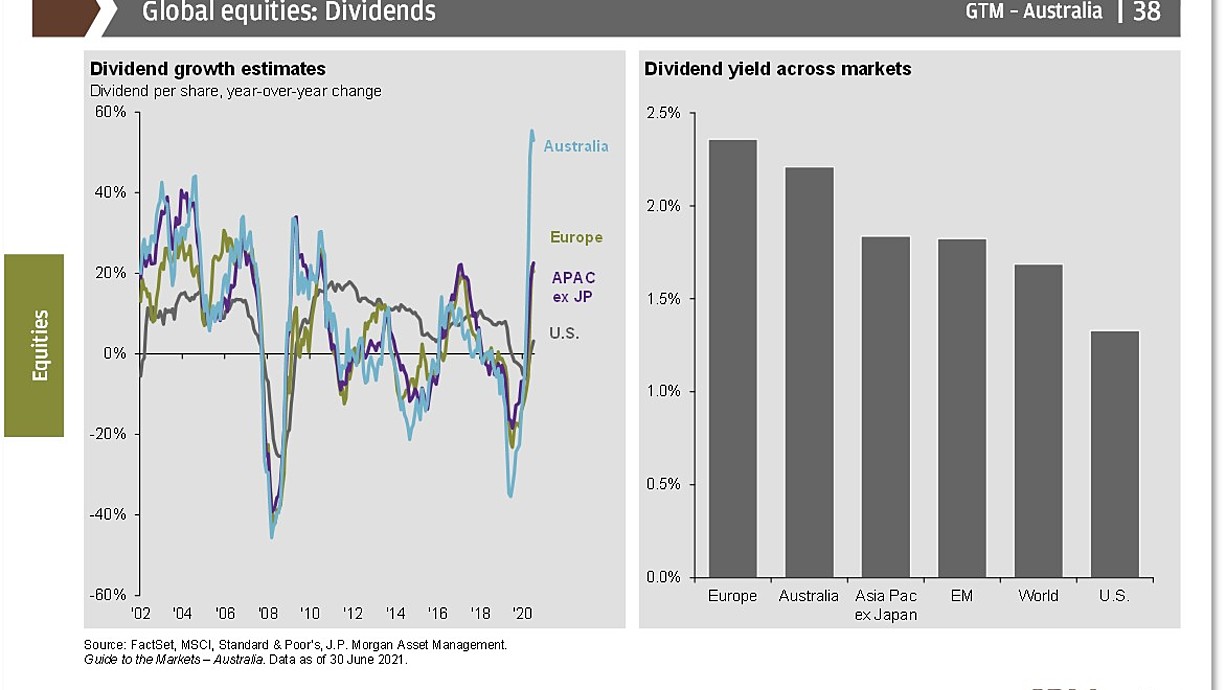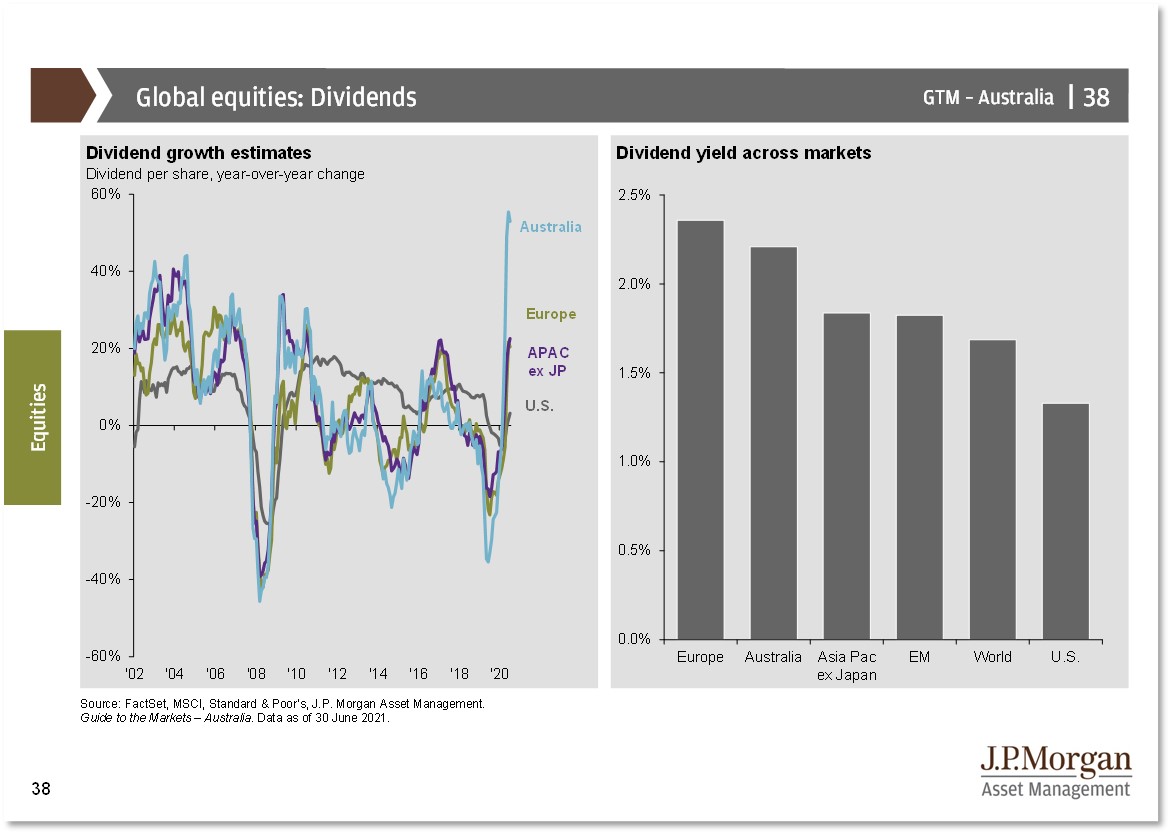 Alternative income
Looking beyond bonds for income means considering non-traditional assets. Alternative assets present their own challenges but offer similar characteristics for income and portfolio diversification.

In recent years, investors have been increasing their allocations to alternatives as such assets offer the prospect of increased returns, steady income and, in some cases, bond-like diversification.
Real assets, such as infrastructure, real estate and transport, are assets that have steady cash flows that can translate to higher income. The contractual nature of these cash flows, often with high-quality counterparties, leads to more predictable income streams and lower return volatility.
These assets may also be an inflation hedge as the cash flows are indexed to rising inflation rather than having to absorb it.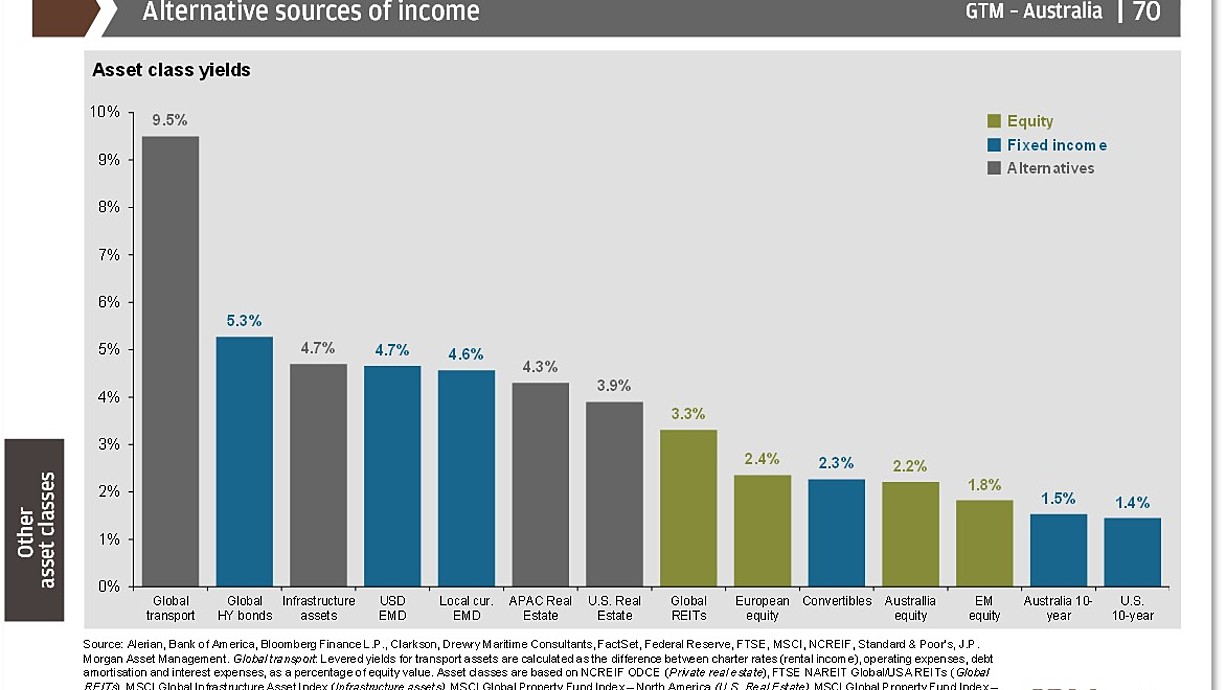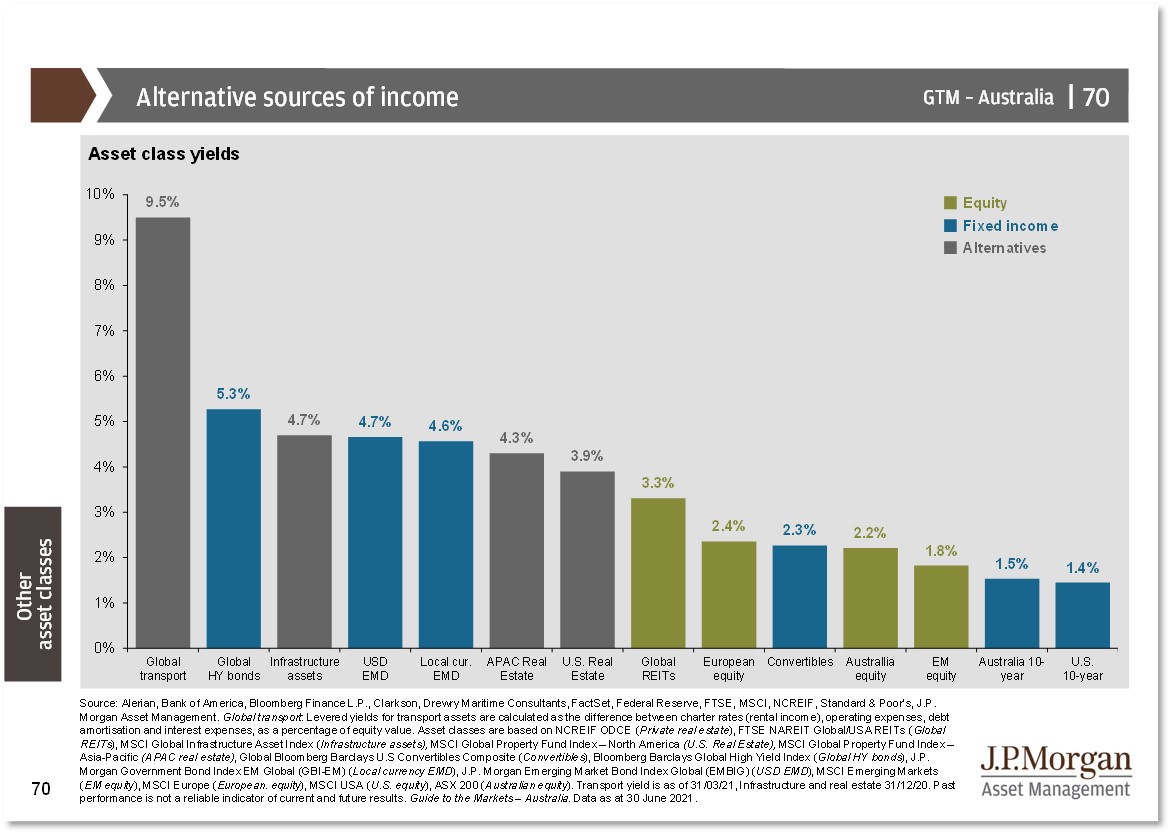 Investment implications
Some segments of the bond market can still be tapped to provide income in portfolios, such as HY bonds and EM debt. However, investors will increasingly have to look beyond the bond market for income.
The strength in earnings growth means companies can reward shareholders with higher dividends as well as reinvest for growth. Higher-yielding equity markets are trading at elevated valuations, and this is an option that should be considered.
For investors who can allocate to illiquid assets, the stable cash flows from real assets, such as infrastructure, transport and real estate, may be a viable source of reliable income and bond-like portfolio diversification.
........
For the purposes of MiFID II, the JPM Market Insights and Portfolio Insights programs are marketing communications and are not in scope for any MiFID II / MiFIR requirements specifically related to investment research. Furthermore, the J.P. Morgan Asset Management Market Insights and Portfolio Insights programs, as non-independent research, have not been prepared in accordance with legal requirements designed to promote the independence of investment research, nor are they subject to any prohibition on dealing ahead of the dissemination of investment research. This document is a general communication being provided for informational purposes only. It is educational in nature and not designed to be used as advice or a recommendation for any specific investment product, strategy, plan feature or other purpose in any jurisdiction, nor is it a commitment from J.P. Morgan Asset Management or any of its subsidiaries to participate in any of the transactions mentioned herein. Any examples used are generic, hypothetical and for illustration purposes only. This material does not contain sufficient information to support an investment decision and it should not be relied upon by you in evaluating the merits of investing in any securities or products. In addition, users should make an independent assessment of the legal, regulatory, tax, credit and accounting implications and determine, together with their own professional advisers, if any investment mentioned herein is believed to be suitable to their personal goals. Investors should ensure that they obtain all available relevant information before making any investment. Any forecasts, figures, opinions or investment techniques and strategies set out are for information purposes only, based on certain assumptions and current market conditions and are subject to change without prior notice. All information presented herein is considered to be accurate at the time of production, but no warranty of accuracy is given and no liability in respect of any error or omission is accepted. It should be noted that investment involves risks, the value of investments and the income from them may fluctuate in accordance with market conditions and taxation agreements and investors may not get back the full amount invested. Both past performance and yields are not reliable indicators of current and future results. J.P. Morgan Asset Management is the brand for the asset management business of JPMorgan Chase & Co. and its affiliates worldwide. To the extent permitted by applicable law, we may record telephone calls and monitor electronic communications to comply with our legal and regulatory obligations and internal policies. Personal data will be collected, stored and processed by J.P. Morgan Asset Management in accordance with our Company's Privacy Policy. For further information regarding our regional privacy policies please refer to the EMEA Privacy Policy; for locational Asia Pacific privacy policies, please click on the respective links: Hong Kong Privacy Policy, Australia Privacy Policy, Taiwan Privacy Policy, Japan