Inflation - Why it is such a big deal for equities
---
Inflation Headwinds Equity Markets
Equity investors are acutely watching developments in inflation expectations and for good reason. Figure 1 outlines the reason inflation is having such a big impact on equites. Above trend inflation results in central banks raising short term interest rates – designed to slow the economy, reduce aggregate demand and rein in inflation. Each cycle is different but it is widely accepted that rising short term interest rates operate with a lag of about 12 months.
Figure 1 below highlights in red the elements of this process that have occurred so far in this cycle. The points in black are yet to play out. So far we have not yet seen any material slowdown in global growth but leading indicators of global growth like the US (10–2 years) yield curve are suggesting this slowdown is coming. So far corporate earnings have only slowed mildly (as discussed in last month's insight). The majority of companies have been able to pass on higher input costs while demand remains. The real test for corporates will come when demand begins to slow in coming quarters.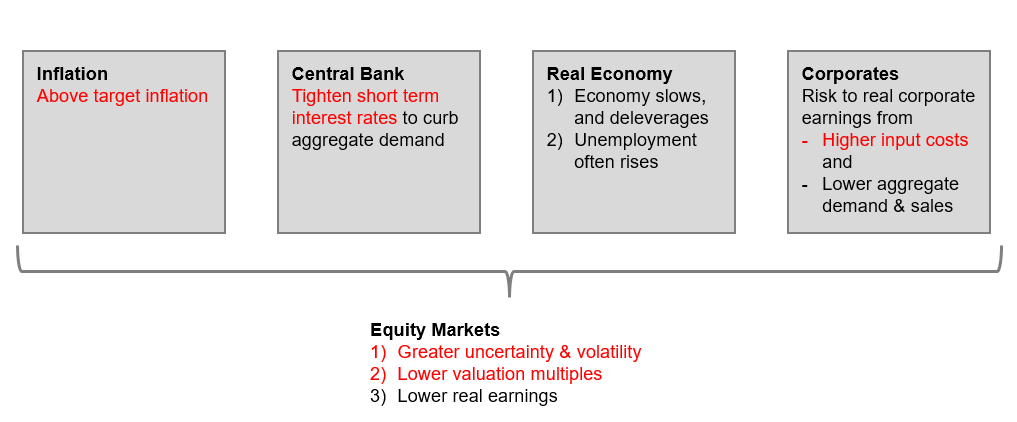 We have seen volatility in the equity market and we can expect more volatility. In the current inflation environment there remains increased uncertainty for the key factors in determining company valuations. From a cash flow perspective there is greater risk of lower cash flows in the next few years and greater uncertainty. In terms of the discount rate applied to those cashflows the market is expecting higher discount rates but also greater uncertainty in those interest rates which adds to equity market volatility. Year to date we have seen investors de-rate most companies but especially the longer dated growth companies and those with less certain cashflows. Conversely those with shorter dated and more certain cash flows have outperformed. This is in stark contrast to 2019 and 2020 and much of the last decade which favoured growth companies.
YTD we have seen the MSCI World Index Price to earnings (PE) multiple derate from 18 times back to the longer run average of 15 times. As investors are digesting the new level of interest rates and the increased uncertainty they are more conservative in company valuations. The higher rate environment has taken much of the excessive valuation multiples out of the most speculative parts of the market.
Figure 2 below highlights the relationship between inflation and valuations multiples. Periods of high inflation are associated with lower valuation multiples. This relationship is expected given the negative impacts highlighted in Figure 1 as well as the impact on company valuations from higher rates. Moreover the higher inflation rate and higher interest rate environment is usually associated with more conservative equity valuations.

The jury is still out as to whether inflation has peaked or not, but as long as rates remain above central bank target levels, interest rate policy settings are unlikely to remain expansionary. Markets often trade off the change in economic variables but the absolute levels are also important. Stubbornly high inflation is likely to keep central banks hawkish and equity markets volatile until inflation is tamed.
The Bottom Line
Inflation is causing extra volatility and risk for equity markets at the moment for good reason. The inflation headwind is likely to remain until higher rates have done their job of reducing aggregate demand and taming inflation. In this inflationary environment investors are likely to stay more risk averse in both security selection and equity valuations.
Learn more about risk aware investing
For more details on how State Street Australian Equity Fund can play a part in your asset allocation, click the contact button below, or visit our website for more information.
........
Issued by State Street Global Advisors, Australia, Limited (AFSL Number 238276, ABN 42 003 914 225) ("SSGA Australia"). Registered office: Level 14, 420 George Street, Sydney, NSW 2000, Australia · Telephone: +612 9240-7600 · Web: ssga.com. The views expressed in this material are the views of Bruce Apted, Head of Portfolio Management – Australia, Active Quantitative Equity Team through the period ended 31 August 2022 and are subject to change based on market and other conditions. The information provided does not constitute investment advice and it should not be relied on as such. All information is from SSGA unless otherwise noted and has been obtained from sources believed to be reliable, but its accuracy is not guaranteed. There is no representation or warranty as to the current accuracy, reliability or completeness of, nor liability for, decisions based on such information and it should not be relied on as such. Investing involves risk including the risk of loss of principal. Investing in commodities entail significant risk and is not appropriate for all investors. Commodities investing entail significant risk as commodity prices can be extremely volatile due to wide range of factors. A few such factors include overall market movements, real or perceived inflationary trends, commodity index volatility, international, economic and political changes, change in interest and currency exchange rates. Equity securities may fluctuate in value and can decline significantly in response to the activities of individual companies and general market and economic conditions. Investing in foreign domiciled securities may involve risk of capital loss from unfavorable fluctuation in currency values, withholding taxes, from differences in generally accepted accounting principles or from economic or political instability in other nations. Because of their narrow focus, sector investing tends to be more volatile than investments that diversify across many sectors and companies. MSCI indices are the exclusive property of MSCI Inc. ("MSCI"). MSCI and the MSCI index names are service mark(s) of MSCI or its affiliates and have been licensed for use for certain purposes by State Street Global Advisors ("SSGA"). The financial securities referred to herein are not sponsored, endorsed, or promoted by MSCI, and MSCI bears no liability with respect to any such financial securities. No purchaser, seller or holder of this product, or any other person or entity, should use or refer to any MSCI trade name, trademark or service mark to sponsor, endorse, market or promote this product without first contacting MSCI to determine whether MSCI's permission is required. Under no circumstances may any person or entity claim any affiliation with MSCI without the prior written permission of MSCI. This document may contain certain statements deemed to be forward-looking statements. All statements, other than historical facts, contained within this document that address activities, events or developments that SSGA expects, believes or anticipates will or may occur in the future are forward-looking statements. These statements are based on certain assumptions and analyses made by SSGA in light of its experience and perception of historical trends, current conditions, expected future developments and other factors it believes are appropriate in the circumstances, many of which are detailed herein. Such statements are subject to a number of assumptions, risks, uncertainties, many of which are beyond SSGA's control. Please note that any such statements are not guarantees of any future performance and that actual results or developments may differ materially from those projected in the forward-looking statements. This material is general information only and does not take into account your individual objectives, financial situation or needs and you should consider whether it is appropriate for you. The whole or any part of this work may not be reproduced, copied or transmitted or any of its contents disclosed to third parties without SSGA Australia's express written consent. Livewire gives readers access to information and educational content provided by financial services professionals and companies ("Livewire Contributors"). Livewire does not operate under an Australian financial services licence and relies on the exemption available under section 911A(2)(eb) of the Corporations Act 2001 (Cth) in respect of any advice given. Any advice on this site is general in nature and does not take into consideration your objectives, financial situation or needs. Before making a decision please consider these and any relevant Product Disclosure Statement. Livewire has commercial relationships with some Livewire Contributors.
---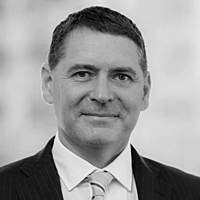 Head of Portfolio Management – Australia, Active Quantitative Equity
State Street Global Advisors
Bruce is Head of Active Quantitative Equity - Australia, for State Street Global Advisors. He has over 20 years' experience, covering Australian and global equites, long and short equities as well as global macro strategies.