Investing for Life with Stirling Mortlock, AM
---
In the final episode of this season's Investing for Life podcast series, I interview Stirling Mortlock AM, Founding Partner of XV Capital Advisory and former Australian professional rugby union player who captained the Wallabies, ACT Brumbies and Melbourne Rebels.
After a celebrated sporting career, Stirling has transitioned his success into the corporate world, but it hasn't always been smooth sailing. Today, he is the founding partner of XV Capital – a sports advisory firm that works with partners to leverage and capitalise on large sports markets in Asia Pacific, Europe and the Americas – but his journey to get there is one of reinvention.
Listen to this conversation to:
Learn more about Stirling's childhood growing up on Sydney's North Shore enjoying "non-stop perpetual motion", healthy sibling rivalry as one of five children, and an early passion for sport including playing rugby from the age of four; 
Hear Stirling's reflections on early career setbacks including not being selected in junior representative teams; 
Be inspired by his drive to overcome further challenges including a series of serious injuries throughout his professional rugby career – 15 operations in total – and what he learned as a result; 
and Hear about his evolution from professional sportsperson to corporate leader, and how he navigated this transition to ensure the 'second half' of his career built on his first.
Stirling's Investing for Life story offers a deep dive into the journey of one of Australia's sporting greats who navigated fear, uncertainty and insecurity to pursue a life beyond rugby. This conversation promises to inspire us all to give life "everything you've got" and view challenge and change not as a negative, but an opportunity to learn, grow and come back even stronger in the long run.
Learn more
If you would like to listen to other episodes of our Investing For Life podcast, please click here
Equities
Investing for Life with Dr Bianca Ogden
Education
Investing For Life: with Jason Pellegrino, MD and CEO at Domain
---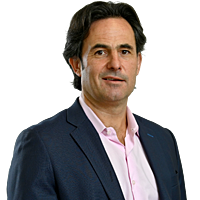 Head of Investment
Platinum Asset Management
Douglas initially joined Platinum in May 2003 as an investment analyst covering industrials and as primary communicator for advisor presentations. He previously worked for CBA as a product actuary and prior to this as an investment manager for...
Expertise