Investing for Life with Dr Bianca Ogden
---
In this open and insightful conversation, Investing for Life I interview Dr Bianca Ogden, Fund Manager at Platinum Asset Management.
Dr Bianca Ogden, MBio (Tübingen), PhD (University College London), has been the portfolio manager for the Platinum International Health Care Fund since 2007 and leads the healthcare sector team. After spending some time at Swiss pharmaceuticals company Novartis researching new HIV drugs, Bianca went on to complete a PhD in virology at UCL. She then migrated to Australia and joined Johnson & Johnson as a molecular biologist, researching new drug targets in oncology.

Managed Fund
Platinum International Health Care Fund
Global Shares
Bianca embarked on a career change and joined Platinum as an investment analyst in 2003. Her rich knowledge base in molecular biology and first-hand insights into the pharmaceutical and biotech industry give her a unique ability to delve deeply into the fundamentals of healthcare companies and identify those with a solid foundation in scientific research.
Listen to this conversation to:
gain an insight into Bianca's life as an only child growing up in Germany, and how her innate curiosity led her from the world of molecular biology to her role as a fund manager today;
be inspired by her determination to place herself in situations that challenged and grew her, and her perseverance to overcome setbacks along the way;
learn about the adjustments she has made over the past 15-20 years which have improved her outlook on life and paved the way for a brighter future.
Bianca's Investing for Life story will encourage you to pursue your passions and push through uncomfortable seasons to reap the rewards on the other side. Bianca's journey proves investing in good life choices upfront can deliver benefits in the second half.
Never miss an episode
In this season of Investing for Life, I'll bring you a number of leaders, including the CEO of one of Australia's most successful online businesses, a leader of a profession who provides clarity through numbers, another leader who's driving a diversity empowerment agenda in a very traditional world, and a coach of a successful female sporting team, among others.
And I hope that via the Investing for Life podcast series you'll hear life stories that help you think about your own. I'll ask about setbacks, improvements, and about daring to be different. I know that this works in investment markets, and I like to believe, from my own sneak preview, that it can work in real life, too. Ultimately, investing in ourselves for life should pay dividends. And I hope that this series is a worthwhile investment of your time.
To stay up to date with the latest episodes, hit the follow button below. Thanks for listening.
---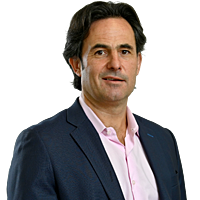 Head of Investment
Platinum Asset Management
Douglas initially joined Platinum in May 2003 as an investment analyst covering industrials and as primary communicator for advisor presentations. He previously worked for CBA as a product actuary and prior to this as an investment manager for...
Expertise