IPO to market leading telco in under 4 years
---
It's not that global mid small cap companies are overlooked by Australian investors, it's actually more often than not that they simply aren't aware of their existence and therefore potentially missing a great investment opportunity. Cellnex Telecom, the main infrastructure operator for wireless telecommunication in Europe (market cap €8.6bn, share price €28.70) could be one example;
Cellnex is the largest independent owner of mobile tower assets in Europe with strong market positions in Spain, Italy, the Netherlands, UK, France and Switzerland. At the end of 2018 its owned sites coupled with its build to suit pipeline represented c29k infrastructure assets in these regions while controlling roughly 30% of the independently owned towers in Europe. Barriers to entry are incredibly high due to the high level of capital required to replicate its portfolio even if you could navigate the intensive regulatory process in deploying new structures across Europe.
Essential infrastructure with significant growth optionality
Since its IPO in 2015, Cellnex has amassed an enviable position as the leading independent owner of highly strategic mobile tower infrastructure assets across Europe, with the best yet to come. Cellnex benefits from incredibly strong revenue visibility as the largest portion of its revenue is associated with long term contracts which are generally indexed to inflation. Its Telecom Infrastructure business is underpinned by anchor customers which have 10 to 20-year initial contract maturities with potential for renewals.
We consider tower assets as essential infrastructure in facilitating our insatiable demand for data and next generation technologies such as 5G.
As Cellnex recently highlighted at an industry forum in late April:
The implementation of 5G networks represents a new connectivity paradigm and is evolving in parallel to new consumption habits. It is this new environment, marked by minimum latency, in which industry 4.0, telemedicine and gaming are evolving. Artificial intelligence (AI) also takes centre stage in areas such as mobility (the connected car). 5G will require a new network architecture, and Cellnex Telecom, present in six European countries, is working to develop the infrastructures necessary for the effective roll-out of this new technology.
Long-term outsourcing opportunity
Independent operators own approximately 15% of European towers compared with c80% in the US – we believe the outsourcing trend in Europe will emulate that of the US over time. As part of its capital raise in early March, management indicated that it had identified a number of market opportunities representing an estimated aggregate value of €11bn with approximately €4bn of near to medium term assets under evaluation. To provide balance sheet flexibility, Cellnex raised €1.2bn in an 11 for 38 rights issue priced at €17.89 and following conversations with the company, we participated and received our full allocation.
Cellnex has demonstrated a best-in-class infrastructure roll-up strategy in Europe as its proposition is unique in the European tower landscape. Its strategy is based on operational excellence, neutrality, industrial model and industrial approach with a willingness to create a strong ties with all European mobile operators - this enviable market position is about to accelerate.
On May 7th Cellnex announced what it describes as "The Quantum Leap" which reflects an agreement with Iliad in France and in Italy, as well as Salt in Switzerland, which will see its current portfolio opportunity of 29,000 sites growing by more than 50% up to 45,000 sites over the next several years. The agreement covers 10,700 existing towers coupled with a long-term build to suit pipeline which will see Cellnex facilitate a network rollout underpinned by best in class mobile network operators over the next several years.
Once completed, the total deal value is just over €4bn and is expected to generate an incremental €510m of EBITDA once the rollout is finalised. Additionally, Cellnex will benefit from a doubling of long-term contracted revenue backlog from €18bn to €36bn while recurring free cash flow per share expands dramatically over the next several years:
Long-term secular growth drivers
We consider the growth opportunities associated with mobile data traffic growth, tower ownership outsourcing and new applications facilitated by next generation networks such as 5G as powerful secular trends for Cellnex with our investment underpinned by a significant revenue backlog indexed to inflation.
Mobile data traffic growth - Cisco estimates that European mobile data traffic will grow at a 47% compound growth rate between 2016 and 2021.
Population coverage – Mobile network operators are expected to achieve minimum population coverage as part of recent spectrum auctions, and this will drive strong demand for infrastructure.
Outsourcing – There is an increasing trend across Europe of mobile network operators outsourcing infrastructure assets to carrier-neutral third-party operators such as Cellnex. As mentioned earlier, only 15% of European towers are independently owned by passive operators (carrier neutral) compared with 80% in the US.
5G - Regulators, Governments and MNOs globally recognise 5G as the key next step of mobile network evolution. While the specific industrial standard of 5G networks is currently being developed, it is clear that 5G will trigger the deployment of Macro and Small Cells due to expected densification requirements. Such deployment will entail heavy investments for operators, placing them in a position to reconsider their traditional rollout strategy. Carrier-neutral tower operators such as Cellnex will take advantage of the situation, promoting new sharing agreements and extending existing ones.
Small Cell and DAS (Distributed Antenna Systems): Traffic is expected to outgrow the available capacity of current network infrastructures, creating an increasing need for new technologies such as Small Cells and DAS in order to further densify MNOs' networks. In order to offer higher traffic speeds, solutions combining Macro cells and Small Cells/DAS will proliferate.
Fiber optic: The adoption of 5G standards and the forecasted growth in IoT will also increase the need of fiber optics to connect the infrastructures and edge computing systems. The increase in data traffic will also drive the need for more and better long haul backhaul.
Long-term capital appreciation as shareholders
While Cellnex's existing asset portfolio is performing above our organic growth expectations, one of the key aspects in our initial investment thesis was the participation in the outsourcing trend of European tower assets. Our investment in Cellnex will provide years of accretive deal flow while building recurring revenue and free cash flow growth to us as shareholders.
On the back of its recent deal, Cellnex has reinforced its leadership position in the European tower landscape as it helps its clients accelerate their network rollouts while fostering telecom infrastructure sharing among all mobile network operators.
Despite its solid share price performance following the completion of the rights issue and tower portfolio acquisition, Cellnex's tower assets still trade at a significant discount to its US counterparts and as such our portfolio will continue to benefit from continued capital appreciation while providing significant optionality in the event of additional value accretive deals.
Access global companies that you won't find in most portfolios
I manage a concentrated global equity portfolio with a mid/small cap bias based off the highest conviction ideas from a filtered universe of securities that we feel are in a period of 'Price Discovery'. To be the first to read my latest Livewire insights hit 'follow' below. 
---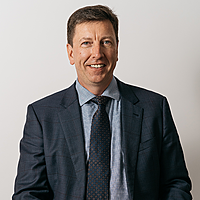 Portfolio Manager
Ellerston Capital
Bill is Co-Portfolio Manager for Ellerston Global. He has over 19 years of financial markets experience, previously working for UBS, MMC Asset Management, QIC and Kira Capital. Bill has a Bachelor of Commerce and is a CFA Charterholder.
Expertise