Is Housing Cheap or Expensive?
---
In the AFR today I examine whether Aussie housing is cheap or expensive and conclude that all roads lead to your view on interest rates---if you think that rates will rise at least 100bps to 200bps over the next few years then our homes will need to correct 10% to 20% to revert to their fair value (click on that link to read for free or AFR subs can use the direct link here).  Excerpt below:


"If you take the median house price in 1980 and raise it by both the increase in disposable household incomes and the expanded borrowing capacity enabled by the reduction in mortgage rates to June 2017, you will find that today's house prices are only 3 per cent overvalued. That's based on research by IFM chief economist Alex Joiner. But here's the rub: this analysis crucially assumes that today's all-time record lows in mortgage rates persist forever. The Reserve Bank of Australia reckons its "neutral" cash rate is about 2 percentage points higher than the current 1.5 per cent rate. If Dr Joiner then assumes that mortgage rates lift by 1 per cent to 2 per cent, his model implies that current home values are 11 per cent to 20 per cent overvalued, which happens to book-end our forecast range for the next eventual correction. So not such a positive story, after all. That's why when it comes to housing, all roads lead to one's view on interest rates. On April 28 this column called the end of the Aussie housing boom, which has seen national home values jump 48 per cent over the past  five years, based on the recently upgraded CoreLogic "hedonic" house price indices. These indices revalue the entire nation's housing stock every day and suggest that the quarterly capital growth rate peaked in early May at a 12 per cent annualised pace. Since that time quarterly price appreciation across the five biggest capitals has slumped to 0.4 per cent, or just 1.6 per cent on an annualised basis. Over the  six months to October 25 Australian home values have increased by 1.6 per cent (or 3.2 per cent annualised), which is miles below the red-line Standard & Poor's argued would trigger a rise in Australia's economic risk score. (The year-on-year growth rate is also declining rapidly and currently marked at 7.4 per cent.) It is clear the Sydney bubble has been deflating fastest: the new CoreLogic index has Sydney home values falling in October (down 0.47 per cent) and September (off 0.06 per cent) with no growth in August. Cumulatively since the end of July the value of Sydney's bricks and mortar has shrunk 0.53 per cent. (We were a few months early on this call, fingering a Sydney downturn commencing in April.) Yet this is not anything to get exercised about right now. Residential property in Sydney has benefited from capital gains of 73 per cent since March 2012, care of the RBA slashing its cash rate from 4.75 per cent to 1.5 per cent and unilaterally transferring wealth from prudent savers to spendthrift borrowers. The recent correction has been precipitated by banks justifiably taking matters into their own hands and hiking mortgage rates in response to the regulator sensibly (albeit belatedly) demanding they reduce lending to both investors and record numbers of interest-only borrowers. Conditions in Sydney remain healthy, with the circa 60 plus per cent auction clearance rate comfortably above the 50 per cent level that signals serious gloom. In Australia's second biggest conurbation, Melbourne, the atmospherics are even more constructive with home values climbing at a 7.8 per cent annualised rate over the last quarter and clearance rates consistently punching above the boom-time threshold of 70 per cent. Notwithstanding the seemingly weak inflation read this week, I expect the RBA to start the process of reversing out its emergency 1.5 per cent cash rate in the first half of 2018. After all, core inflation around 2 per cent would be regarded as entirely normal throughout the rest of the world." Read full article at AFR here.
---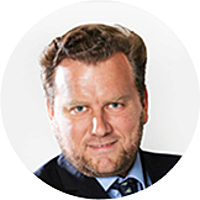 Portfolio Manager & Chief Investment Officer
Coolabah Capital
Chris co-founded Coolabah in 2011, which today runs $7 billion with a team of 33 executives focussed on generating credit alpha from mispricings across fixed-income markets. In 2019, Chris was selected as one of FE fundinfo's Top 10 "Alpha...