Is Microsoft buying the next big thing?
---
If Netflix is the new broadcast TV, then TikTok may be the new cable TV, serving users with a "seemingly" random and endless feed of 15 second-ish videos. A Chinese app known domestically as Douyin, TikTok has amassed over a billion users globally in fewer than four years.
TikTok is the new Vine, the popular 6-second video app that Twitter bought before its time and then shut down in 2016. TikTok has reimagined online distribution and appears to be disrupting not only social media but also the entire digital entertainment space.
Unlike most social platforms with follow-and-feed content models, TikTok focuses on serendipitous discovery powered by an artificial intelligence (AI) recommendation engine. After a user uploads a video, TikTok tests it on a small number of other users and, depending on engagement statistics like time watched, likes, comments, shares, and downloads, decides whether or not to push it to a broader audience. It repeats that cycle with larger groups until engagement peaks. 
Thanks to this viral distribution model, in the three years that it has been available outside of China, TikTok has scaled to 33% of YouTube's daily views, a service that has been in place for 15 years.
Source: ARK Investment Management LLC, Data sourced from Google, TwitchTracker, and Barron's
TikTok's distribution model gives any user, even those with no followers, the opportunity to go viral, turning upside-down the follow-and-feed model that rewards users with massive numbers of followers. Quite simply, its merit-based system surfaces the most enjoyable or useful content that TikTok's users upload. A comparison of the top posts last year on Instagram to those on TikTok illustrates the difference between the two models: last year, while a few celebrities with millions of followers – like Kylie Jenner, Selena Gomez, and Dwayne "The Rock" Johnson – dominated the top posts on Instagram, users with relatively few followers accounted for some of the most popular videos on TikTok. More important, as measured by views, the reach of TikTok posts far exceeded their follower bases. For perspective, based on their top posts, the like-to-follow ratio on TikTok was 3.7, more than double the 1.6 on Instagram, as shown below.
Source: ARK Investment Management LLC, Data sourced from TikTok and Wikipedia
TikTok's distribution model gives any user, even those with no followers, the opportunity to go viral.
TikTok makes it easier for users not only to achieve engagement levels not possible on other social media, but also to create professional-grade content with AI-enabled video editing tools. We uploaded a few videos and were blown away by TikTok's ability to pair videos with soundtracks that make each post more engaging: TikTok's AI Working Magic.
Compared to more traditional social media platforms like Instagram, Snapchat, and Pinterest, TikTok's competitive advantage appears clear – artificial intelligence (AI). Traditional follow-and-feed social platforms rely more on the decisions of their users than on AI recommendations. TikTok's operating philosophy appears to be that artificial intelligence is better than user decisions in choosing and creating content.
TikTok's content production and distribution strategy is consistent more with new-age entertainment companies than with social media apps. While considered a "social networking app", TikTok's usage suggests otherwise, as shown below. The daily time that users spend on TikTok is twice that on "social networking" apps. Moreover, Apple's App Store classifies TikTok as "entertainment", a category that attracts two times the minutes per user per day of social networking apps.
According to our research, TikTok is much more an entertainment company than a social network!
Note: Usage time are based from Google Play Store. Source: ARK Investment Management LLC, Data sourced from SimilarWeb.
*We would like to note that the deal between Microsoft and TikTok is not final and may not materialize. As it stands today, Microsoft is the front runner in talks to buy TikTok from ByteDance, its parent company.
Not everyone sees the next big thing coming
The Nikko AM ARK Global Disruptive Innovation Fund offers access to a global equity portfolio that provides thematic exposure to disruptive innovation. The Fund seeks to capture long-term capital growth by capitalising on changing trends caused by technology-enabled innovations like genomics, robotics and next generation internet. For more information hit the contact button below.
........
Nikko Asset Management Australia is pleased to bring the ARK Investment Management strategies and capabilities to Australia. ARK Investment Management is a Nikko Asset Management strategic partner. This material is issued in Australia by Nikko AM Limited ABN 99 003 376 252, AFSL 237563. The content is available for informational purposes only, is of a general nature only and does not constitute personal advice nor does it constitute an offer of any financial product. The material does not take into account the objectives, financial situation or needs of any individual. All statements made regarding companies or securities or other financial information are strictly beliefs and points of view held by ARK or the third party making such statement and are not endorsements by ARK of any company or security or recommendations by ARK to buy, sell or hold any security. Certain of the statements contained in this material may be statements of future expectations and other forward-looking statements that are based on ARK's current views and assumptions, and involve known and unknown risks and uncertainties that could cause actual results, performance or events to differ materially from those expressed or implied in such statements. Please refer to our Financial Services Guide for more information. https://www.nikkoam.com.au/adviser/fsg
---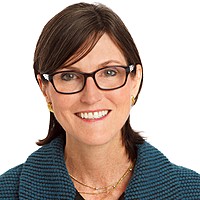 Chief Executive Officer/Chief Investment Officer, ARK Invest
Nikko AM
Cathie aims to identify large-scale investment opportunities in the public markets resulting from disruptive innovations centered around genome sequencing, robotics, artificial intelligence, energy storage, and blockchain technology.
Expertise