Is Suncorp about to be a great shorting opportunity?
---
We bought the banks a few weeks ago and believe that they can head higher. But that view doesn't extend to Suncorp (SUN). It is currently trading near $15, and the rally in June has been explosive. However that could be as good as it gets.  Based on the way it is trading here, there is potential downside of over 30 per cent. This means that we have started shorting it for some of our active clients. This is what is currently unfolding:
Firstly, a quick look at some numbers. Suncorp trades on a forward P/E of 16.6 (a bit pricey), and the consensus 12 month target is down near $14.06. 
Now looking at the weekly chart below, we can see that Suncorp has gone to a marginally new high (compared to its peak in 2014), but it has since failed in the last few days. When we see this on a chart, it usually means that the stock goes back to dip under the previous low. In this case it was made in February 2016. That is a big call to make, but we have seen this play out before. A recent example was with Healthscope (HSO) where we did well to wait for it to make a new low under $2. HSO did the same thing where it failed just above a previous high, and then went back to dip under a previous low.
If you look at the daily candlestick chart below, you can see the weakness starting to set it. The long straight lines on each candle represents price rejection from those higher levels.
If Suncorp can get back above $15 in the next few days or so, then the stock is likely to go higher and we will have to change our view and close our shorts at a small loss. However, if it can't get up to that level in the short term, then it is at risk of trending much lower.
Any advice is general only. Fairmont Equities uniquely combines both fundamental and technical analysis. Visit our website for a free trial to our research, request a free portfolio review, and to access our free blog and educational videos.
---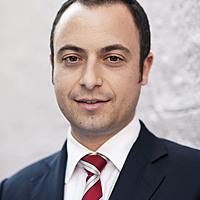 Managing Director
Fairmont Equities
Michael Gable is managing director of Fairmont Equities. We are a small boutique advisory that uniquely combines both fundamental and technical analysis. As a result, our analysis is featured regularly in the finance media such as the Australian...
Expertise
No areas of expertise