Is the bounce in European PMIs a positive for the Australian dollar?
---
Overnight, European purchasing manager indices (PMIs) for May rebounded more than expected, with the composite index rising 16.4pts to 30.5pts, led by a rise in the services PMI by 16.7pts to 28.7pts. This move higher likely reflects the easing of some lockdown restrictions. However, at around 30pts—only just above their March level (and remembering 50 is par)—the PMIs still sign deep contraction territory for the European economy.
After a decline of 3.8% in Q1, UBS expects growth to contract by 10% in Q2. That's -46% annualised if looked at the same way as US growth data is analysed, and in line with many estimates of just how much US growth in Q2 might also contract. The latest Atlanta Fed GDPNow estimate for US Q2 growth is -41.9%. Comparisons of growth outlooks or interest rate outlooks often play key roles in driving the direction of currencies.
As our chart today from BCA Research shows (bottom panel), the modest gain in the European manufacturing PMI (+6.1pts to 39.5pts) is similar to that in the US for May. When we look at the ratio of the two manufacturing PMI series (top panel), it has in the past provided some guidance to the direction of the European exchange rate, euro. With less 'underperformance' of the European data, as the chart suggests, it could be a positive signal for the euro.
Another way to look at this is that the US dollar tends to do less well in a more synchronised global growth environment (one where the US economy is less likely to be underperforming strongly). If the global economy recovers in a relatively synchronised manner through late 2020 and into 2021 (and President Trump can avoid re-starting his trade war with China), the US dollar may just re-gather a weaker trend over the coming year. This would not only be positive for the currencies of Europe and the UK and very positive for emerging market currencies, it would also likely see the Australian dollar move higher.
Euro area and US manufacturing PMIs
Source: Markit.
Be the first to know
I'll be sharing Crestone Wealth Management's views as new developments unfold. Click the 'FOLLOW' button below to be the first to hear from us.
........
General advice notice: Unless otherwise indicated, any financial product advice in this email is general advice and does not take into account your objectives, financial situation or needs. You should consider the appropriateness of the advice in light of these matters, and read the Product Disclosure Statement for each financial product to which the advice relates, before taking any action. © Crestone Wealth Management Limited ABN 50 005 311 937 AFS Licence No. 231127. This email (including attachments) is for the named person's use only and may contain information which is confidential, proprietary or subject to legal or other professional privilege. If you have received this email in error, confidentiality and privilege are not waived and you must not use, disclose, distribute, print or copy any of the information in it. Please immediately delete this email (including attachments) and all copies from your system and notify the sender. We may intercept and monitor all email communications through our networks, where legally permitted
---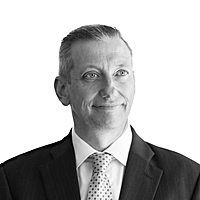 Chief Investment Officer
LGT Crestone
Scott has more than 20 years' experience in global financial markets and investment banking, providing extensive economics research and investment strategy across equity and fixed income markets.
Expertise