Is Twitter finally monetising its 200 million "Twits"
---
Twitter (NASDAQ: TWTR) is the preeminent tool for breaking news and knowledge in the western world. What's in the newspaper tomorrow is largely a rehash of what's on Twitter right now. Facebook might be the place to connect with your friends. But Twitter is the place to connect with your interests — be it professional or hobby — especially anything information-rich. It's become the public forum where experts from myriad fields collaborate and joust, and anybody can join the discussion. The so-called network effects are strong and strengthening.
And yet we've watched the stock safely from the sideline for more than half a decade. Twitter the business has massively underperformed expectations. For too long it has failed to grow its revenue, unable to monetise its user base at a fraction of potential. It has also failed on costs, pouring money into research and development that hasn't had much impact on product quality or revenue generation. We've seen some improvement in those metrics over the past few years, but it was more abrupt changes in 2020 that really caught our eye.
In the first quarter of the year, active fund managers Silver Lake and Elliott Management both acquired stakes in the company and took a board seat each. They're playing good cop, bad cop roles. Silver Lake has a long history of success with underperforming tech companies. Elliott Management butts heads and breaks noses. Both will come in handy in pushing Twitter closer to its potential.
Overused and Under-monetised
The long story for Twitter is that it has been under monetised. Now the argument between the bulls and bears for at least five years has been around whether it can monetise. Our thesis at Forager was based on improvements to the tech stack and ad server. Twitter formerly ran off an unwieldy, monolithic block of code.
This meant trialling new things in Twitter was fraught with risk that the whole system would be brought down. Everything was prioritized and tested and it took a long time to innovate. The new tech stack was launched mid-2020 and would allow the company to experiment, or iterate as they call it in Silicon Valley, much more rapidly. Finally, Twitter could become more responsive to rapidly developing opportunities and the needs of users and advertisers. We've seen a lot of evidence in the past 9 months that Twitter is becoming more innovative and more commercial.
Despite question marks around management and monetisation, Twitter user growth has been accelerating since 2018, even more rapidly since the onset of COVID-19. Revenue is now following suit. The company's backend technology, which had been hampering the company needlessly, is being redesigned from the ground up and will better serve the needs of advertisers. And now the new board will offer the right oversight to ensure management either delivers or disappears.
Growth not the issue
The chart below shows the long-term growth in users of Twitter. It's grown its user base consistently, and that growth has accelerated over the past 24 months. However, if those growing users can be combined with a rapidly growing revenue per user, there should be a good outcome at the bottom line.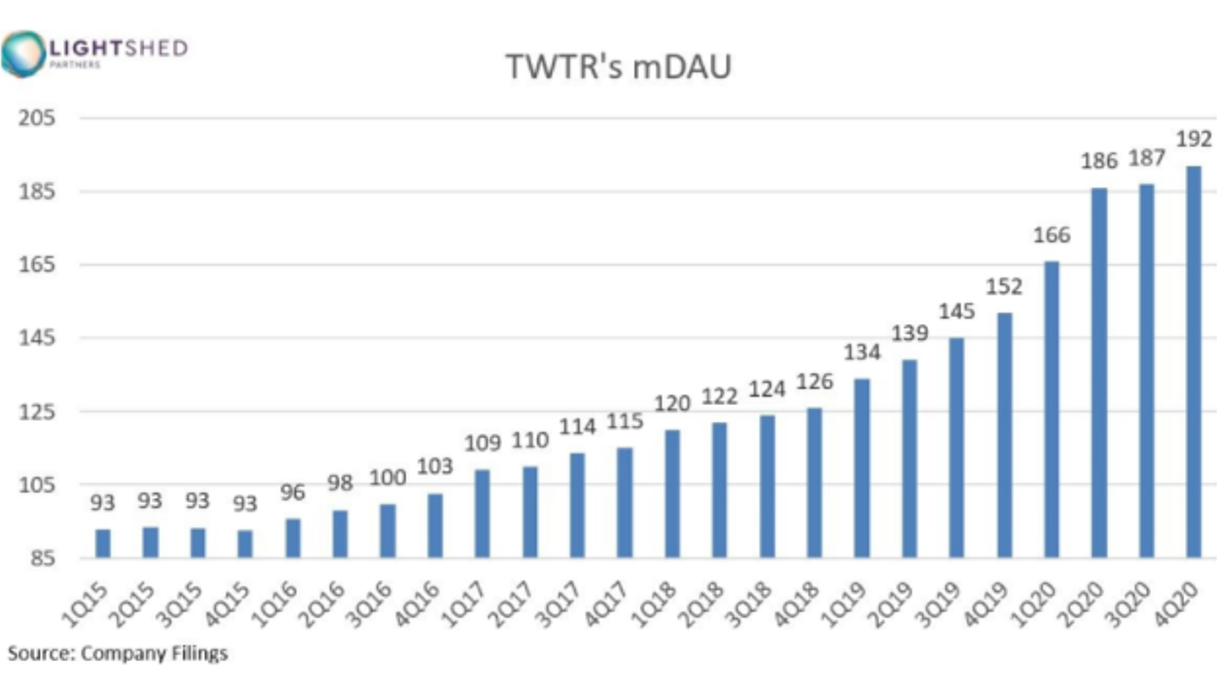 The Forager International Shares Fund bought a stake in Twitter midway through last year. The stock is now up nearly 80% since our initial purchase. In the current market, where everything's hot, don't read too much into that in terms of the actual investment case working out. It is getting closer to our base case valuation, but the upside remains immense if the company can get a few important things right. We're watching closely.
Access a unique portfolio of global shares
If you share our passion for finding opportunity in unlikely places and have a long-term focus, Forager could be the right investment for you. Click 'FOLLOW' below for more of our insights.