Is Westfield now cheap enough to buy?
---
In a recent research report to clients, we took a fundamental and technical look at Westfield Corporation (WFD). With the stock having fallen from $11 to the low $8's in less than a year, could this be an opportunity to buy a top 20 stock in a market where valuations elsewhere are starting to look stretched? Here is an extract from our research.
In terms of recent guidance for FY17, WFD expects Funds from Operations (FFO) to be in the range of US33.8c and US34.0c, representing growth of between ~0-1% on FY16 (US33.7c) which was a surprise to the market. While the Company has indicated growth in FY17 would be 3.0-3.5%, it is worth noting that this metric was on a constant currency basis and also excludes the impact of lost rent from developments underway.
We contend that such a low FFO growth outlook is somewhat disappointing in light of WFD's high-quality retail portfolio, higher development yields and lower funding costs. While the longer-term fundamentals are underpinned by investment in the asset base, as well as WFD's healthy medium-term retail and apartment pipeline, underlying FFO growth from these two initiatives are not likely to materialise for another 18-24 months. Further, NTA growth in FY16 of 2.7% is not considered to be overly attractive (both FFO and NTA growth remains well below the US and domestic peer groups), with ~50% of the uplift in NTA coming from a revaluation of the World Trade Centre asset.
We consider asset sales are necessary to: i) Improve the performance of the Regional portfolio, ii) Reduce the high level of gearing and iii) Increase available cash to cover distribution payments. However, as indicated above, asset sales, while likely to be well received by the market, would be dilutive to FFO.
Accordingly, we take a cautious view on WFD but note that any further weakness from present levels is likely to attract buying interest as investors may begin to take a longer-term view of the stock.
Turning to the chart now, after peaking last year,  the fall from about $11 to $8.50 was quite dramatic. It then tried to rally but we can see now that it was merely forming a symmetrical triangle. This continuation pattern has now become clear to us because last week the stock broke under support on heavy volume. WFD should now resume the downtrend. We have support near $8, and if that cannot hold, then strong support will come in near $6.70. Potential investors should therefore remain patient for lower levels.
Any advice is general only. Fairmont Equities uniquely combines both fundamental and technical analysis. Visit www.fairmontequities.com for a free trial to our research, request a free portfolio review, and to access our free blog and educational videos.
---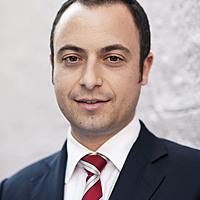 Managing Director
Fairmont Equities
Michael Gable is managing director of Fairmont Equities. We are a small boutique advisory that uniquely combines both fundamental and technical analysis. As a result, our analysis is featured regularly in the finance media such as the Australian...
Expertise
No areas of expertise