It's all about the 'E' (earnings)
---
E (earnings) — This 'E' is going to be one of the key market drivers as we transition 2020. The year is drawing to a close and investors have been leaning a little more into risk, buoyed by some progress around less cathartic geo-political developments over recent months.

Of course, while progress on delivering a 'soft' Brexit (and a potentially more stable majority UK government) is a clear de-escalation of geopolitical risk, the US-China 'phase one' trade deal, if delivered, holds less hope of permanent progress. 
Still, there is potential for such developments to improve business certainty, reverse the fall in capex plans and see the global economy avoid recession in 2020, particularly as President Trump is likely to want the US economy to be doing well as he seeks re-election in November. 
But even if world growth can stabilise and recover, equity market valuations are already elevated. This will limit the ability of equity markets to continue to grind higher in 2020 simply via improving optimism and multiple (P/E) expansion.
While valuations can stretch to extremes for a while, the US 12-month forward price-earnings ratio is 17.2 times, above its five-year average of 16.6, and in Europe and Australia, forward P/E ratios are also 1-1.5 points above average. This is why 'E' is a key variable not to be ignored.
With recent reports showing actual equity earnings tracking closer to zero in the US and Europe, far weaker than forward earnings that are still running close to 10% for calendar 2020, this is a gap that will need to close if equity markets are going to rise.
Optimism and reduced geopolitical stresses count for something. Better economic growth will count for more. But for equity returns, neither will count for enough if global and Australian company earnings trajectories don't start to trend higher as 2020 unfolds. 
Stay informed in 2020
Stay up to date with my latest views. Hit the FOLLOW button below to be notified by email as soon as I publish my next wire.
This wire is part of the 'One thing investors can't ignore in 2020' series. To download the full ebook please click here.
........
General advice notice: Unless otherwise indicated, any financial product advice in this email is general advice and does not take into account your objectives, financial situation or needs. You should consider the appropriateness of the advice in light of these matters, and read the Product Disclosure Statement for each financial product to which the advice relates, before taking any action. © Crestone Wealth Management Limited ABN 50 005 311 937 AFS Licence No. 231127. This email (including attachments) is for the named person's use only and may contain information which is confidential, proprietary or subject to legal or other professional privilege. If you have received this email in error, confidentiality and privilege are not waived and you must not use, disclose, distribute, print or copy any of the information in it. Please immediately delete this email (including attachments) and all copies from your system and notify the sender. We may intercept and monitor all email communications through our networks, where legally permitted
---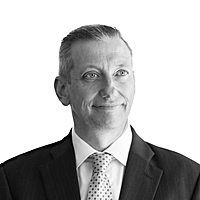 Chief Investment Officer
Crestone
Scott has more than 20 years' experience in global financial markets and investment banking, providing extensive economics research and investment strategy across equity and fixed income markets.
Expertise