James McNabb - The COVID effect on credit
---
Managing a credit portfolio across several asset-backed loans (and previously corporate loans), James and the team at Aquasia's enhanced credit fund have returned 6.76% p.a. since inception (October 2011). However March saw the fund have its first negative month, as the fear of COVID-19 saw credit spreads widen and valuations shift. As James highlights, this isn't necessarily a reflection on the assets themselves or an immediate decrease in quality, but more so the price that investors are willing to pay for assets.
James and David discuss the differences between the COVID-19 pandemic and the Global Financial Crisis, with James highlighting the structural causes of the GFC against the temporary economic damages caused by COVID-19 and the global government interventions.
James also explains the stimulus provided by governments to bridge the gap to an eventual COVID-19 solution, the impact of hardship on property prices and the flow-on effect to other asset prices.
More podcasts
If you're enjoying Inside the Rope and don't want to miss a future episode, subscribe now to get notified when a new episode is released or email David at david.clark@kodacapital.com.
........
This research note has been prepared without consideration of any client's investment objectives, financial situation or needs. Before acting on any advice in this document, Koda Capital Pty Ltd recommends that you consider whether this is appropriate for your circumstances. While this document is based on the information from sources which are considered reliable, Koda Capital Pty Ltd, its directors, employees and consultants do not represent, warrant or guarantee, expressly or impliedly, that the information contained in this document is complete or accurate. Koda does not accept any responsibility to inform you of any matter that subsequently comes to its notice, which may affect any of the information contained in this document. © Copyright Koda Capital 2020 | AFSL: 452 581 | ABN: 65 166 491 961 | www.kodacapital.com
---

Follow David Clark's wires
---
---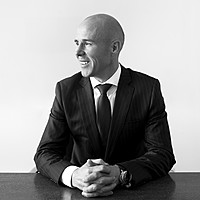 Adviser & Partner
Koda Capital
David Clark is an Adviser & Partner at Koda Capital. In his podcast 'Inside the Rope', David interviews some of the leading minds in wealth management.
Expertise