Kumova on board Alderan's US copper voyage
---
Unlike the gold space where floats and spin-offs have come thick and fast, there has been a real dearth of copper floats in response to the metal's near 20 per cent price improvement in the past six months to around the $US2.60 a pound level.
The reason for that is simple enough. There is an absolute shortage of quality exploration targets, particularly if projects in the more risky parts of the world are ruled out. That partly explains why the copper price is generally forecast to perform strongly in the years ahead.
The building pressure for new discoveries to offset supply pressure from mine closures, falling grades, and geopolitical risks, is not going away in a hurry. But again, quality exploration projects with the right address are thin on the ground.
That is about to change in a small way thanks to the float of Alderan Resources. Melbourne's BW Equities is lead manager of the $6.5-$8.5 million non-underwritten offering of 20c shares. Assuming it all goes well, a listing date in late May is likely, with Alderan to be sporting a market capitalisation at the issue price of about $20m (based on the minimum subscription, with the prospectus listing an opening date of April 24).
The thing has been creating a bit of a buzz around town, partly because the bustling former boss of Syrah (SYR) Tolga Kumova is to hold about 15 per cent of the company on listing. Kumova took Syrah from the penny dreadful Saudi Arabia explorer to the $700m leading graphite company it is today.
A former broker, Kumova stepped down as Syrah managing director to let others with more operational experience finish the run to producer status from its Balama graphite deposit in Mozambique.
His interest in Alderan comes after he kicked some likely looking rocks at its Frisco project in Utah's Beaver county, a mining-friendly place if there ever was one.
It is in a century-old mining area but has been overlooked in the modern era because areas of interest there are covered by tiny mineral claims which were suitable back in the day, but not for the broad acreage which modern exploration techniques demand.
Alderan has spent a couple of years consolidating leases into a sizeable ground position over three projects, each with historic mining and previous drilling, albeit of a limited nature.
First up there is the Cactus copper-gold-silver deposit and breccia pipe, one of several mineralised breccia pipes over an area of approximately 1000 metres by 400 metres and with modelling of magnetic survey data suggesting the pipes are connected at depth.
Then there is the Accrington copper-zinc-silver-gold skarn, which hosts extensive mineralisation across an area of 1.8km by 1.2km and the Horn zinc project, which is home to an historic lead-silver-zinc mine.
The point that has got the punters excited about the float is that Alderan's technical boffins reckon the three deposits are genetically related to underlying copper-molybdenum-gold porphyry intrusions which by their very nature, tend to be big beasts, not unlike Rio Tinto's now ore-hungry Bingham Canyon some 250km to the north.
Alderan intends to get cracking with a 10,000m drilling program, with the initial focus on the Cactus and Accrington prospects. If the porphyry potential comes to pass, Alderan will be closely watched by the big boys of the industry who are becoming increasingly short of exploration upside.
Geopacific to rev-up Woodlark
Kula Gold (KGD) was one of the glamour floats of 2010, with shares in the would-be PNG gold producer racing off to as much as $2 a share by April 2011.
It has been downhill ever since, with the company reduced to raising working capital at all of 1.5c a share in a $626,000, one-for-eight rights issue.
The nicest thing that can be said of the group's journey is that Kula has done a wonderful job in winning the support of locals on Woodlark Island in PNG for a mine development.
But with more than $100m sunk over time in getting to a reserve position of some 800,000 ounces of gold, still no cigar. It's as if there has been some unknown force limiting Woodlark to its past gold history.
It is a rich history too.  It was back in 1895 that the Woodlark goldfield on the island of the same name, in what was then British New Guinea, was first officially declared a goldfield, leading to the swashbuckling alluvial gold rush that spawned two listings here, one on the Sydney exchange (1899) and the Charters Towers exchange (1908).
The goldfield fell silent at the start of World War I after "official'' production of some 220,000 ounces.  Then there was nothing until the 1970s when BHP had a look around, followed by the 2010 float of Kula, and still no cigar.
But roll forward to July last year and the seasoned team that Milan Jerkovic leads at Geopacific Resources (GPR) – they have built 10 mines in six countries over the years – gave Woodlark some serious momentum when Geopacific struck a deal to earn an 80 per cent interest in the project.
It has been kicking goals too, and it must think there is more to come as it has lobbed an unsolicited scrip offer for Kula of one GPR share for every 1.4723 Kula. On GPR's price yesterday of 4c, it values Kula at 2.71c a share (about $10m after the rights issue) which was comfortably ahead of Kula's 2.4c market price and up massively on Kula's rights issue price.
Long-term 17 per cent shareholder Franklin Templeton (FT) has signed a pre-bid acceptance agreement even though Kula has labelled the offer as opportunistic and undervalued. Clearly, the mighty FT has tired of the lack of action on the development front under Kula.
GPR is out to change the slow going and has been showing the market a roadmap to increase reserves at Woodlark to 1.2m ounces of gold ahead of getting it in to production lickety split as a 120,000 ounce-a-year producer with an initial mine life of 10 years.
---

Follow Barry FitzGerald's wires
---
---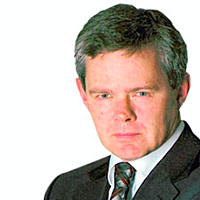 Principal
Independent Journalist
One of Australia's leading business journalists, Barry FitzGerald, highlights the issues, opportunities and challenges for small and mid-cap resources stocks, and most recently penned his column for The Australian newspaper.
Expertise