Kumova's Alderan gives a glimpse of the good stuff as copper-gold assays beckon
---
The Alderan rollercoaster has taken shaken shareholders back to where the journey began a year ago. But a picture of drilling core in this week's ASX release suggests they may be onto something. And is a marriage of Capricorn and Eastern Goldfields being sought by the pair's large common shareholder?
Bustling mining investor Tolga Kumova has invited 100 of his closest mates to come over on Saturday to watch his beloved Magpies take on the Eagles in the AFL grand final.
But ahead of the hoped-for Magpies victory, and some beers and a BBQ with steaks that bend, Kumova's attention in the past couple of days has been on last year's boom copper-gold-zinc float, Alderan Resources (AL8).
Floated at 20c a share in June last year on the strength of its Frisco project in Utah, Alderan raced off to a staggering peak of $2.40 before beginning a long slide to a low of 22.5c ahead of its recent rally to 27c.
Alderan went in to a trading halt on Wednesday ahead of completing a placement, expected to raise $3m or so at 20c a share. So it is a case of back to the future for Alderan. It's effectively starting again.
Kumova holds 14% of the stock and was a buyer before and after that $2.40 a share peak.  He is also expected to emerge as the main backer of the placement, with some renewed enthusiasm for Alderan's Frisco project to boot.
The renewed enthusiasm is based on the fact after spending some $10m on exploration, Alderan is finally drilling the Accrington copper-gold skarn prospect at the multi-target Frisco project after being held up by the receipt of drilling approvals under Utah's overlapping State and Federal claims system.
Accrington is where Kumova first got excited about Frisco after kicking a lot of green rocks on the surface when scouting the project before it came to the market in the Alderan float.
It was another Syrah (SYR) moment for the former Syrah boss and major shareholder, a reference to the first time he set eyes on what has become the world-class Balama graphite deposit in Mozambique. Syrah was a penny stock at the time and is now worth $750m.
Needless to say that apart from the commodity difference, Frisco is no Balama, not yet anyway. Initial drilling results into the Accrington skarn have been promising. The first hole returned 102m at 0.58% copper, 0.6% zinc and 9g/t silver from 194m, and 16m at 0.62% copper from 84m.
"It is still very early days, however the scale of the Accrington mineral system presents an exciting opportunity for the Company," Alderan said on Monday, ahead of going in to the trading halt for the placement.
"We have only just started to uncover the potential across the Accrington skarn which measures up to 4km by 2km in aerial extent."
What caught the eye in the Monday drilling update was a reference to assay results from another two holes expected in October. Go to Figure 5 in the announcement and there was a picture of drill core from one of those holes showing both bornite and chalcophrite mineralisation.
That raises expectations for higher-grade hits at Accrington which would make Alderan's task of demonstrating large scale resource potential at the property – in a mining friendly State known for big low-grade copper-gold systems - all that much easier.
Capricorn Metals
The uptick in merger and acquisition activity in the ASX-listed space is not up there in terms of scale with Barrick's $US6.5 billion nil-premium acquisition of African gold specialist Randgold, led by the highly-regarded Mark Bristow.
One way to read Barrick's move is that it is paying up for Bristow's management expertise and not Randgold's fleet of African gold mines where sovereign risk issues abound. It's kind of an odd thing to do by the once-mighty Barrick.
While the ASX-listed action – Northern Star's Pogo acquisition and three scrip bids for gold developers in the last month – lacks the same scale as the Barrick move, one of them is also looking a bit odd.
No prizes for guessing the odd looking one is the proposed scrip bid by Regis (RRL) for Pilbara gold developer Capricorn (CMM) at 11.4c a share – a 93% premium to the pre-bid price of 5.9c and Capricorn's close of 8.5c yesterday.
It's an odd one because while the proposed bid has received the unanimous support of the Capricorn board, the London private equity fund Hawke's Point has said no thanks for its 18.9% interest.
Regis is meeting up with Hawke's Point in an effort to break the impasse and has warned that unless it can secure its support by next Wednesday, it could walk away from what otherwise is an agreed takeover bid.
Why Regis nominated next Wednesday is anyone's guess.
But it is probably worth noting that next Wednesday is also the latest date set by the voluntarily suspended Eastern Goldfields (EGS) to come back to the market with details of a planned $75m recapitalisation plan to get its Davyhurst gold operation in WA back into production.
Hawke's Point is in the thick of things at Eastern as it kicked $17.5m in to the company at the start of the year and at last reports, was holding 12% of the stock. Could it be the private equity group would rather see Capricorn wrapped into a larger remake of Eastern?
Good luck if it does. Unlike Eastern, Capricorn is a neat and clean story about the $132m development of the 893,000oz (reserves) Karlawinda project in the Pilbara. Financing the development is where Regis comes in.
Left to its own devices, Capricorn was planning a 60:40 debt and equity financing mix. Despite the attractive economics (100,000oz annually over an initial mine life of 8.5 years at an AISC of $A1,038 an oz), the funding was a big ask.
It was why Capricorn was trading at 5.9c ahead of the Regis bid. Canaccord's assessment was that while the Regis proposal (which might not see the light of day) was below its valuation, it was fair because of the 93% premium and the funding requirement to get Karlawinda into production being twice Capricorn's market cap.
"Further, Capricorn shareholders maintain exposure to the Karlawinda asset via a Regis shareholding, which in our view offers a best-in-class development and mining team when it comes to profitably operating lower grade, bulk tonnage orebodies,'' Canaccord said.
It maintained a spec buy recommendation with a target price 17c a share. That would lend support to the simple view that maybe Hawke's Point simply sees the Regis proposal as low-ball and it wants to see an increase before handing over its stake. We will know soon enough.
---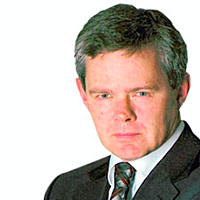 Principal
Independent Journalist
One of Australia's leading business journalists, Barry FitzGerald, highlights the issues, opportunities and challenges for small and mid-cap resources stocks, and most recently penned his column for The Australian newspaper.
Expertise