Lack of clarity on Chinese stimulus to hurt Aussie iron ore miners
---
Continued steel and iron ore uncertainty
China's National Congress was held last month, and we have been following this closely to understand the implications for Australian stocks.
One key takeaway was the potential for continued uncertainty in steel demand, and thereby, for iron ore as well.
No short-term property support
President Xi's speech focused on the long-term policy direction to achieve socialist modernisation by 2035, with little reference to short-term measures to boost an ailing economy.
This did little to boost confidence that stimulus measures of credit availability, and less restrictive property ownership guidelines, would rescue the property sector and by extension, steel and iron ore demand.
Property demand makes up over 25% of steel demand and, with building starts down almost 40% year on year through August 2022, there are no signs of recovery.
China building starts and steel demand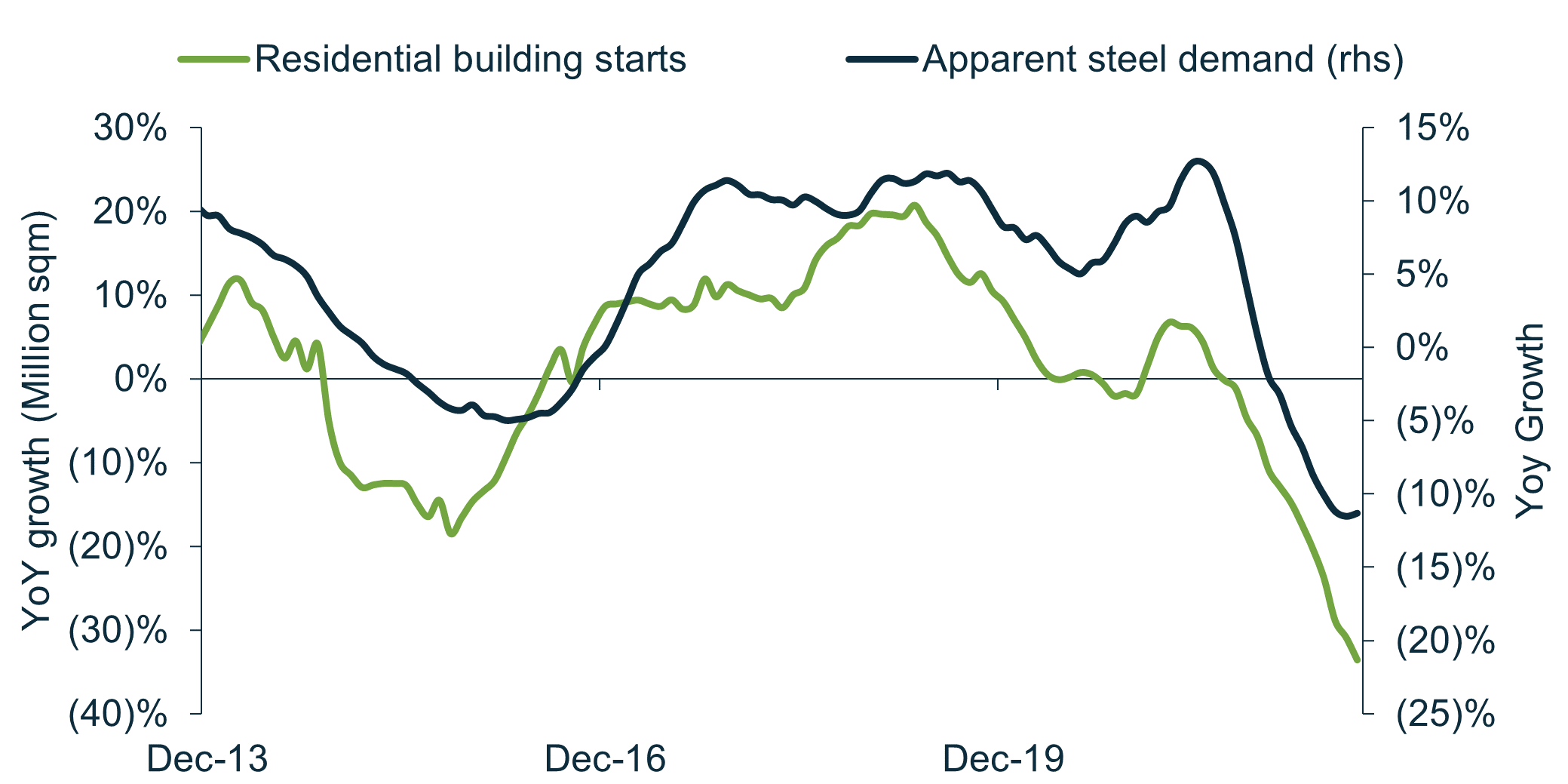 Furthermore, Xi's reiteration that "housing is for living, not for speculation", has been a consistent message of the past few years. This suggests that their growth and modernisation focus is on themes other than property. These include innovation & technology, decarbonisation & green development, national security & social stability, and the aging population challenge.
Looking forward, we see growth in iron ore supply, particularly out of Australia, Brazil and Africa, exceeding growth in Chinese demand thereby pushing the iron ore market into surplus and impacting price.
Seaborne iron ore supply and demand vs. the iron ore price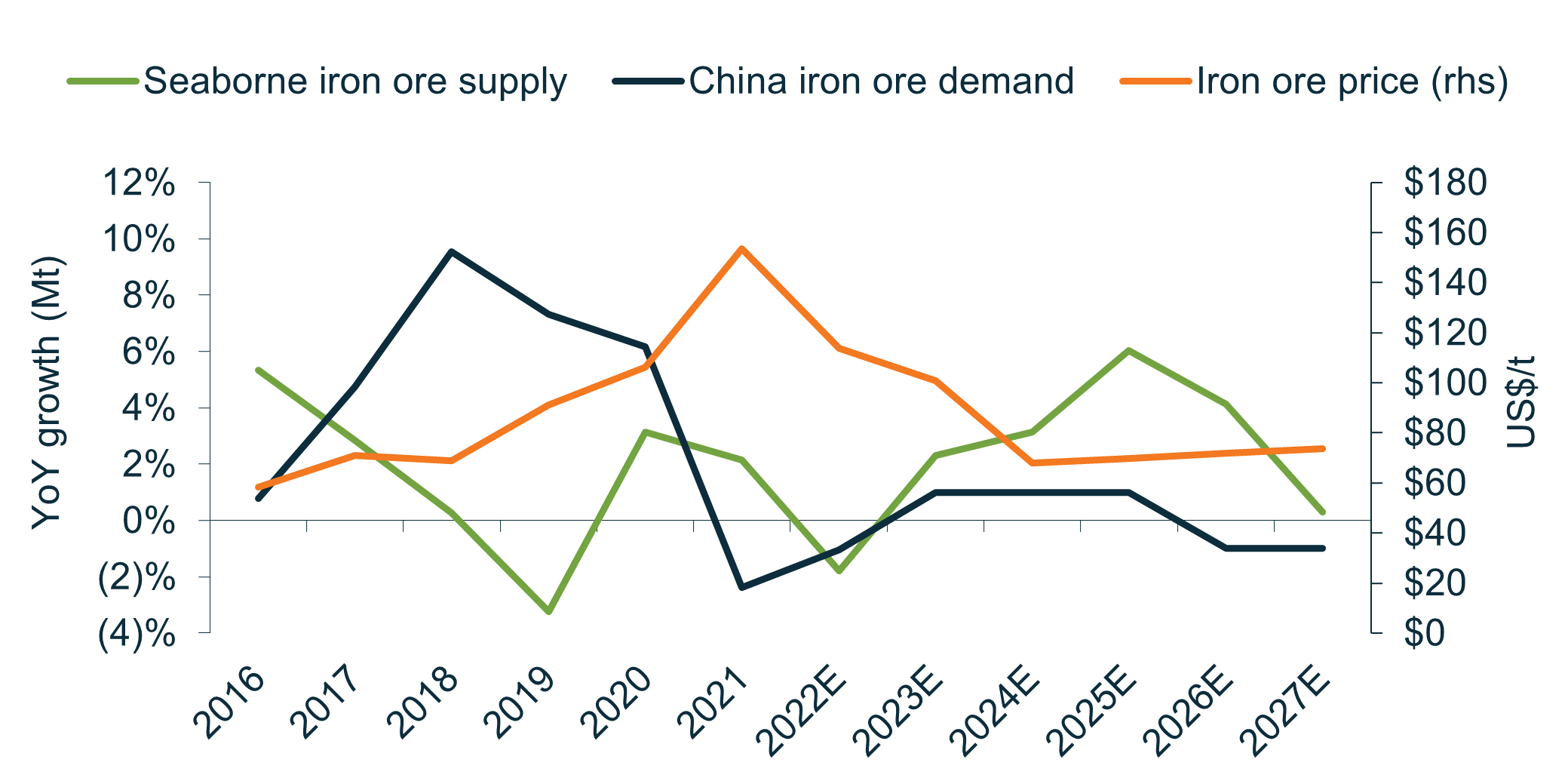 If China continues along this path and allows the property sector to wallow, iron ore pricing and resource companies may suffer along with it. Because of this demand overhang and its potential impact on resources stocks, we currently hold an underweight exposure to iron ore in our value equity strategy. 
---
Learn more
The Martin Currie Australia Value Equity strategy seeks to maximise returns for longer term investors by investing in a high conviction portfolio of securities which are trading below our assessment of intrinsic value, whilst considering each company's direction and quality. Learn more here.

Managed Fund
Martin Currie Real Income Fund
Australian Shares
........
Issued by Franklin Templeton Australia Limited (ABN 76 004 835 849, AFSL 240827). This publication is issued for information purposes only and does not constitute investment or financial product advice. It expresses no views as to the suitability of the services or other matters described in this document as to the individual circumstances, objectives, financial situation, or needs of any recipient. You should assess whether the information is appropriate for you and consider obtaining independent taxation, legal, financial or other professional advice before making an investment decision. Neither Franklin Templeton Australia, nor any other company within the Franklin Templeton group guarantees the performance of any Fund, nor do they provide any guarantee in respect of the repayment of your capital. Please read the relevant Product Disclosure Statements (PDSs) and any associated reference documents before making an investment decision. In accordance with the Design and Distribution Obligations and Product Interventions Powers requirements we maintain Target Market Determinations (TMD) for each of our Funds. All documents can be found via franklintempleton.com.au or by calling 1800 673 776.
---
Head of Research
Martin Currie
As Head of Research for MCA, Michael has oversight of the research function of the MCA investment team alongside his research coverage of materials and energy. Michael joined Martin Currie Australia in December 1993 after working for four years...
Expertise