Last week we made the decision to exit Sydney Airport after four years on the register – here's why
---
Well it can be put down to three key factors.
Bond yields. It cannot be underestimated how important bond yields are when markets price these assets, there is a double whammy effect. Virtually all infrastructure stocks hold significant levels of debt and hence when bond yields fall, debt repayments fall. If cash flows can be maintained from the asset operating cash flow expands rapidly. At the same

time

markets look for alternatives to those falling rates and share prices rise on increased demand.

Quantitative Easing. These stocks all truly took off in 2011, right around the time Europe announced an enormous QE package. The US was still on their 3rd tranche of QE and unprecedented levels of liquidity were being pumped into the financial system right around the globe. This money all needed to find a home and these stocks were clearly a beneficiary of it.
A return to responsible management. Pre-GFC this area of the market fell victim to leverage, dressed up yields and inflated valuations. Investment banks ran rife. Lessons were learnt and a new breed of conservatism entered.

Debt

was reduced, distributions were cut back to sustainable levels and management was internalised – the base was set.
Although I continue to be attracted to the themes of these assets, particularly the airports and the rise of the Chinese outbound tourist it feels to me that this sector had now come full circle, looking decidedly frothy. Since first recommending it to clients in 2012 Sydney Airport Group has risen $3.50 in price and paid 69c in distributions – that's a total return of 136% in a very flat market. However, for those buying today they are locking in a yield of 3.8% unfranked…. How much lower can this go? Below you can also see a chart of the 10 year bond yield vs the share price of SYD… the correlation has been very strong. It is here I sense danger - bond yields appear to be consolidating, in America they should start to rise and we are inevitability getting closer to the turn.
Of course it's impossible to predict when the bond markets will turn around the world post a 30 year bull market but it's important to act before it happens…. Once the markets are onto it it will be too late to sell. SYD is the most exposed to this trend, with ~$7 billion in debt on the balance sheet and a debt to equity ratio close to 250% it holds the most operating leverage to a move in rates. It can be easy to fall in love with the 'story' behind these stocks but many in the market will remember what can happen to their prices when rates normalise… and you have to be ahead of the curve.
---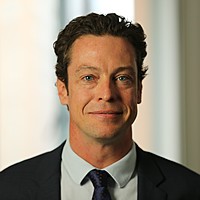 Portfolio Manager
TMS Capital
Ben Clark commenced his role as Portfolio Manager with TMS in 2005 and has over 20 years' experience in the industry. Ben runs the TMS High Conviction fund that is open to all sophisticated investors.
Expertise