Lithium trickle-down turns into a flood, but there's still a few forgotten juniors
---
Gold juniors Breaker and Caeneus are among those with overlooked lithium assets in their back pockets. Plus, copper spotlight turns on $26 million Anax and Sunstone makes a promising start to porphyry drilling.
The lithium sector remains on fire. So much so it has made it easy for analysts with their stock recommendations on the producers – buy the lot of 'em.
And that's exactly what has been happening, with particular gusto too since Pilbara Minerals (ASX: PLS) revealed its first online auction of spodumene had gone off with a bang at $US1,250/t – more than double reference prices of earlier in the year.
Joe Biden's command – via an executive order – for electric vehicles to account for at least half of US auto sales by as soon as 2030 added fuel to the fire.
JP Morgan was one of the big-name brokers to adopt a "buy the lot'' stance on ASX-listed lithium producers.
In doing so, the investment bank's research desk said it had increased its long-term spodumene (6% lithium) price from $US650/t to $850/t, and its forecast for the finished battery material lithium hydroxide by 12% to $US14,000/t.
It talked of perpetual supply/demand gaps from the late 2020s, and an EV penetration rate 45% in 2030. It wasn't that long ago that forecasters were considered bullish if they had a 15% penetration rate by 2025 pencilled in.
"We believe supply will struggle to keep up, with a perpetual deficit visible beyond 2030 until more projects are defined by the industry," JP Morgan said.
"This means unknown, and lower economic returning projects will be required to full the supply/demand gap."
It has got a "buy" recommendation on Pilbara with a price target of $2.50 (trading at $2.39), Galaxy at $6.20 (ASX: GXY - $5.61), Orocobre at $10.90 (ASX: ORE, $9.91), and Mineral Resources at $70 (ASX: MIN, $59.77).
It is worth remembering just how big an impact this "new" lithium boom has had on lithium stock valuations.
Pilbara was a 33c stock a year ago and 87c at the start of the year. That makes for gains of 177% and 630% respectively.
Like all booms, it is not long before there is a trickle-down effect, with juniors in the space now getting lots of love from investors looking for leveraged plays to the lithium boom thematic.
Share price gains being posted by the junior explorers/developers have been just as spectacular as those being enjoyed by the producers, in percentage terms at any rate.
But there are a few out there where the lithium spotlight has yet to fall. Two that have come to notice by reading the very back pages of their June quarterly reports are Breaker (ASX: BRB, 16.5c) and Caeneus (CAD, 1.2c).
Breaker's market cap is probably already underdone on the strength of its Lake Roe gold project near Kalgoorlie where it has a 1.4Moz gold resource, with a resource update due in the December quarter.
But out the back of the quarterly was reference to its Manna lithium project, 15km from its main Bombora gold deposit at Lake Roe.
It came to light in 2018 but like all lithium exploration projects, it has had to endure the winter conditions in lithium markets up until this year's turnaround.
Breaker is now saying that with limited further drilling, there "appears to be scope to establish a significant JORC resource" at the property, one that in previous drilling yielded high-grade results.
Needless to say, the company is now "taking steps to unlock hidden value" at Manna, and will "will update shareholders at the appropriate time". Given the current mania for lithium, it's one to watch.
The same could be said for Breaker's Ularring copper-gold prospect, another one tucked away in the quarterly report. It is getting ready to drill at the property which is in the same neck of the woods as Chalice's Julimar PGM-nickel-copper wonder.
Caeneus also has gold exploration as its prime focus. And there is lots of interest in the drilling program underway at its Roberts Hill project which is adjacent to De Grey's 6.8m oz and growing Hemi discovery in the Pilbara.
When it is said to be adjacent, it really is. The Caeneus drill holes are the first in the area because the rocks are sand-covered, with the program following up a variety of intrusive-type targets identified by see-through powers of aeromagnetics.
No results yet but sulphides in drill cuttings from some of the holes has provided lots of encouragement.
It's another one to watch. So too is what Caeneus decides to do with its lithium brine project in Nevada, a previous focus for the company way back when.
Made-in-America lithium is obviously of growing interest and it has got to be thought that Caeneus will do a Breaker and take steps to unlock hidden value form the lithium project before long.
Copper:
The trickle-down effect is also at play in the copper space.
Critical to the world's shift to the electrification of everything, copper is as strong as could be hoped for at $US4.30/lb.
That's up from last year's calendar average of $US2.80/lb and comes as the likes of Goldman Sachs are forecasting a long-term supply gap of 8.2Mt – or 412 Olympic Dams - by 2030, with the incentive pricing needed to close the gap taking the copper price along the way to a forecast $US6.80/lb.
It is why copper juniors like Rex Minerals (RXM, 29.25c) and Hot Chili (HCH, 4.2c) have been able to pull in $50m and $40m in funding respectively to get cracking at their projects.
Hot Chili's raise was of particular interest as it paved the way for Glencore no less to become a 9.99% shareholder, with a conditional agreement for its trading arm to take up to 60% of future copper concentrate production from a development of Hot Chili's Costa Fuego project in Chile.
Glencore is one of the world's biggest copper producers and the biggest trader of copper concentrates. Its investment in Hot Chili represents an endorsement of the development prospects of the 3Mt and growing copper resource at Costa Fuego.
It also goes to the scramble by the major miners – including BHP and Rio Tinto – to secure more growth options in the red metal in response to the sort of outlook suggested by Goldman.
Copper stocks further down the pecking order from Rex and Hot Chili also stand to benefit. That has come through in the building interest in Anax Metals (ANX,7.5c).
It is in the final stages of completing mining studies into its 80 per cent-owned Whim Creek copper-zinc project in the Pilbara, with Bill Beament's Venturex (VXR, 75c) holding a carried 20% interest.
Anax is working on a scoping study, expected this quarter, which could lead to first mining from a low-capex project in mid-2022 from the known sulphide deposits, with the project having been an oxide copper producer up until 2005.
Veritas Securities has a 20c price target on the stock, which assumes the production of 11,250tpa of copper equivalent at total costs of $US2.75/lb ($A3.67/lb) over an initial 4.5 year mine life.
"Our low capex scenario provides a robust project delivering potential pre-tax cashflows, attributable to Anax, of approximately $50m per annum commencing from July 2022." That's impressive stuff for a company with a $26m market cap.
The mighty Anglo American stands ready to support a proposed $US20m debt funding and offtake arrangement subject to some conditions being met, again highlighting the scale of the scramble to secure future copper supplies.
In the case of Whim Creek, the supply will come in the form of a high-grade pre-concentrate (up to 6.15% copper and 9.6% zinc) thanks to the ore being amendable to x-ray transmission sorting technology.
Somewhat interestingly, back when Venturex owned 100% of Whim Creek, the intention was to develop it as a satellite ore supply for Venturex's Sulphur Springs copper-zinc development project.
All that was long before deal-maker Beament's arrival. And it has to be said that much of the talk around Anax of late has been around the potential for Venturex to look to bring Whim Creek back into the Sulphur Springs fold for all-up copper production of more than 25,000tpa, a level that would command serious market attention.
Whether that is actually on Beament's agenda at Venturex is not known. But the chatter is nevertheless a good thing for Anax, giving Whim Creek more prominence that it might have otherwise.
While on copper, from the update file comes news from Sunstone (STM) that the first drill hole at its El Palmar prospect in northern Ecuador has hit a copper mineralised porphyry system from the surface to 350m, with the drilling to continue on to at least 600m.
First assays are expected towards the end of September.
Sunstone was mentioned here on June 25 when it was trading at 1.4c. It popped 23% higher to 2.7c on news of the El Palmar drilling result hitting the ASX platform.
That makes for a $60m company. Apart from what might come from El Palmar, Sunstone is also holding about $28m in cash and equity investments, and the advanced Bramaderos gold-copper project in southern Ecuador.
As mentioned in June, El Palmar is not far from where BHP and Newcrest have put their foot on SolGold's world-scale Cascabel copper-gold project by taking up equity positions in the $A1.14bn London-listed company. 
Never miss an insight
Enjoy this wire? Hit the 'like' button to let us know. Stay up to date with my content by hitting the 'follow' button below and you'll be notified every time I post a wire. Not already a Livewire member? Sign up today to get free access to investment ideas and strategies from Australia's leading investors.
---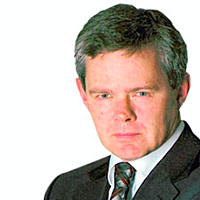 Principal
Independent Journalist
One of Australia's leading business journalists, Barry FitzGerald, highlights the issues, opportunities and challenges for small and mid-cap resources stocks, and most recently penned his column for The Australian newspaper.
Expertise