"More than 90% effective" Pfizer vaccine emerges, in line with our forecasts
---
In massive news overnight, Pfizer and its German partner BioNTech have reported that its novel, two dose "mRNA" vaccine has been more than 90% effective thus far in protecting people against COVID-19 in a 44,000 person trial, which has driven a stonking, 3% rally in the Dow Jones Index. The New York Times reports:
Analysis found that the vaccine was more than 90 percent effective in preventing the disease among trial volunteers who had no evidence of prior coronavirus infection. If the results hold up, that level of protection would put it on par with highly effective childhood vaccines for diseases such as measles. No serious safety concerns have been observed...Pfizer plans to ask the FDA for emergency authorization of the two-dose vaccine later this month, after it has collected the recommended two months of safety data. By the end of the year it will have manufactured enough doses to immunize 15 to 20 million people, company executives have said.
You might recall that the approval of an effective COVID-19 vaccine(s)--with subsequent public distribution late this year and in early 2021---has been a core part of Coolabah's highly heterodox central case since February 2020. This contrarian perspective, which has been frequently discounted by others, was based on the analysis prepared by our five portfolio managers and 13 analysts (including four PhDs) coupled with proprietary advice rendered by world-class immunologists on the probabilities of a successful vaccine emerging in 2020 care of the unprecedented global effort to develop a solution to this 1-in-100 year pandemic. 
If you are wondering how medical experts have responded to the Pfizer news, the NYT has canvassed a number of authorities:
"This is really a spectacular number," said Akiko Iwasaki, an immunologist at Yale University. "I wasn't expecting it to be this high. I was preparing myself for something like 55 percent." If the final vaccine ends up with that level of efficacy, it "would be higher than your regular flu vaccine, and this vaccine could have a serious impact on bending the curve of this outbreak," said Dr. Saad B. Omer, the director of the Yale Institute for Global Health. 
Pfizer's results are especially encouraging because another leading vaccine developer that we have regularly drawn attention to, Moderna, uses similar mRNA technology. Here the Wall Street Journal explains:
Pfizer and BioNTech's vaccine uses a new and unproven technology, known as mRNA, short for the molecular couriers called messenger RNA that carry genetic instructions to cells. The shots deliver mRNA that prompts cells to make a synthetic version of the spike protein that juts from the surface of the new coronavirus. That protein triggers the immune system to defend against the virus. Moderna's vaccine also uses the mRNA technology. "This is great news as it shows mRNA can work," Moderna Chief Executive Stéphane Bancel said. Moderna is on track for an interim efficacy analysis and a two-month safety follow-up for at least half the people in its clinical trial this month. 
Approval of a tractable COVID-19 vaccine has been but one significant part of Coolabah's unique, multi-faceted outlook since the advent of the pandemic, which has included, amongst other predictions:
The key take-away for investors is that relentlessly unconventional thinking fused with rigorous research can help power substantial portfolio alpha. We've tried to put this into practice with extremely active trading throughout this unique shock. This has involved us buying and selling more than $20 billion of bonds in the last 10 months, including over $13 billion of investment-grade credit and north of $7 billion of government bonds. 
And I would like to think that this has translated into performance across our $4.6 billion of FUM. Our long-duration, AA- rated Active Composite Bond Strategy has returned 7.62% before fees (it is an insto-only product with confidential fee terms that is not available to retail investors) over the 12 months to 31 October compared to the Composite Bond Index's 3.99%. 
Along similar lines, Coolabah's zero-duration, AA- rated Long Short Credit Fund has returned 7.48% gross (5.0% to 5.2% net) over the last year compared to the -6.5% loss suffered by Aussie shares plus dividends (the All Ords Accumulation Index), the 0.35% return on the Bloomberg Credit Hedge Fund Index, the 1.90% return offered by the AusBond Floating-Rate Note Index, and the 1.98% recorded by the Solactive ASX Hybrids Index.
The abovementioned market dynamics have a long way to run yet. We are just starting to see another global round of QE kicking-off with the Bank of England committing to spend GBP150 billion, which will result in it owning about half of all the gilts on issue. The ECB will likewise shortly follow-suit, and the Fed will presumably be next in line. And while one can credibly criticise the theoretical merits of QE (as I have previously), that is an intellectually vainglorious exercise when the entire world is engaged in it. If the RBA does not expand its balance sheet in the same way as other central banks, it will not be able to meet its legislated obligation to deliver full employment. We'd be cutting off our noses to spite our faces.
The RBA has therefore correctly concluded that as a small open economy, Australia must compete on a level playing field where the rules of the game are set by foreign actors (ie, global central banks). 

........
General Disclaimer: Past performance does not assure future returns. All investments carry risks, including that the value of investments may vary, future returns may differ from past returns, and that your capital is not guaranteed. This information has been prepared by Coolabah Capital Investments Pty Ltd (ACN 153 327 872). It is general information only and is not intended to provide you with financial advice. You should not rely on any information herein in making any investment decisions. To the extent permitted by law, no liability is accepted for any loss or damage as a result of any reliance on this information. The Product Disclosure Statement (PDS) for the funds should be considered before deciding whether to acquire or hold units in it. A PDS for these products can be obtained by visiting www.coolabahcapital.com. Neither Coolabah Capital Investments Pty Ltd, EQT Responsible Entity Services Ltd (ACN 101 103 011), Equity Trustees Ltd (ACN 004 031 298) nor their respective shareholders, directors and associated businesses assume any liability to investors in connection with any investment in the funds, or guarantees the performance of any obligations to investors, the performance of the funds or any particular rate of return. The repayment of capital is not guaranteed. Investments in the funds are not deposits or liabilities of any of the above-mentioned parties, nor of any Authorised Deposit-taking Institution. The funds are subject to investment risks, which could include delays in repayment and/or loss of income and capital invested. Past performance is not an indicator of nor assures any future returns or risks. Coolabah Capital Institutional Investments Pty Ltd holds Australian Financial Services Licence No. 482238 and is an authorised representative #001277030 of EQT Responsible Entity Services Ltd that holds Australian Financial Services Licence No. 223271. Equity Trustees Ltd that holds Australian Financial Services Licence No. 240975. Forward-Looking Disclaimer: This information may contain some forward-looking statements. These statements are not guarantees of future performance and undue reliance should not be placed on them. Such forward-looking statements necessarily involve known and unknown risks and uncertainties, which may cause actual performance and financial results in future periods to differ materially from any projections of future performance or result expressed or implied by such forward-looking statements. Coolabah Capital Investments Pty Ltd undertakes no obligation to update forward-looking statements if circumstances or management's estimates or opinions should change except as required by applicable securities laws. The reader is cautioned not to rely on forward-looking statements.
---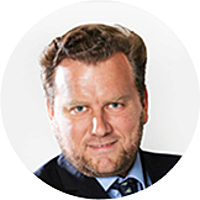 Portfolio Manager & Chief Investment Officer
Coolabah Capital
Chris co-founded Coolabah in 2011, which today runs $7 billion with a team of 33 executives focussed on generating credit alpha from mispricings across fixed-income markets. In 2019, Chris was selected as one of FE fundinfo's Top 10 "Alpha...