Net zero: a once-in-a-lifetime investment opportunity?
---
More than 120 countries have pledged to reach net zero carbon emissions by around 2050, along with numerous regional governments, cities and companies. Some countries have even brought their deadlines forward amid greater urgency to address climate change.

Investment is vital to success
Trillions of dollars will be needed to support and enable the transition to a lower carbon future, creating a once-in-a-lifetime investment cycle across a wide range of sectors. At the forefront will be companies in the energy, mining and agricultural sectors – those focused on natural resources – operating at the heart of sustainable development and decarbonisation.
Looking at the energy sector alone brings the magnitude of this investment into sharp focus. Investment bank UBS estimates around US$140 trillion is needed by 2050 to decarbonise the world's energy supply.
Chart 1: Annual investment needed to decarbonise energy supply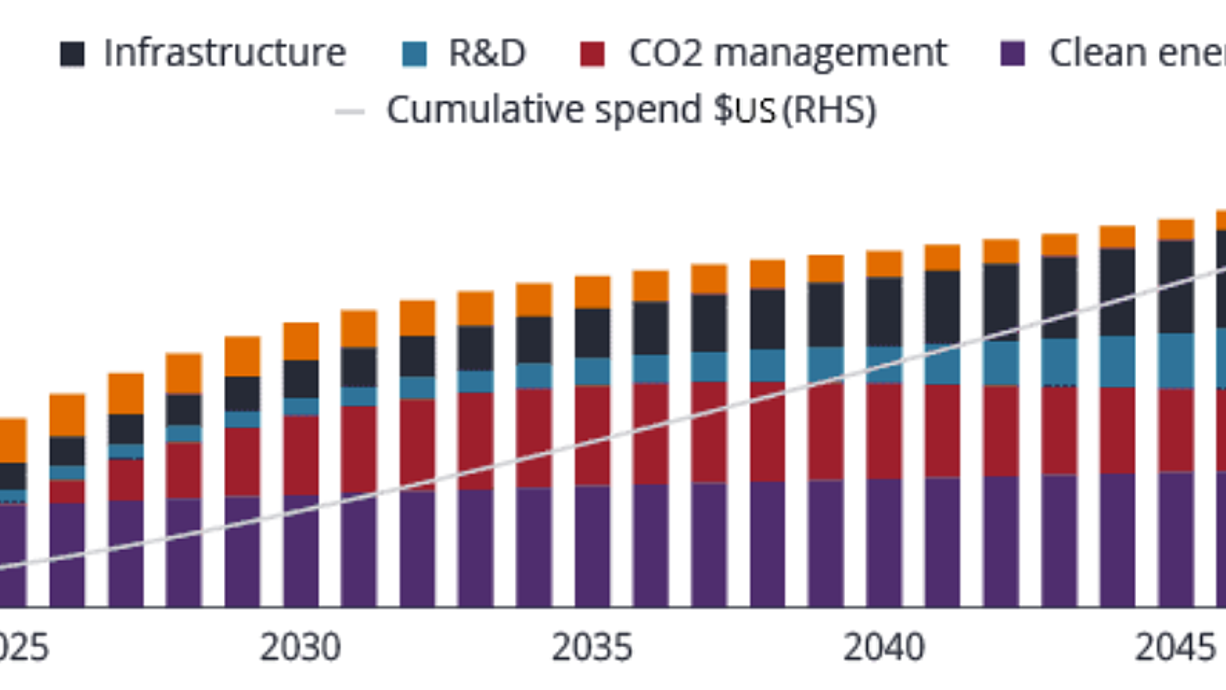 Adding to the enormity of the opportunity is that, in 2050, the world's population will be 20% bigger than it is today. That means an additional two billion people to house, feed, clothe and transport – all of which contribute to emissions that will need to be mitigated.

Natural resources are vital to the transition
Parts of the natural resources sector are far from carbon neutral. But we believe many companies can drive a level of carbon reduction across the global economy that eclipses their emissions footprint.
For example, operating a lithium mine generates emissions, yet as a battery mineral, lithium supports significant decarbonisation by providing the raw materials used to power electric vehicles and store renewable energy.
We see five broad decarbonisation investment themes, each with strong tail winds as we move to 2050:
Energy transition

The switch from fossil fuels to renewables is the single biggest contributor to carbon reduction in our view. We expect vastly more offshore wind, solar and hydroelectric facilities driving decarbonisation of the power grid and accelerating the move into zero carbon hydrogen.
Sustainable mobility
The providers of electric vehicle and battery raw materials – copper, nickel, lithium, steel and aluminium are enabling this transition. The economics for these companies are strong and if mass take-up of renewables and electronic vehicles occurs, resource supply constraints could see many years of elevated commodity prices and excess returns.
Sustainable industry

The creation of a viable circular economy, where waste is recycled into materials to produce new products, rather than sent to landfill, will make a significant contribution to carbon avoidance. This will result in fewer emissions per unit produced, as well as overall waste reduction.
Sustainable agribusiness
Agribusiness has a huge role to play in decarbonisation. On the negative side, the carbon emitted by the beef industry is 10 times higher than some fish alternatives and 100 times higher than legumes. There is also a growing realisation that carbon emissions can be minimised via improved land management, including less land clearing.
Carbon reduction

Carbon capture, storage and utilisation is still in its infancy, but is expected to see rapid growth as a means to dramatically reduce industrial emissions. Other methods to reduce emissions, such as planting trees to sequester carbon, may also increase during a period where the value of carbon credits is likely to grow.
A multi-decade runway lies ahead
The outlook for the natural resources sector and its potential to change the world for the better is incredibly exciting. This is a transition that will require investment and innovation at an immense scale.
Invest in the transition to net zero
Our new active ETF, the Janus Henderson Net Zero Transition Resources Active ETF (Managed Fund) (ASX:JZRO) offers access to this multi-trillion dollar investment thematic. It invests in companies all over the world that are enabling the transition to a net-zero carbon emission future. Visit our website or the fund profile below to learn more. 

ETF
Janus Henderson Net Zero Transition Resources Active ETF (Managed Fund)
Global Shares
........
This information is issued by Janus Henderson Investors (Australia) Institutional Funds Management Limited (AFSL 444266, ABN 16 165 119 531). The information herein shall not in any way constitute advice or an invitation to invest. It is solely for information purposes and subject to change without notice. This information does not purport to be a comprehensive statement or description of any markets or securities referred to within. Any references to individual securities do not constitute a securities recommendation. Past performance is not indicative of future performance. The value of an investment and the income from it can fall as well as rise and you may not get back the amount originally invested. Whilst Janus Henderson Investors (Australia) Institutional Funds Management Limited believe that the information is correct at the date of this document, no warranty or representation is given to this effect and no responsibility can be accepted by Janus Henderson Investors (Australia) Institutional Funds Management Limited to any end users for any action taken on the basis of this information. All opinions and estimates in this information are subject to change without notice and are the views of the author at the time of publication. Janus Henderson Investors (Australia) Institutional Funds Management Limited is not under any obligation to update this information to the extent that it is or becomes out of date or incorrect.