Nine stocks insiders are buying - and why it matters
---
We've recently seen the running of the race that stops the nation, the Melbourne Cup. If ever there was an event where the 'inside running' could provide a material benefit, this is it.
And no, I'm not talking about the race day scuttlebutt that sweeps the yard and leads to a plunge. I'm talking about the intimate (and legal) knowledge that comes from studying the form guide, understanding who's who in the zoo, and knowing the moves that are being made.
There are equivalents in the stock market. Savvy investors study the form of company decision-making, know the good management teams from the bad, and pay very close attention to who is buying and selling their own stock.
The latter are known as 'insider moves'. ASX-listed entities are required to reveal when officers, directors and large shareholders are buying and selling. For the investor, their moves bring plenty of questions. Are they buying and selling at the right time? Are they getting the right price? What do they know that I don't?
This all makes sense. Investors are naturally inquisitive. We have to be. But, at the end of the day, who would know more about a company and its prospects than the people who run it?
The research
In his well-regarded book Investment Intelligence, University of Michigan professor Nejat Seyhun studied the transactions available on all publicly held firms over 21 years – constituting more than one million transactions.
The key findings showed that when insiders buy shares in their own companies, the stock tended to outperform the total market. Conversely, when they sold, the stock underperformed.
Despite this broad finding, there are a few nuances that people should be aware of when looking at insider moves. Famous investor, Peter Lynch, noted:
"insiders might sell their shares for any number of reasons, but they buy them for only one: they think the price will rise."
In a study in 2019, titled Trading Against the Grain: When Insiders Buy High and Sell Low, and published in the Journal of Portfolio Management, authors Ruihai Li, Wesley Wang, Zhipeng Yan and Qunzi Zhang reaffirmed this point.
They examined the trades of corporate insiders from 1986-2017 and noted, amongst other things, that:
"Consistent with prior literature findings that insider purchases are more informative than sales (sales can be made simply for diversification purposes), the return difference was more pronounced for insider purchases than for insider sales."
The other key observation that they made, and this is the kicker, is that the percentage of insider trades falls away as the share price moves from around 52-week lows, to very close to the 52-week highs. Put simply, insiders buy more when their stocks are incredibly cheap, and buy less when they are expensive.
The research goes on to show that trades made when stock prices are far from an insider's anchor levels (the level that the insider 'believes' the company is worth) are the most informative. More specifically, insiders are willing to trade against their anchoring bias when they have information that allows them to overcome that bias. In other words, if insiders 'know' the stock is too cheap, they are happy to pile in, despite what the market is telling them by way of the share price.
Keep these ideas front of mind as we dive into the analysis and charts below. Please note that the following list has been modified to only include on-market trades, the exercise of options, or participation in share purchase plans.
TOP 50 INSIDER MOVES BY VALUE OVER THE PAST 10 DAYS
The data below is sourced from Market Index

The table above is the top 10 trades in terms of value. All are north of $100,000, so all are big enough to be significant bets on the share price moving higher.
And the rest...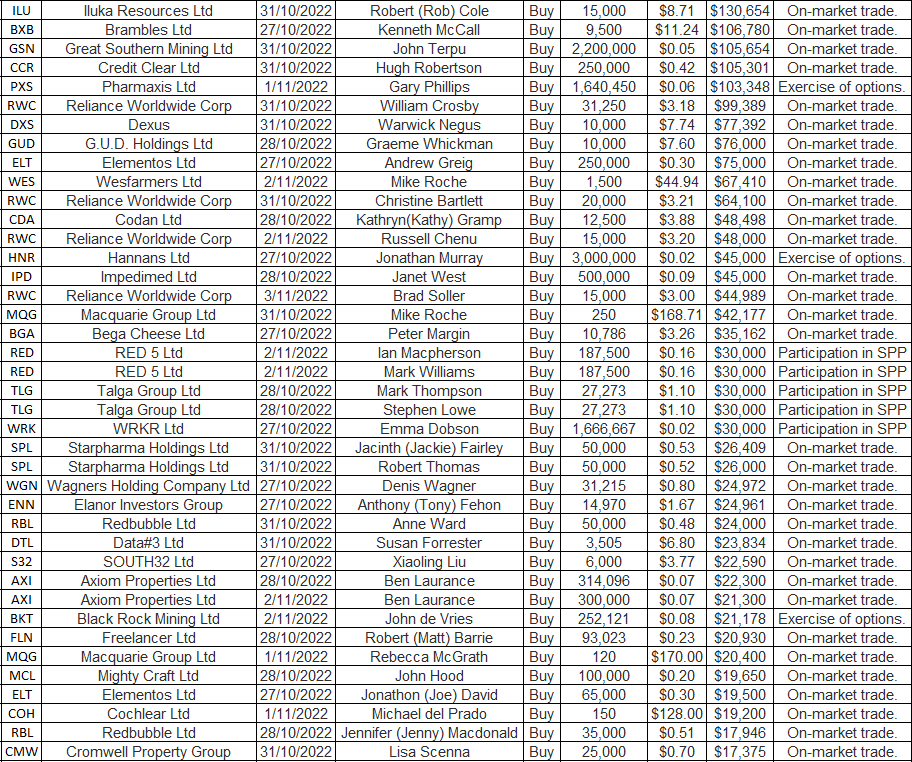 INTERESTING OBSERVATIONS
Two people from Codan (ASX: CDA) have been buying


Broker notes: Macquarie recently downgraded from outperform to NEUTRAL with a $4.10 target price, noting that a recent company update disappointed, with guidance below expectations. 
Two people from Elementos (ASX: ELT) have been buying


Morgans has a SPECULATIVE ADD recommendation with a $1.02 target price. The company aims to become Europe's first new significant tin mine by 2025. 
Three people from Impedimed (ASX: IPD) have been buying


Another SPECULATIVE BUY from Morgans, with a 19.5c target price, noting that the core business advanced 14% as per the recent company update. 
Two people from Macquarie (ASX: MQG) have been buying


Most brokers are bullish on MQG:
UBS rates it a BUY with a $190 target price
Morgan Stanley rates it OVERWEIGHT with a $215 target price
Ord Minnett a BUY with a $198 target price
Morgans an ADD with a $214.30 target price. 
Credit Suisse is the notable bear, with an UNDERPERFORM rating and a $150 target price. 
Three people from Redbubble (ASX: RBL) have been buying

Morgans has an ADD rating with a $1.00 target price, noting that whilst the 1Q trading update was soft and cost pressures are impacting the business, it is in an investment phase. UBS and Morgan Stanley are less convinced, with NEUTRAL and EQUAL-WEIGHT ratings respectively, and target prices of 60c and 55c.  
Two people from Red5 (RED) have been buying


Ord Minnett has a SPECULATIVE BUY and 32c target price, and Morgans have an ADD and 42c target price. Ords notes that the recent $60m cap raise should ease balance sheet concerns whilst a production ramp at the King of the Hills project could be a positive catalyst. 
Four people from Reliance Worldwide (ASX: RWC) have been buying.


The broadest spectrum of analyst ratings of any of the stocks looked at.

Morgan Stanley is OVERWEIGHT with a $4 target price
UBS rates it a BUY with a $4.80 target price.
Credit Suisse rates it OUTPERFORM with a $3.90 target price
Macquarie rates it OUTPERFORM with a $4.60 target price
Ord Minnett and Morgans rate it a HOLD
Citi rates it a SELL with a $3 target price. 
Two people from Starpharma Holdings (ASX: SPL) have been buying


Two people from Talga Group (ASX: TLG) have been buying

The Final word
Don't sleep on insider buying and selling. There is clear evidence, gathered over big data sets and long periods that show that insider moves are correlated with outperformance.
When it comes to companies that have seen multiple insiders buying of late, they all have share prices closer to 52-week lows. In fact, six of them are pretty much trading on their 52-week lows. Only Impedimed, Macquarie and Talga have rallied off the bottom. 
Based on the research, which shows that insiders are adept at buying their own stock at the right time and when it is particularly 'cheap', there are nine stocks you perhaps should be taking a closer look at... and six that you definitely should. 
---
Never miss an insight

If you're not an existing Livewire subscriber you can sign up to get free access to investment ideas and strategies from Australia's leading investors.
And you can follow my profile to stay up to date with other wires as they're published – don't forget to give them a "like".
........
Livewire gives readers access to information and educational content provided by financial services professionals and companies ("Livewire Contributors"). Livewire does not operate under an Australian financial services licence and relies on the exemption available under section 911A(2)(eb) of the Corporations Act 2001 (Cth) in respect of any advice given. Any advice on this site is general in nature and does not take into consideration your objectives, financial situation or needs. Before making a decision, please consider these and any relevant Product Disclosure Statement. Livewire has commercial relationships with some Livewire Contributors.
---
Managing Editor
Livewire Markets
My passion is equity research, portfolio construction, and investment education. There are some powerful processes that can help all investors identify great opportunities and outperform the market, and I want to bring them to life and share them...
Expertise