One area of real estate that remains in good health
---
As many would agree a good funds manager looks for undervalued assets, injects the right level of capital along with sound management initiatives to create well-performing investment vehicles and, subsequently, good returns for investors. The add-value strategy is a tried and tested approach in the asset management playbook.
However, a great manager looks at sub-markets or overlooked asset classes to drive value, especially in sectors where there are fewer competitors. In this current market, we've seen large scale transactions for petrol stations, data centres and, I'm throwing my hat in the ring for healthcare properties.
Healthcare real estate includes facilities for primary care, such as GP surgeries and medical centres; secondary health, such as specialist centres; tertiary health including day, short stay and long stay hospitals; allied health such as dentists and physiotherapists; and ancillary health, such as pharmacies and childcare provisions.
In our view, there are three drivers underpinning rising values and returns for healthcare real estate – demand, opportunity, and limited competition.
1. Demand
As everyone is well aware, demand for healthcare servicing continues to rise as a result of an ageing population. In the 1960s, the average life expectancy was approximately 68 years for men and 74 years for women (1). Today, approximately 81 years for men and 85 years for women (2). However, by 2060 the figures are estimated to be 89 and 90 for men and women respectively (3). And so, from a larger population comes more demand of health services.
Additionally, there is a steady rise in demand from those who are young… well, younger than 75 years. There is more evidence today about the rise of chronic illnesses (such as diabetes). This increased demand has led to funding pressures faced by state governments, which is illustrated by longer wait lists for tertiary care.
Equally, the rise of chronic diseases adds to demand – in particular, those patients with multimorbidities and complex multimorbidities, that is, having more than one chronic illness. In one study, nearly half of the patients had multimorbidity and roughly a quarter had complex morbidity. The most prevalent three conditions were osteoarthritis, hypertension and hyperlipidaemia (a medical term referring to abnormally high levels of fats in the blood, commonly seen in those who are overweight and have unhealthy diets) (4). Poor sugar control leads to a 16-33% increase in heart attacks, a 24% increase in microvascular complications (kidney, eye) and a 27-36% increase in death after 10 years (5).
All these events drive primary care and hospital utilisation. The annual cost of managing diabetes, for example, is $3,500 per patient, without complications but increases to $9,600 with complications (6). Diabetes with complications increases emergency presentations and hospital admissions by 48% and increases mortality by 13-30% (7).
Naturally, an increase in demand for the service of healthcare by more efficient and effective operators means there is an increased demand for healthcare property.
2. Opportunity
There is scope to improve the traditional healthcare model, which is assisted by changing the real estate. The key changes are actually smaller buildings, with multiple tenants to drive more efficiency and tenant "stickiness". These are illustrated by the patient experience. For example, rather than a patient driving from one specialist to another across suburbs, it makes sense to create healthcare ecosystems or one-stop-shops. If a patient was to see a GP about a continued ailment, the GP may refer that patient to the specialist within the building, who may then refer to the radiologist for scans also within the same building. The patient is more likely to attend a medical centre that has all these specialists under one roof, which creates better value from the tenants and, therefore, better value for the real estate asset.
Additionally, medical insurers are seeing the value of patients attending specialist day (and short-stay) hospitals or outpatient centres, rather than long-stay private hospitals, as the length of stay is shorter and therefore the cost of care is lower. In 2017, Private Health Insurers (PHI) in Australia paid long stay hospitals 32% more than they paid day and short stay hospitals for the top nine most common same day procedures. According to the leading industry body, Private Healthcare Australia (PHA), substituting inpatient care with outpatient care could potentially save $315 million per annum.
Again, this demand can be met by developing day and short-stay hospitals and outpatient centres where the operators and doctors, insurers and patients all benefit.
3. Limited Competition
Currently, there is a gap in the market for developing properties that cater to these new models of care eg short-stay hospitals. It is important to make the distinction between investing in healthcare real estate rather than healthcare operators. There are only a few institutional healthcare real estate investment specialists, one of whom is Centuria Healthcare.
Real estate that accommodates these new models of care is often brand new and supported by long-term leases, which are inflation-hedged and usually contain a highly specialised fit-out from the tenants. All these factors contribute to a relatively high-level of confidence in the tenant being "sticky" and that they will be in the building for a long time. For example, a Centuria Healthcare property fund owns the Concord Cancer Centre in Sydney, which is leased to cancer oncology-specialist Genesis Care. The tenant has specialist equipment within the centre and the building has been designed around this equipment. Genesis Care has a 10-year lease for the property.
Unquestionably, healthcare is a staple sector in our society that has an increasing demand and continuous growth forecast. This has a knock-on effect for healthcare real estate assets. Demand and growth fundamentals underpin the strength of this asset class and I believe it will grow in scope and investor demand.
There is significant opportunity to grow healthcare real estate, by adding value to existing properties and creating new facilities to help future-proof for the demand to come.
---
Footnotes
Institute of Health and Welfare, 7 August, 2020, Deaths in Australia
Ibid.
Australian Life Tables 2010-12, Commonwealth of Australia 2014
The prevalence of complex multimorbidity in Australia, Christopher Harrison, Joan Henderson, Graeme Miller, Helena Britt
Independent Hospital Pricing Authority: National Hospital Cost Data Collection; UK Prospective Diabetes Study; AusDiab study; literature review
Ibid
Ibid.
QIC's Social Infrastructure Red Paper (December 2019)
........
Issued by Centuria Healthcare Asset Management Limited (ABN 40 003 976 672, AFSL 246368) ('CHAML'), a majority-owned subsidiary of Centuria Capital Group (ASX: CNI). The information in this article is general information only and does not take into account the financial circumstances, needs or objectives of any person. 'Centuria Healthcare' refers to the division of CNI responsible for healthcare properties and includes property funds where CHAML is the Responsible Entity ('RE'). CHAML is the RE of a number of unlisted healthcare property funds, each of which are issued under a product disclosure statement (PDS) that is available on Centuria's website centuria.com.au for all funds open for investment. An investment in any of CHAML's property funds carries risks associated with an investment in direct property including the loss of income and capital invested. The risks relating to an investment are detailed in each Fund's PDS and CHAML strongly recommends that the PDS be downloaded and read before any investment decision is made. CHAML receives fees from investments in its property funds.
---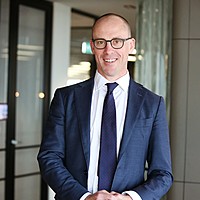 Managing Director
Centuria Healthcare
For more than two decades, Andrew has worked across investment markets including Australian and US equity derivatives, fixed-term interest markets and commercial real estate sectors, the latter focused on healthcare property. His investment...
Expertise