One of the best Internet plays in the world
---
Online businesses applications, portals and websites have been the way to do business leading into 2020 and with the pandemic taking over our lives this has thrown new opportunities with greater adoption of digital technology by individuals and companies. As individuals and entities, we are increasingly shifting to online rather than in person. This will expand the addressable market opportunity and go a long way towards further increasing the demand for digital services.
The opportunity for businesses operating with the strong fundamental tailwinds in the digital age, are rapidly rising internet acceptance and penetration as well as the demographics of a significant and youthful audience.
The Internet and Mobile Association of India (IAMAI) and Nielsen released a report in November 2019 which had India's active internet users at 504 million. India therefore is the world's second largest internet user after China (850 million users) and ahead of the United States (300 million users). According to Statista, India's internet penetration has increased from 4% in 2007 to 50% in 2020 (but is still well behind the US's 88%, Northern Europe's 95%, Oceania's 70% and China's 61%). The number of internet users in India is forecast to grow from 697m in 2020 to 975m in 2025 (approximately 65% penetration).
The Modi Government since it came into power in 2014 has driven significant financialisation (opening of up to 300m bank accounts with increasing usage and balances) and digitialisation (through a national ID card, digital online identity and online banking). Penetration particularly over this period, driven by a reformist culture, has moved significantly from 18% (2014) to 50% (2020).
85% are between 12-39, which highlights India's young population and well a strong desire for these youth to be online. Highlighting India's internet penetration is statistics like number of Facebook users rising from 136m in 2015 to 346m in 2020. Mobile internet has been such a positive development in the country's digital progress. In 2019, over 73 percent of India's total web traffic coming from mobile phones.
Imagine such fundamentals for an internet focused business. Info Edge (India) is the only pure play, internet company in India. The India Avenue Equity Fund owns 3% of its weight in this company. The business was founded in 1995 and went public in 2006 and runs the following businesses:

The company currently trades at a P/E multiple of over 100x earnings due to its positioning, infinite growth opportunity (digital business, unicorns, rapidly rising penetration, and youthful demographic), strong and recognisable brand names, astute and insightful management (who have illustrated a culture of fantastic capital management). The company recently raised (August 2020) A$350m of equity. This was timely in allowing a stronger balance sheet to invest in existing businesses, improve existing platforms, build new products, technology upgrades and bolstering data science and machine learning capabilities. It will also be used for the set-up of a VC fund to invest in internet related investments. This further adds to appeal for investors seeking to play India's internet penetration and a switch from physical to digital / online.
The company believes that in a developing country like India its activities will increase in importance given they are extremely high involvement services. These market segments are huge and continue to have significant opportunities and immense potential for growth. Pleasingly for investors the company's has stated its motto going forward is to focus on financial and operating prudence, whilst maintaining flexibility and being accepting of new challenges and opportunities.
Info Edge (India) in our opinion assessing the company by its one year forward P/E is meaningless as we expect earnings growth could be explosive.
Financials
Despite slowing GDP growth in India from circa 7% in 2016 to 3% in 2020, the business has grown revenues by 15.4% and EBITA by 23.0% per annum, with EBITDA margins of 36%. EPS has been diluted at times on issue of shares as the company has made value creating acquisitions and built a war chest to take advantage of COVID-19 pivot for many businesses seeking to build their online presence.
COVID Impact
Info Edge (India) has dealt with COVID-19 by continuing to work on product and service upgrades, maintained its customer connect and effectively managed its entire operations from a "work from home" environment. As India's economy is now emerging from lockdown the company's businesses have started returning to pre-COVID activity. Jobseeker traffic on Naukri is back to 95 % of pre-COVID levels, in 99acres buyer and owner, traffic is back to 90% and in Jeevansathi and Shiksha, traffic is now higher than the same time last year.
This stock is unlikely to be found in passive or ETF exposure to India but will grow into these indices shortly (A$8.2bn market cap). Ideally an actively managed fund will have substantially more exposure and be willing to trim and top-up appropriately.
---
Statista: Number of Internet Users
Not already a Livewire member?
Sign up today to get free access to investment ideas and strategies from Australia's leading investors.
---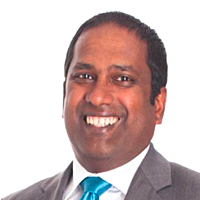 Managing Director
India Avenue
Mugunthan Siva is Managing Director of India Avenue, an Australian based boutique asset management company with offices in Sydney and Mumbai. He has over 25 years experience in Australia and is lead portfolio manager for the India Avenue Equity Fund.
Expertise