Our favourite 3 yield plays into 2022
---
If MM is correct and stocks are going to continue rallying before a period of consolidation then some healthy yield will add even more relative performance than it would to a market simply surging in a strong uninterrupted fashion. Obviously in today's unprecedented M&A world owning a few takeover targets can / does add some excellent alpha to an investors portfolio but we shouldn't forget that the "true & trusted" bread and butter of the ASX is dividends. MM believes that just as everyone is talking about the likes of Afterpay (APT), Oil Search (OSH) and Sydney Airports (SYD) we shouldn't ignore something that's rewarded Australian investors for decades.

MM thinks stocks providing the magic of yield & growth will look good into Christmas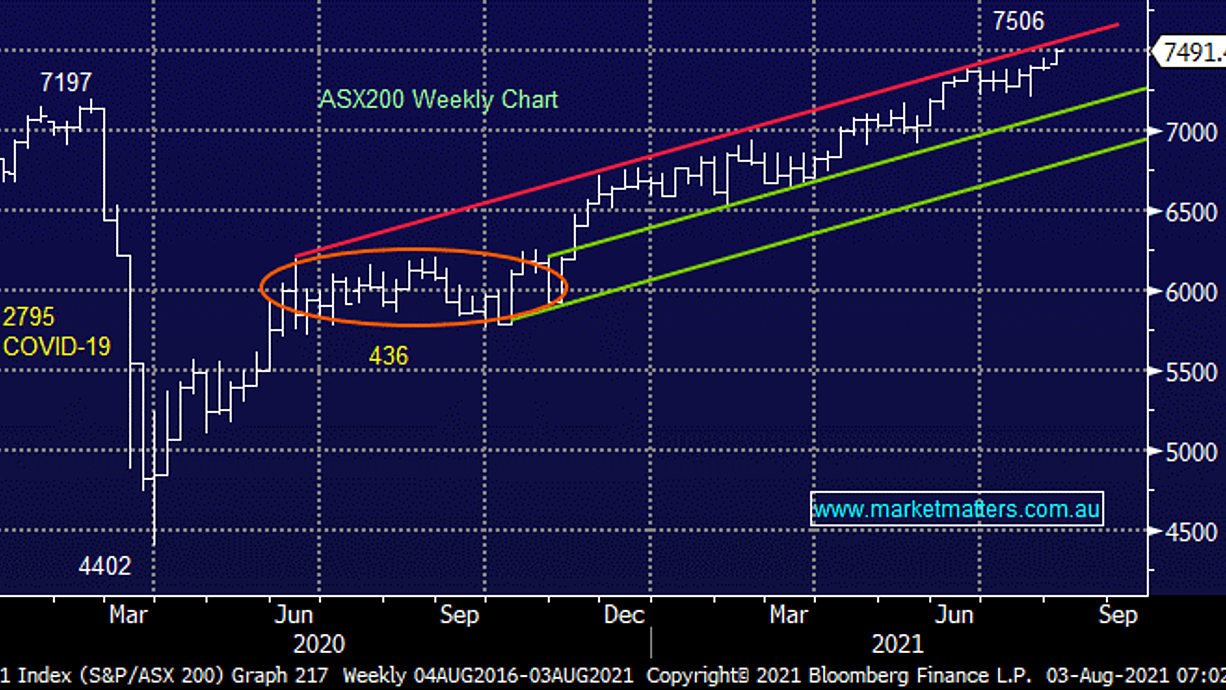 Australian 3-year Bond Yield
The RBA is now expected to delay its planned taper of QE under the increasing strain of the Delta outbreak – it doesn't make good sense to reduce QE just as the Australian economy is in very real danger of slipping back into a recession i.e. interest rates lower for longer creates a tailwind for stocks with a decent yield.
With Sydney in a prolonged lockdown and Brisbane in danger of following suit economic uncertainty is raising its head.
Ultimately MM is bullish bond yields and reflation but a "holding pattern" over the coming months is easy to comprehend.
MM believes 3-year bond yields can hover around 0.25% for the remainder of 2021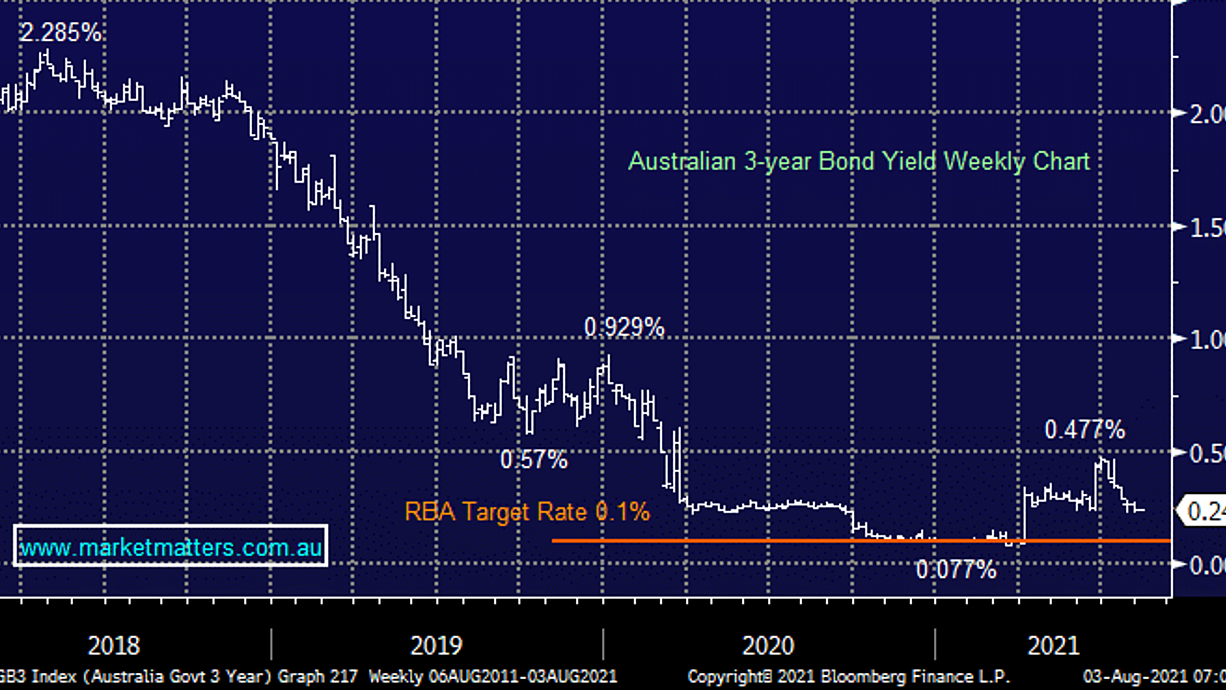 Today I have looked at 3 of our favourite yield plays which we don't own as the run-in towards Christmas slowly gathers momentum although with 144 days to go it's probably too early to mention the festive season – still, it puts a smile on my face! However, firstly lets briefly mention 3 we do own which continue to look way more attractive than cash:
Telstra (TLS) $3.77 – TLS should be very capable of maintaining its 4.2% fully franked yield plus capital management is a strong possibility – the next dividend is due later this month.
Metcash (MTS) $4.03 – a solid defensive stock if COVID does worsen significantly, it yields 4.6% fully franked but unfortunately, the next dividend is not due until December.
BHP Group (BHP) $53.70 – Incredibly BHP is forecast to yield 7.9% fully franked although with it comes volatility around commodity prices – the next dividend is due in early September.
CSR Ltd (CSR) $5.55
Building products business CSR has been on our watchlist for a few weeks following its 20% correction. The stock is forecast to yield an attractive 4.1% fully franked return with the next dividend due in November, a great adjunct for a company which MM believes is ideally positioned for at least the next 6-12 months.

MM's upside target for the CSR is ~25% higher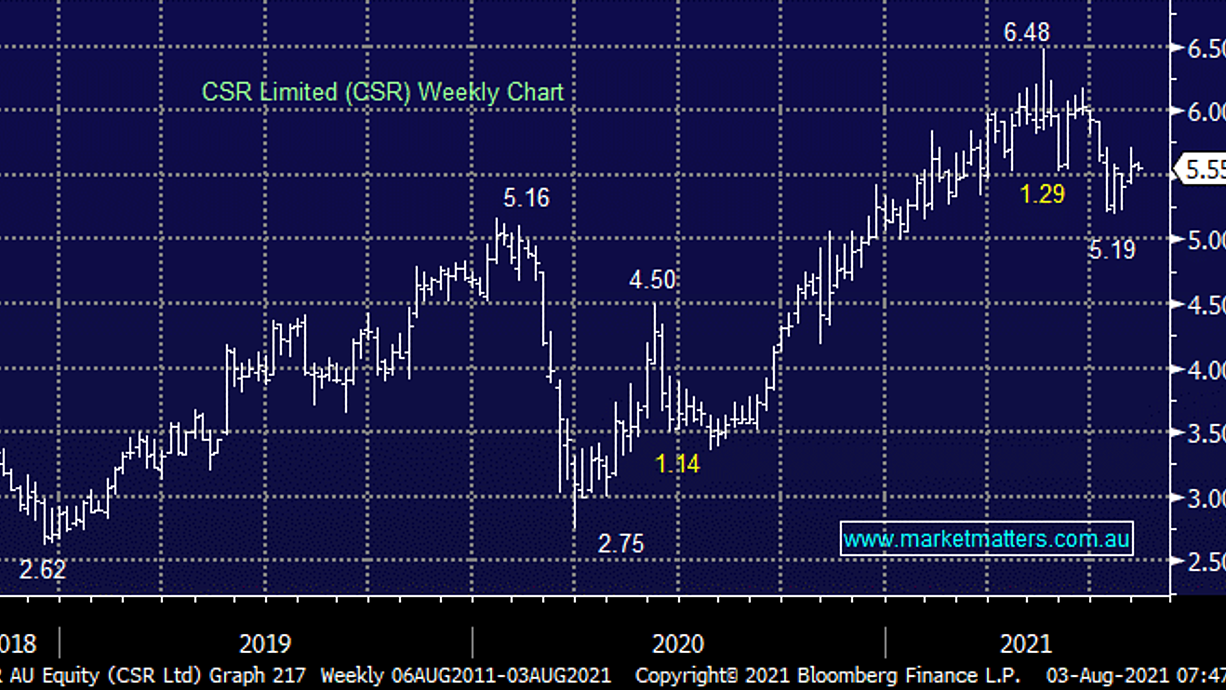 Magellan (MFG) $50.15
Hamish Douglass' fund manager MFG has pulled back 13% of late after being caught up in the Chinese government's strong-arm regulatory tactics however its recovery back above $50 feels constructive although obviously, a strong market backdrop helps – the current forecasted yield of 4.4% part franked is clearly attractive in today's environment. We have 3 thoughts of how to invest in MFG today:
Buy MFG around $50 with stops below $48.50.
Alternatively, take a small position around $50 hoping to average closer to $40 if we see some market / stock turmoil.
Lastly, leave alone at current levels but be ready to pounce if we do see a dip to around $40.
MM is bullish MFG with stops below $48.50 

Bank of Queensland (BOQ) $9.11
The banks are awash with both cash and economic tailwinds and as we witnessed with National Australia Bank (NAB) last month they're happy to start buying back their own stock – $2.5bn in the case of NAB. Regional bank of Queensland (BOQ) has like CSR been on our radar for a while and it brings with it both the attraction of a potential takeover target and a 3.2% fully franked yield, not a bad combination.

MM is bullish BOQ initially targeting the $10 area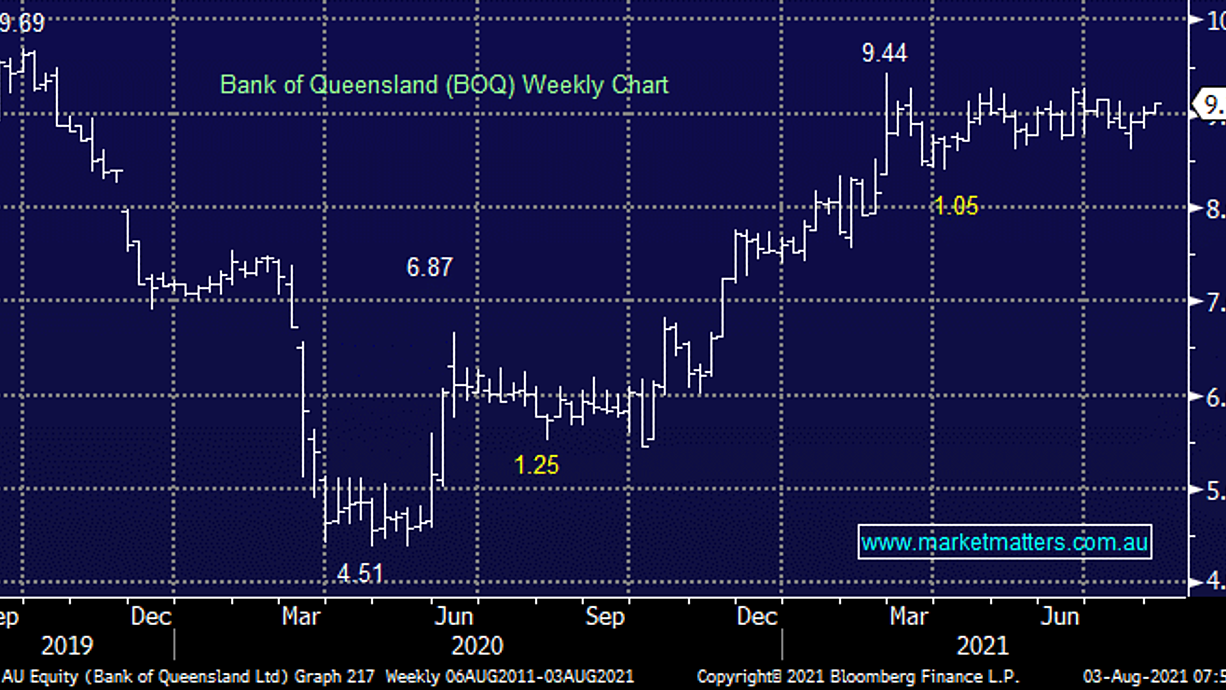 The bottom line
MM likes all 3 stocks we looked at today with our order of preference being CSR, BOQ and then MFG.

Make informed investment decisions
At Market Matters, we write a straight-talking, concise, twice daily note about our experiences, the stocks we like, the stocks we don't, the themes that you should be across and the risks as we see them. Click here for your free trial.