OZ talks up JV with Cassini; and investors turn on Breaker
---
OZ Minerals' managing director Andrew Cole had some positive things to say about the group's West Musgrave nickel-copper-cobalt joint venture in Western Australia with Cassini Resources (CZI) at OZ's annual meeting this week.
He said the project was currently in pre-feasibility off the back of a robust scoping study and that OZ was looking to develop the Nebo-Babel deposit there into a "low-cost, scalable, long-life operation.
"It is a project we think has a lot of potential, not just in the original scope outlined but also in the surrounding area that has attractive near-mine and district opportunities," Cole told shareholders.
You would have thought his positivity around a project involving the metals with the best outlook might have rubbed off on little Cassini with its 6.8c share price and market cap of $19 million. But it didn't.
Whichever way it's cut, Cassini's market cap is pretty skinny for a company which is being funded to the point of a development decision on a $730-$800 million mine development of which it will hold 30%.
The recently released scoping study into the development pointed to a 10 million tonne-a-year project producing up to 25,000tpa of nickel, 30,000tpa of copper, and 1,000tpa of cobalt from mid-2022 at robust cash costs of $US2-$US2.30/lb nickel (after by-product credits).
The positive findings prompted OZ to commit to spend $19 million within 18 months to earn a 51% stake under the arrangement where an eventual development would proceed on a 70:30 per cent basis.
There are some possible explanations for Cassini's harsh treatment. Is it the scale of its future funding requirement for a West Musgrave development, or is it because its current cash position of about $2.5m is on the skinny side of things?
Or is it because the initial mine life has been put at just 8 years?
None of those are of any real concern. OZ has flicked the switch on a pre-full feasibility study into the development and assuming it passes muster, Cassini's funding requirement – in a market where nickel, copper and cobalt are the "it" metals and costs are in the lowest 30% - should be a snack.
The lowly share price makes the prospect of having to have a dilutive share issue to top up its immediate cash needs a bit of concern. But its 30% stake in a quality project with a quality partner could well flush out cornerstone investors of various descriptions.
And as for the 8-year mine life, the benefit of a two-year exploration program on existing deposits and regional targets and resource conversion drilling has expectations running high that the initial mine life will probably start out at 15 years.
Cassini is not fretting about its current share price malaise. But it is trying to turn things around by getting back to exploring its own projects outside of the West Musgrave joint venture.
In the past 12 months, Cassini's responsibility to complete the West Musgrave scoping study meant exploration on its other projects was sidelined. They all have merit and it won't take much at any of them to alone justify Cassini's low market cap.
'Impatient' investors turn on Breaker Resources
Breaker Resources (BRB) suffered a "ye of little faith" moment on its recent release of a long-awaited maiden resource estimate for the Bombora gold discovery at Lake Roe, 100km east of Kalgoorlie.
Its shares were slammed, falling from an already depressed 51c ahead of the resource estimate to 30c. Clearly then, the market was not happy that the estimate came in at "only" 624,000oz grading a handy 1.6g/t gold.
The more enthusiastic out there had pencilled in something north of 1moz. Enthusiastic might not be the right word there. Impatient is likely more apt given Bombora is still very much in its infancy, having only been discovered in early 2016.
Still, the market does what the market does. The bigger question now is if Breaker has been oversold. Bell Potter analyst David Coates thinks so, keeping a buy recommendation on the stock, albeit on a lowered valuation of 96c ($1.30 previously).
And there is no surprise in knowing Breaker's executive chairman and big shareholder Tom Sanders also thinks the sell-off is over-done. He argued the case in a helpful Q & A posted on the ASX platform.
"It's an interim resource on a large new discovery and it summarises progress in the first year of what I expect to be a three‐year drill out. Importantly, it remains completely open at depth and along strike to the north and south, and to the east; and we have reconnaissance drill intersections in each area. We firmly believe that we are onto something special and rare," the "Colonel" said.
He went on to say that he expected Breaker would have nearly 800,000ozs of open pitable mineralisation after the planned completion of the drilling to a depth of 200m (100m RL) below surface.
"I believe we will go close to providing the critical mass for a standalone development, subject to feasibility of course. This ignores everything in the next 200m below the 100m RL, where we have an exploration target of 300,000ozs to 500,000ozs, and everything else along strike," the Colonel said.
He also addressed a key criticism of the impatient that Breaker had been in the go-slow lane with three drilling rigs instead of a half a dozen or so.
"It is far too easy to waste money by drilling in the wrong place. Layered on top of this are unknown aspects – such as how deep the mineralisation goes, whether it can potentially be mined underground, how far down can you economically mine it in an open pit, and other questions such as whether we are drilling in the best spot to maximise value," the Colonel said.
Fair enough too. But the downside to that is coming in with a maiden resource, albeit a constrained one, that clearly does not match up with what the impatients were given good reason to believe would be the case. The share price savaging reflects that.
There was a concession from the Colonel that perhaps things should be sped up, but only on the basis that it is a response to the maiden resource itself providing the platform for a bigger push.
Instead of three rigs whirring away, there will soon be four.
---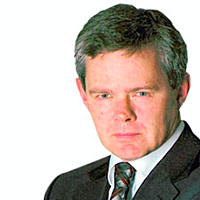 Principal
Independent Journalist
One of Australia's leading business journalists, Barry FitzGerald, highlights the issues, opportunities and challenges for small and mid-cap resources stocks, and most recently penned his column for The Australian newspaper.
Expertise