OZ Minerals raises bar in elephant-hunting deal with junior Red Metal
---
In a deal which is winning plaudits for fairness, Oz has committed to spending millions hunting for world-class orebodies at six projects held by little Red Metal. Plus, excitement builds over Kirkland's imminent Fosterville reserve upgrade and the hunt's on for more high-grade at the reborn Beta Hunt gold mine.
One of the big changes in the minerals exploration game of late has been the move down the food chain by the big mining companies to strike joint venture deals with juniors on their more promising Australian exploration projects.
The move reflects growing sovereign risk concerns at overseas locations and the ever-present need by the miners to fill their future development pipelines in an industry where the primary asset – the orebody – is depleted on a daily basis.
A joint venture deal where the major comes in and funds an exploration program might at first glance be considered a good thing for the junior. They have effectively had their exploration project endorsed by the miner's well-resourced exploration team and the exploration-funding problem is solved.
All that's very true but too many times the big miners use their leverage to strike a farm-in deal that leaves little on the table for the junior. It's commonplace for the junior to be required to let 70-90% of the project go to cement the deal, no questions asked.
But at last, there is an example of a joint venture deal that recognises the importance of the junior sector's project generation capability and its overall importance to the maintenance of a vibrant industry.
Today's example is the multi-project and multi-option joint venture deal OZ Minerals has cut with the technically-minded grassroots explorer Red Metal (RDM). That the deal is not the average mean deal has been reflected in Red's share price putting on 2c to 12c since it was announced.
The so-called "Greenfields Discovery Alliance" essentially gives OZ a two-year option to fund a series of mutually agreed, proof-of-concept work programs on Red's Yarrie, Nullarbor, Gulf, Three Ways, Lawn Hill and Mount Skipper projects.
The minimum expenditure commitment for OZ is $8.05 million across the projects and there is a $1.8m front end cash payment to Red.
On completion of the minimum expenditure commitment on a project, OZ has the option to trigger the formation of a joint venture in which it can earn 51% by spending a designated earn-in amount ($15m over four years at most of the projects), with Red having the flexibility to contribute at 49% or dilute to a 30% interest.
It should become the model for future deals between the big companies and the juniors. But it won't because not all juniors have the leverage Red had because of the quality of the exploration projects it is putting in to the greenfields alliance.
All of them are about finding the next Mt Isa, Cannington, Olympic Dam, Dugald River or McArthur River deposit.
Sadly, Red's senior project geologist Greg Kary will not be around to see that happen. A Canadian who made Australia his home, the widely respected and liked Kary died suddenly in the field before Christmas.
Red has pledged to name the first discovery made under the new alliance in his memory. "We look forward to this day," the company said.
Who knows, success could come at Red's Yarrie ground in Western Australia's Paterson province. It is in the same neck of the woods as Rio Tinto's yet to be officially confirmed Winu copper discovery, the one people are tracking by satellite.
Rio would not comment yesterday on speculation that it was about to lift the veil of secrecy on the find where the latest rumours are that it has outlined a still growing resource of 160mt grading 0.8% copper, maybe with a gold count.
Yarrie has the biggest minimum spend commitment of $2.5m over two years in the greenfields alliance with OZ.
Drawing on public domain geophysical imagery, Red reckons Winu shows up as a low-amplitude, bullseye magnetic target along a high-gravity ridge.  Two very similar low-amplitude magnetic bullseye targets along the same high-gravity trend are evident in Red's ground to the north-west.
Navarre Minerals (NML)
Not many sleeps now to finding out just how big the gold reserve upgrade at Kirkland Lake's high-grade Fosterville mine near Bendigo in Victoria is going to be.
The locally-listed (ASX:KLA) Canadian miner has said it would be in February and without saying what it would be, it gave an indirect message that it would be big, very big.
The indirect message came via Kirkland's recent disclosure that 330,000oz of annual production from Fosterville in 2018 would be followed up by a forecast 430,000oz in 2019 before taking off to a 500,000-540,000oz range in 2020, and 570,000-610,000oz in 2021.
It wouldn't being heading off to those forecast heights – it would compete with the Super Pit in Kalgoorlie to be Australia's third biggest gold mine – without Kirkland being super confident it had the supporting reserve base for years to come.
The current mineral reserve estimate stands at "only" 1.7Moz at 23.1gpt, of which the Swan Zone alone accounts for 1.16Moz at a thumping 61.2gpt. So big things are expected in the February reserves statement.
As Fosterville makes its pitch to be one of the world's great gold mines, there has naturally enough been a spike of investor interest in what else Victoria's old high-grade goldfields have to give up after all these years.
Dedicated Victorian explorer Navarre (NML) has captured some of that love this week on the strength of confirming re-assay results from its Langi Logan project, 40km south of Arete Capital's recently re-started Stawell gold mine, where 4Moz has been mined over the years.
Navarre has a big footprint in the Stawell mineralised corridor and Langi Logan has served up its best ever result – 11m at 5.1g/t from 75m within a broader interval of 33m at 2.9g/t from 66m to the end of the hole.
Navarre reckons the results indicate the potential for Langi Logan to host a large-scale, high quality gold system similar to the Stawell gold mine. There's more work to do but at least the market is now alert to the potential for what is a 5.9c stock ($21m).
RNC Minerals (RNX:TSX):
Talking about high-grade gold, Canada's RNC Minerals shot the lights out last year at its Beta Hunt nickel-gold mine near Kambalda.
RNC acquired the ageing nickel-gold mine in 2016 and most of the locals said "good luck" to them. With nickel production put on ice, RNC was left to focus on occasional high-grade found near the nickel lenses.
It's fair say that Beta Hunt's future is now a whole lot brighter following last September's discovery of the spectacular Father's Day Vein.
The discovery yielded 25,000oz of gold from a small underground rock cut and contained some of the biggest gold-in-quartz specimen stones ever found.
Some of the slab-sized gold specimens are still on a world tour of mining conferences, including the 1,402 oz "King Henry" specimen. Eventually they will be sold at what should be a fancy premium to the gold price.
More to the point is that the Father's Day treasure chest was found by RNC being the first owner of Beta Hunt to drill-test sediment bands found 150m below the contact between the Lunnon Basalt and the overlying Kambalda Komatiite, the focus of 50 years of nickel operations and the occasional source of high-grade gold pods.
The exciting aspect for RNC is that while the same mechanism creates the gold adjacent to the nickel lenses and in the sediment layer, the sediment layer is property-wide while the nickel lenses make up only a small fraction of the overall strike length.
As RNC president and chief executive Mark Selby puts it, RNC has essentially found a "brand new gold mine,'' one that has the development benefits of a 5km ramp to surface from earlier nickel/gold operations sitting directly above the new gold position.
Selby said he expects Beta Hunt's four known shear zones will continue to provide the operation's gold production base while high-grade material from the sediment layer will be the cream of the top. "We'll see how much cream we find as we go along," he said.
Recent drilling suggests Father's Day is not a one-hit wonder. Best results included a high-grade hit from the testing of the sediment layer at the Western Flanks shear - 1,017 grams a tonne (32.6 oz/t) over 2 metres, including 7,621 g/t (245 oz/t) over 0.27m.
The company was a C9c stock before the Father's Day find. It's now trading at C62c.
RNC is well aware of the appetite in the local market for high-grade gold operations. To that end, Selby said an ASX-listing was in the works.
"We haven't made a final decision at this point but it is something that will most likely happen at some point this year. It just makes sense."
---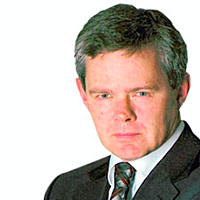 Principal
Independent Journalist
One of Australia's leading business journalists, Barry FitzGerald, highlights the issues, opportunities and challenges for small and mid-cap resources stocks, and most recently penned his column for The Australian newspaper.
Expertise