Peloton Fatigue – A quick run through our short position in Peloton
---
We are a global long-short fund manager, and in respect of both the long and the short side of the portfolio we are looking at business fundamentals and a catalyst to highlight those fundamentals. One of our short positions is Peloton, which is a testament to what we look for in a short: declining growth with industry headwinds, questionable management, and overpriced valuations.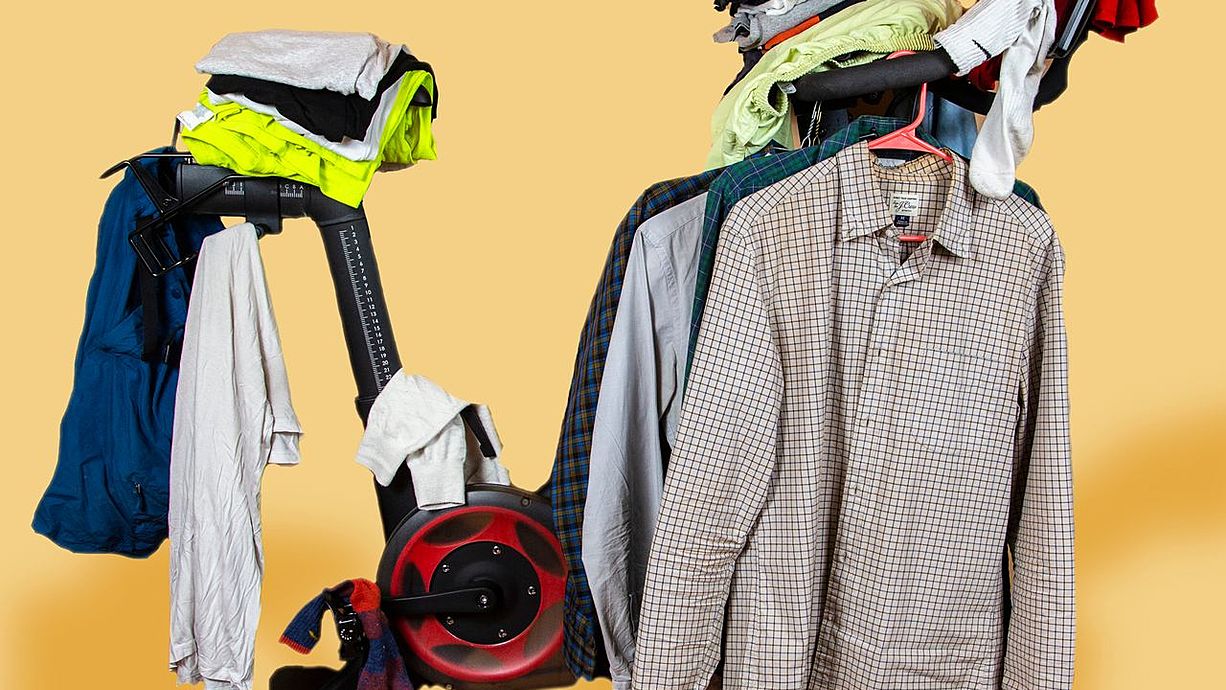 Peloton (PTON.US) has been a fascinating stock over the past 2 years. Their sleek exercise bikes and treadmills equipped with tablets allowed anyone with $2,500 for the bike and $4,500 for the treadmill to spare to join-in live interactive spin and fitness classes alongside thousands of people around the globe right from their own homes.
A lot of people did in fact have $2,500+ to spare during hard lockdowns in the US and Europe which saw public gyms and health clubs shut their doors. Government stimulus cheques spurred the buying power of consumers desperate to work out while working from home.
PTON's eye-watering growth was impressive and for very good reason. The demand made sense and there was basically no competition. PTON came public in September 2019 at $29 and peaked at $167 in Jan 2021 after seeing 800% revenue growth to over $4bn, since listing through 30th June 2021.
While we thought the company had a great product in a favourable environment, we could never get around the valuation complacency from the sell-side, which at the time we started looking was 5.5x 2022 Sales, PE 166x, P/FCF 80x, and EV/EBITDA 65x (May 2021). More confusing was the street was comparing PTON's valuation to Netflix (NFLX) and Roku (ROKU), higher-flying COVID beneficiaries like PTON, but operating in completely different industries with different products. Also notable was that there were 23 buy ratings, 4 holds, and only 2 sells, with an average price target of $127.90.
The one metric that really stood out and few were talking about was market capitalisation per subscriber, which was $18,000 for PTON vs <$2,000 for NFLX.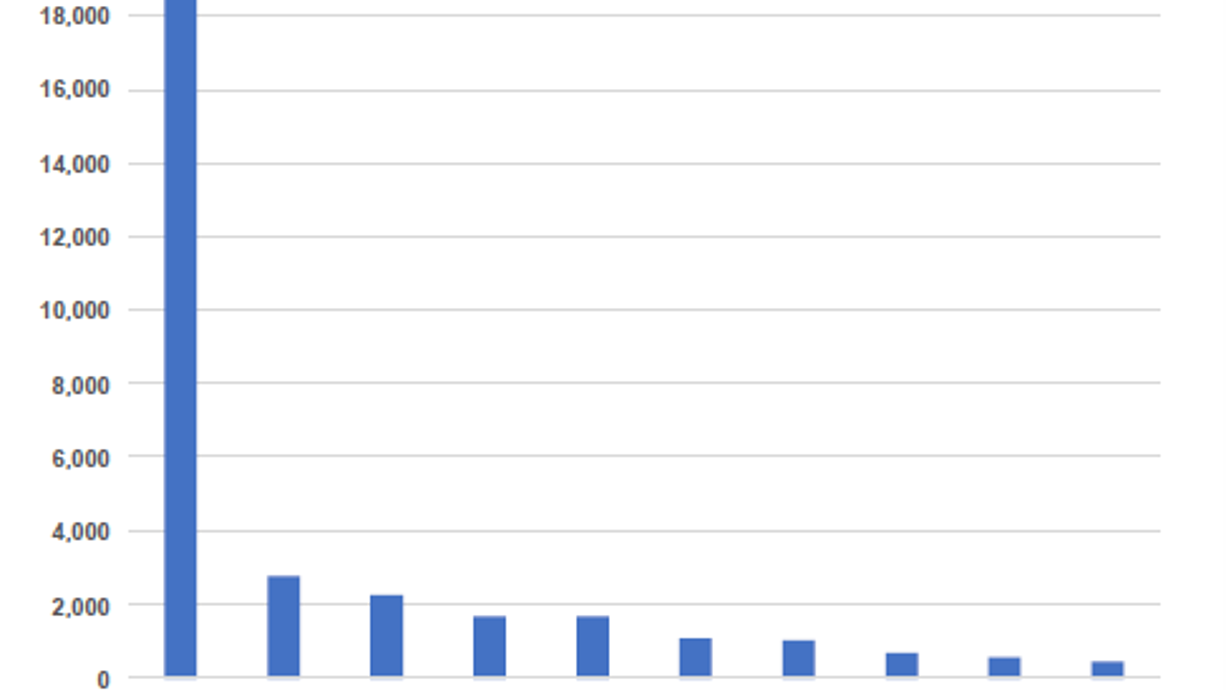 In May 2021 a catalyst was presented to us. PTON had issued recalls of their new treadmills, following the death of one child and 70 other reported incidents relating to the Peloton Tread+. The lower-priced Tread was also recalled due to separate concerns about its touch screens getting detached inadvertently. Customers were offered full refunds including shipping or have their products replaced when a solution was found. Being only 15% of revenue and based on management estimates of only 10% of customers participating in a refund, impact to revenue was only expected to be small at $165m and $60m to EBITDA.
But it was management's communication to the market that raised our concerns. Instead of being sympathetic, soft-toned and pledge to fix the safety issues, management went on the defense in a letter from the CEO that more or less lectured members to use the products properly (see snippet below). This tone and approach clearly demonstrated to us that managements priority was to protect the share price at all costs with no reputational damage, instead of being straight up and transparent with its members and investors.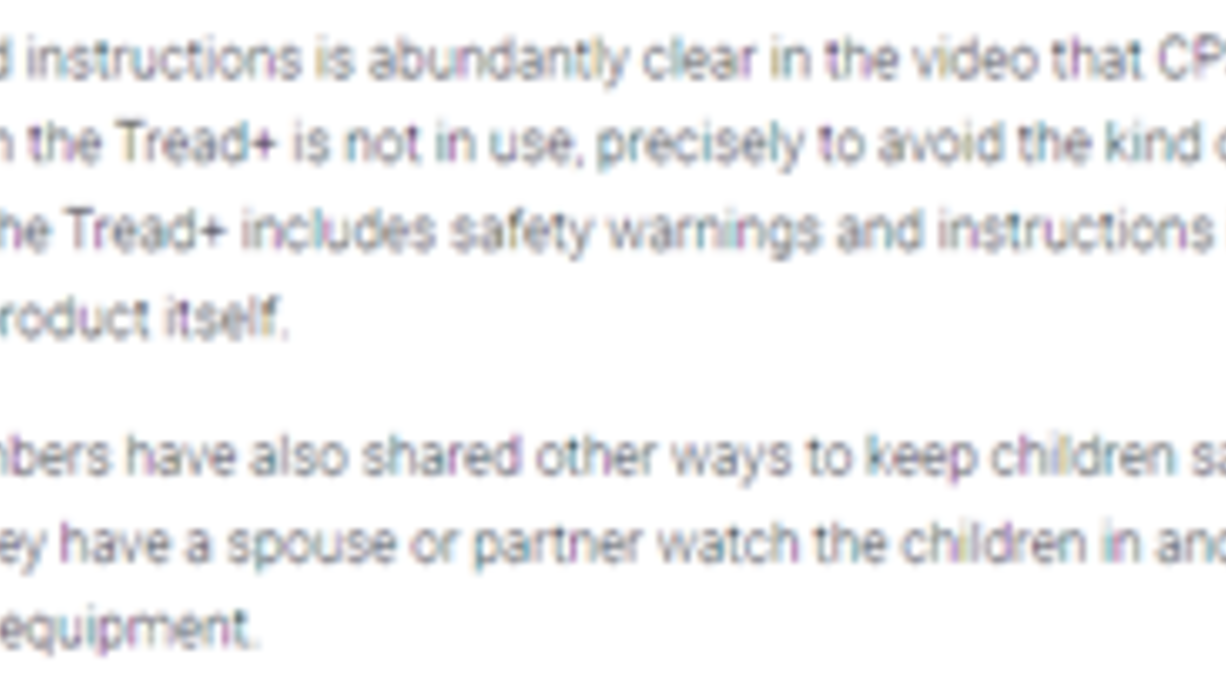 We also noticed the US and Europe were opening their economies, gyms were reopening, and they were heading into summer. We just couldn't subscribe to the notion that Peloton was a gym killer and people would prefer to workout in their bedrooms instead of interacting in gyms or exercising outdoors, after a long winter.
We initiated a short in PTON in June 2021 at $110, given the catalysts of product disruption & management credibility, a valuation that didn't make sense and the forward-looking thematic that the world was re-opening.
Like many shorts in bull markets, we become frustrated at times with the resiliency of the PTON share price, as well as the reluctance of the street to downgrade the stock. But in its Q4 report in late August, we were presented with additional catalysts. PTON announced a 20% bike price cut of $400, revised their financing for Bike+ and Tread products to extend a 39-month option to 43 months, and significantly revamped marketing spend by a whopping +172% increase, or 24.5% of revenues vs. 13.9% the prior year. Management justified this as a way to increase and expand their total addressable market. To us, it meant decreasing product demand and cash burn.
The following week, with the share price down 18%, management announced the launch of Peloton private label apparel brand. The stock rallied 20% in two days on the announcement which lacked significant details. By now we were becoming immune to managements habit of being overly promotive in times of share price weakness, and we added to our short position into the rally at $117.  It just didn't make sense that the company could even entertain the idea of launching a fitness apparel brand while still addressing product issues and declining demand for their core product.
With a declining share price, we remained short into the next earnings quarter, Q1 2022. The share price was underperforming the broader market for several months, the sell side were maintaining their stubborn estimates and bullish ratings and we had a thematic we believed in. In November 2021, PTON missed revenue expectations and reduced 2022 guidance by up to $1bn, from $5.4bn to between $4.4bn and $4.8bn. The company also cut profit and subscribers estimates. Management admitted they had underestimated the impact of economic re-openings, and that its overall business is in good shape and that it won't need any additional capital raises.
"…I think just cutting to the chase, we don't see the need for any additional capital raise based on our current outlook" PTON CFO on Nov 4th earnings call, in response to the first analyst question on cash burn.
We closed our short position at $50, after a 45% drop following the earnings release. Although we thought the price was still too high and had a $30 target in mind, easy money was made.
But only 12 days after reporting and defending their cash balances without the need to raise additional capital, the company presented another catalyst by offering $1bn in new shares at a low of $46. While we sometimes find these situations highly lucrative, managements credibility yet again let shareholders down in their messaging.  Also, PTON is now discounting further into Black Friday, with $400 off the Bike+, $150 off any accessories purchase with Bike purchase, and $250 off any accessories purchase with Tread purchase. We re-initiated a short position at $49, albeit on a much smaller scale.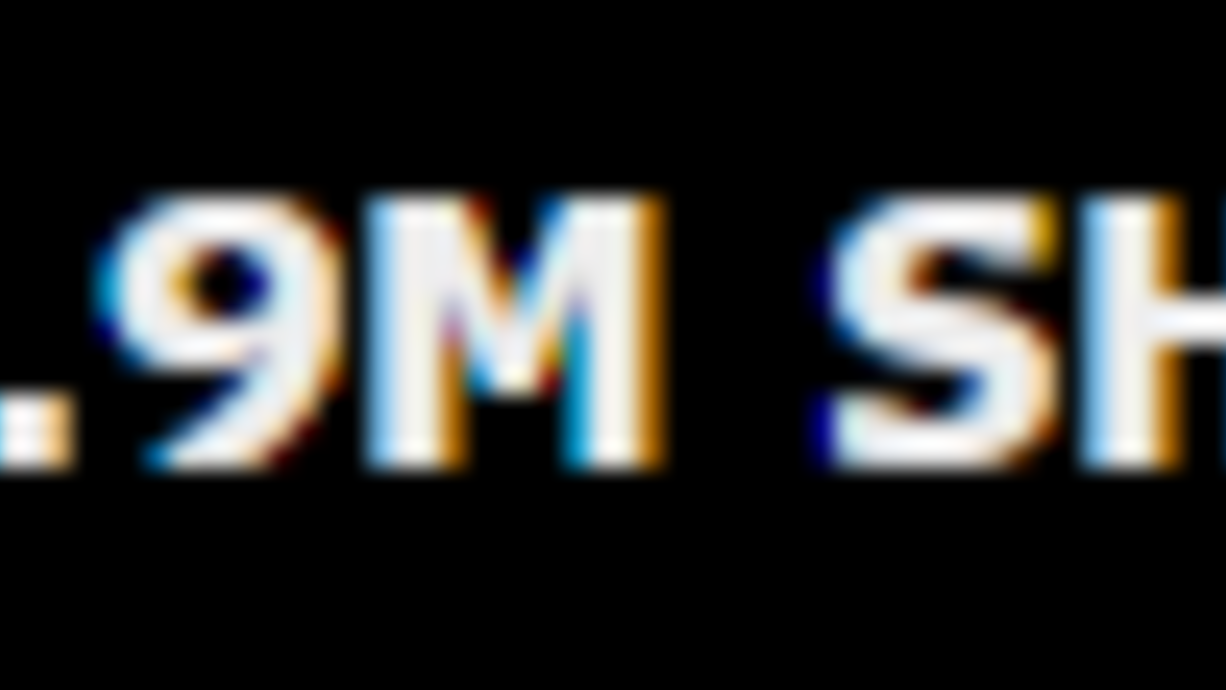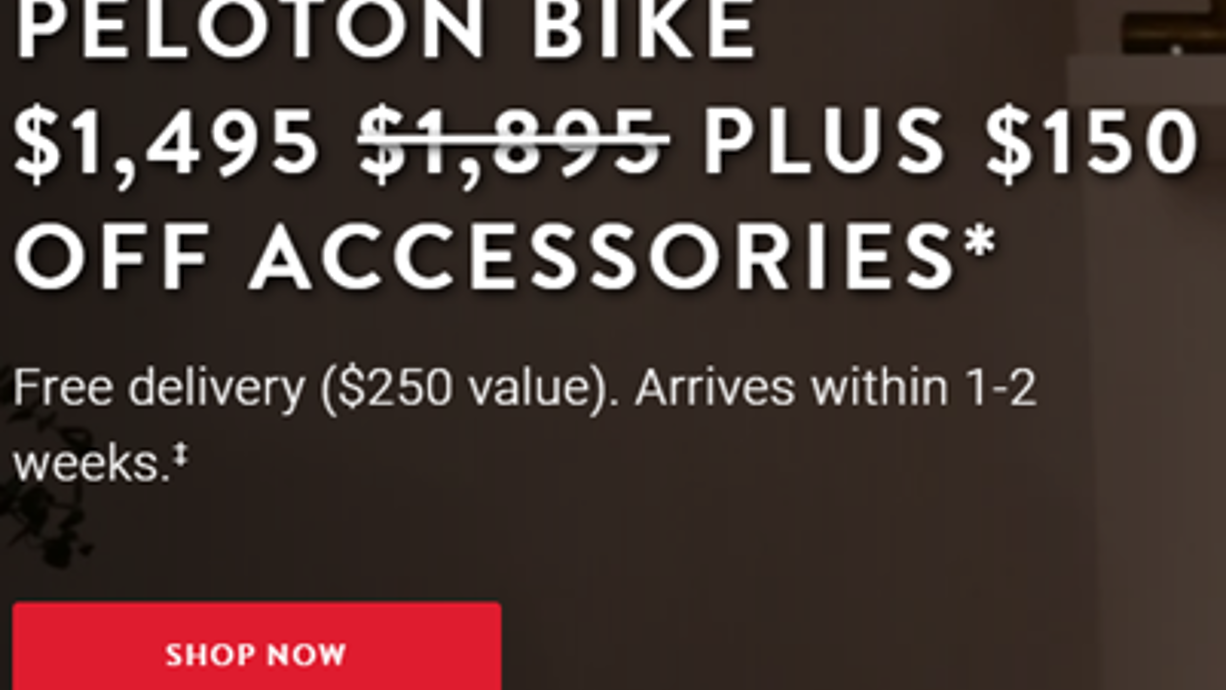 At 2.6x 2023 sales, our short in PTON is now more a trading short than a fundamental short, so we are keeping a tight stop on the position. Plus, we still think it's a great product for a niche market and although we think it unlikely, a takeover target as an entry into the connected fitness business. But, without a pandemic catalyst, the rapid uptake of its bikes and treads and app membership growth throughout 2020 and into the first half of the calendar year 2021 could have taken the company many years to achieve. Therefore, until we see management change their messaging to the market and some longer-term sustainable traction in products, we won't be buying the stock.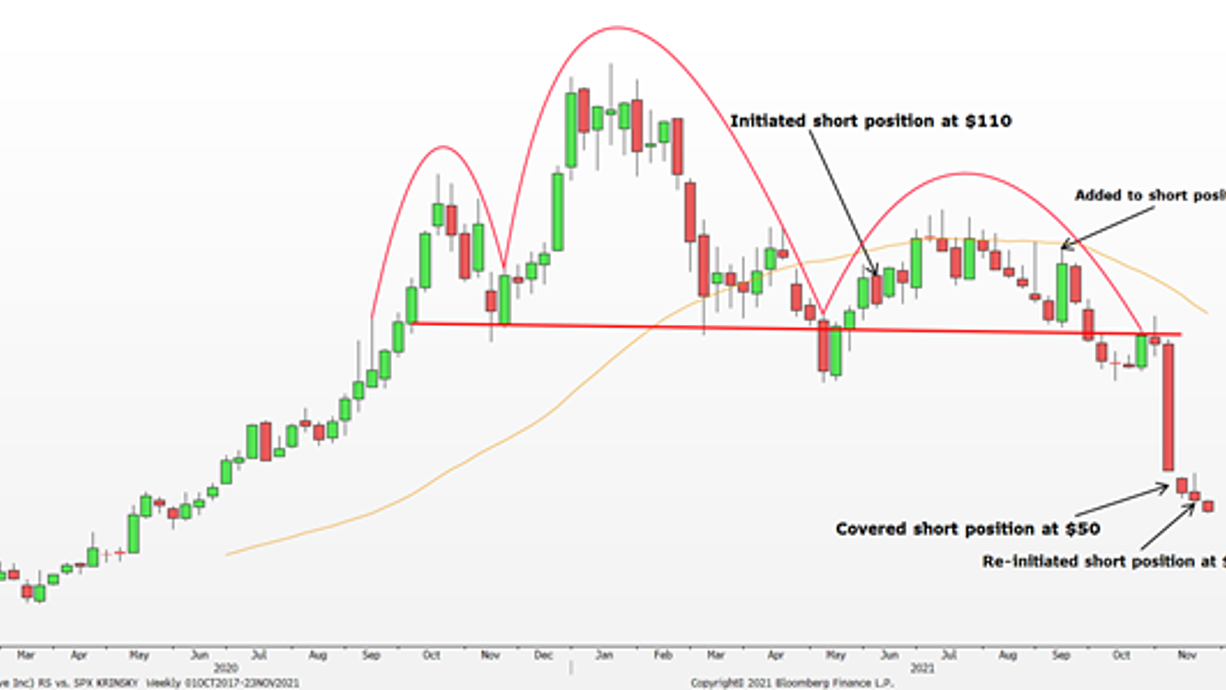 ........