Plato Income Maximiser lists on the ASX
---
Plato Income Maximiser Limited, the first Australian listed investment company aiming to provide monthly fully franked dividends, began trading on the Australian Securities Exchange today. The listing on the ASX follows on from an oversubscribed initial public offering, which raised $325.9 million, representing the third largest LIC IPO raising in Australia.
PL8, the first LIC managed by Plato Investment Management Limited (Plato), has been specifically designed for SMSF and pension-phase investors and is based on the investment strategy of the successful Plato Australian Shares Income Fund.
The funds raised will be used to invest in a diversified portfolio of Australian shares with an income focus.
For each share issued, one option (ASX: PL8O) was issued to participants. The options also began trading on the ASX today.
Plato Managing Director and PL8 Director Dr Don Hamson said the experienced investment team's consistent track record of investing for income combined with a transparent, liquid vehicle was clearly a powerful combination for investors.
"PL8 recognises the changing needs of Australian investors and has been designed to respond to investors wanting a dependable income stream from their investment portfolio," Mr Hamson said.
PL8 Chairman Jonathan Trollip added: "We are delighted the market has shown such confidence in Plato's proven investment process and that investors are now choosing to access it through a new channel.
"On behalf of the Board and managers of PL8, I would like to thank shareholders for their support in the offer and welcome them to the register of PL8."
Plato's Corporate Adviser to the issue was Seed Partnerships. CommSec acted as Lead Arranger, Book Runner and Joint Lead Manager with Ord Minnett and Taylor Collison. Co-Managers included Finclear and Wilsons.
Plato is supported by leading multi-affiliate investment management firm, Pinnacle Investment Management Limited (Pinnacle) which owns a minority stake in the business. Pinnacle currently has a stable of seven specialist investment managers that collectively manage over $25 billion.
To learn more, visit (VIEW LINK)
---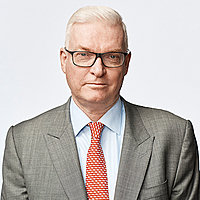 Managing Director
Plato Investment Management
Don has over 25 years investment management experience. He founded Plato Investment Management Limited in 2006. Prior to Plato, Don was Head of Active Equities, Asia Pacific and a member of the global Senior Management Group at State Street...
Expertise