Why the fundies never sell these stocks
---
Over the last 30 years, the average holding period for stocks on the ASX has fallen from around 6 years to less than 1 year. Despite the obvious benefits to longer holdings, like less tax, less dependence on timing, and more dividends, it seems investors are more impatient than ever. Against this backdrop, very long-term fund holdings present one good hunting ground to discover some 'tried and true' stock ideas.  
So we went to three of our partnering global managers and asked them what the longest standing position in the fund is, and whether it still has long-term potential.  
Read on to hear which three stocks Jordan Cvetanovski from Pengana Capital Group, Bill Pridham at Ellerston Capital, and Paul Mason from Paradice Investment Management have already backed successfully for many years, and are planning to back for a while yet. 
A midcap riding three industrial megatrends

ITT Inc (NYSE:ITT) is a US$ 5.8 billion market cap US-listed Industrial that resulted from a breakup of a much larger industrial conglomerate of the same name which occurred early in 2011. 
As we have seen several times over the years, spin-offs are an often-ignored part of the market which may allow for an attractive entry point. These companies also tend to benefit from focussed management teams and improved capital allocation over time.
The company creates products ranging from fluid handling pumps to advanced brake pads to mission-critical connectors. Each of ITT's products serves a vital role in a finished product, such as an Aeroplane, yet comprise a minor percentage of the overall build. Through our experience, we have found this setup a compelling value proposition for industrials and their ability to generate pricing power and margin expansion.

ITT has also conducted tuck-in M&A to add technology adjacencies during our ownership period. Despite this, ITT has a very conservative balance sheet, giving us comfort at this point of the cycle and ITT the flexibility to continue to grow inorganically should opportunities arise.
The fund has owned ITT Inc since November 2011, and the total return for unitholders through to December 31 2019 has been 426%, which works out as 22.3% per annum (USD) over the ~8-year holding period. 

Despite the strong shareholder returns, we continue to view ITT as a core holding for the Fund as the company benefits from several industry megatrends including increased automation, safety and overall efficiency.
Backing the biggest medical device company in the world
Jordan Cvetanovski, Pengana Capital Group

Medtronic (MDT:NYSE) is one of the largest ($US154 billion market cap), and most diversified, medical device companies in the world. It is our longest-standing position in the Fund, having been in the Fund for more than four years. 
We believe Medtronic still has significant long-term potential. Firstly, it is a leader in innovation with a robust pipeline of products. For example, Medtronic has always been the leader in pacemakers and the Micra VR, which is a leadless pacemaker about the size of a vitamin pill, has been approved by the FDA in the US since 2016. 
The Micra VR remains the only leadless pacemaker approved by the FDA and Medtronic recently received approval for the Micra AV, which expands the addressable patient pool to half the people requiring pacemakers, further enhancing Medtronic's lead in pacemakers.
Furthermore, Medtronic is on the verge of launching its surgical robot, a large and fast-growing market with only one large competitor, as well as its next-generation diabetes pump, and these will drive growth for many years.
In addition to growth from new innovative products, Medtronic is the beneficiary of favourable demographic trends as the ageing population will require additional medical devices to treat various health issues. 
Finally, emerging markets will be another growth driver as more patients will become diagnosed and affordability will increase with more wealth.
The longest-standing position in our portfolio is US-listed data center owner Interxion (INXN US) which we have owned for over four years. It is a position that was also owned in past endeavours since its IPO in 2011 and over the past 9 years we have built a strong understanding of the business and appreciation of its excellent management team. In a past call with the company, the head of IR commented that it has seemed like our kids have grown up together; we are proud of that.

Interxion is basically the Next DC of Europe and is the largest pure-play data center owner on the continent with exposure to >75% of European GDP with incredibly high barriers to entry. 
The European data center market is typically 12-18 months behind that of the US and with the insatiable demand for data continuing (and potentially accelerating with 5G applications) we consider the long-term potential as very attractive.
While it has appreciated considerably since we bought the position, and has recently been bid for in an all-share transaction by larger data center owner Digital Realty, Interxion will continue to compound earnings at a mid-teens rate at strong incremental returns on capital deployed. 
Going forward the business will be operated as a standalone inside Digital Realty; however, Interxion should benefit from greater cross-sell from Digital's extended customer base and the lower cost of capital associated with Digital Realty's REIT structure.
Summary
By most reports, average ASX holding periods are now measured in months. Though some say that once high-frequency trading is included, the relevant unit is minutes (or even seconds), not months. 
Either way, that is in stark contrast to the holding periods of the three stocks above from Paul, Jordan, and Bill, of 8 years, 4 years and 4 years respectively (or 5.3 years on average). Judging by the level of conviction for each, it sounds likely they will be in the portfolio for a while yet too. 
Jordan Cvetanovski nominated 

Medtronic, which has a market cap bigger than anything on the ASX on the basis of its a) leadership in innovation; b) product pipeline; c) demographic trends; d) demand from emerging markets
Picking the 'NextDC of Europe', Bill Pridham went for InterXion, the largest pure-play data center owner on the continent, which is set to thrive inside its new parent company and continue to generate strong ROIC. 
While ITT has increased more than five-fold over the last eight years, Paul Mason says it will stay a core holding as the company continues to benefit from several industry megatrends such as automation, safety and efficiency.
What's your 'hold forever' stock? Use the comments box below to let us know! 
Loyal but unloved: 3 stocks craving your attention
If you enjoyed hearing from Bill, Jordan and Paul on their longest-standing positions, we also asked recently asked each of them to outline the thesis for 
the most underappreciated stock in their portfolio
. I will publish the third wire in this series in the coming days. Click
FOLLOW
to get it first. 
---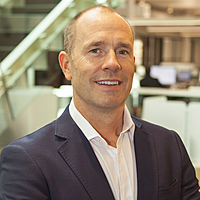 Alex happily served as Livewire's Content Director for the last four years, using a decade of industry experience to deliver the most valuable, and readable, market insights to all Australian investors.
Expertise