Powell plans some insurance
---
The past week has been all about the US economy and the Fed's reading of it. The June employment report produced a sharp upside surprise in non-farm payrolls growth: 224,000 was the strongest gain since January. The US dollar surged as markets priced in a reduced risk of Fed rate cuts.
This response was notable given that markets could have instead brushed off the jobs bounce as a payback from a soft 72,000 gain in May. Moreover, the unemployment rate ticked up to 3.7% and wages growth did not accelerate as expected, holding at 3.1% over the year.
This was not an isolated miss, with the 6 month annualised pace of earnings growth clearly decelerating. This is despite the unemployment rate holding close to 50 year lows, another setback for the Phillips Curve theory. In his semi-annual testimony to Congress, Fed chair Powell described the Phillips curve relationship between lower unemployment and faster wages growth as a "faint heartbeat."
As such, the Fed sees little risk of a sudden surge in inflation due to the tight job market. Indeed, whereas Powell in May described below-trend inflation as likely to be transitory, this week he warned of "a risk that weak inflation will be even more persistent than we currently anticipate."
Powell also noted slower global growth and fretted over trade tensions and Brexit. This all sets up the FOMC for a 25 basis point "insurance" rate cut on 31 July. Westpac's base case is for a cut in July and then once more, in either October or December.
The Aussie dollar is down about half a cent against the greenback over the past week, including 2 week lows just above 69 cents before Powell's dovish tone provided a reprieve. This week's Australian business and consumer sentiment surveys were conducted with plenty of time to ponder the economic outlook post-election and with the RBA cutting rates and parliament passing income tax cuts. On top of this, we have US equities reaching record highs.
Yet Australian consumer sentiment tumbled 4% in July and business confidence in June dropped back to well below long term averages. Such data is keeping markets focused on when, rather than if, the RBA cuts the cash rate below 1%. Such a move is about 80% priced by year-end.
In the week ahead, we see the minutes from July RBA Board meeting on Tuesday and then the June labour force survey on Thursday. Westpac expects a small dip in the unemployment rate from 5.2% to 5.1%, but this would be due to lower participation, with jobs growth expected to be a modest 10,000, after the 42,000 jump in employment in May.
So the labour force survey might not be much help to the Aussie and US-China trade tensions continue, with President Trump upset that China has not increased its purchases of US agricultural goods since the G20 meeting. But on the positive side, iron ore prices remain around US$120 a tonne despite complaints from the top Chinese steel industry lobby group.
Furthermore, downside on the Aussie should be limited so long as the US dollar is undermined by markets persisting in pricing a 20% risk of a 50 basis point cut this month. In that regard, the near term focus is the US June retail sales report. We will update you on this when we speak to you next week.
---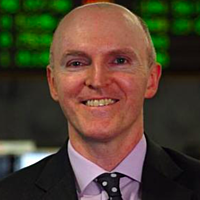 Senior Currency Strategist
Westpac Bank
Sean Callow is Westpac Bank's Senior Currency Strategist, based in Sydney. Sean focuses on the Australian dollar and other G10 and Asian currencies. He has worked in strategy and economics roles in New York, London, Singapore and Melbourne.
Expertise