Property acquisition by the numbers: costs and returns
---
The COVID-19 pandemic has set industrial assets on a new course as one of the strongest performers in the property market. Industrial assets include warehousing, data centres and manufacturing, all of which boomed during COVID-19 and are unlikely to fade away through the recovery. This has not escaped the attention of Stuart Wilton, fund manager for Centuria's Industrial Income Fund No. 1.
"Industrial property has definitely been one of the strongest, if not the strongest performer, out of all the major property asset classes increasing in demand in the past 12 months," said Wilton.
"The total returns that they've achieved over the past 12 months has been around 11.7% (1)" he said.
Undeniably, e-Commerce hit its stride throughout the pandemic. There have also been significant flow-on effects to ancillary services and indirect beneficiaries of e-commerce. The online sales market in Australia grew by 70.8% YoY in October 2020, according to the ABS, and this directly translates to a greater need for industrial assets for long term warehousing, port-to-port storage, and "last mile" delivery services.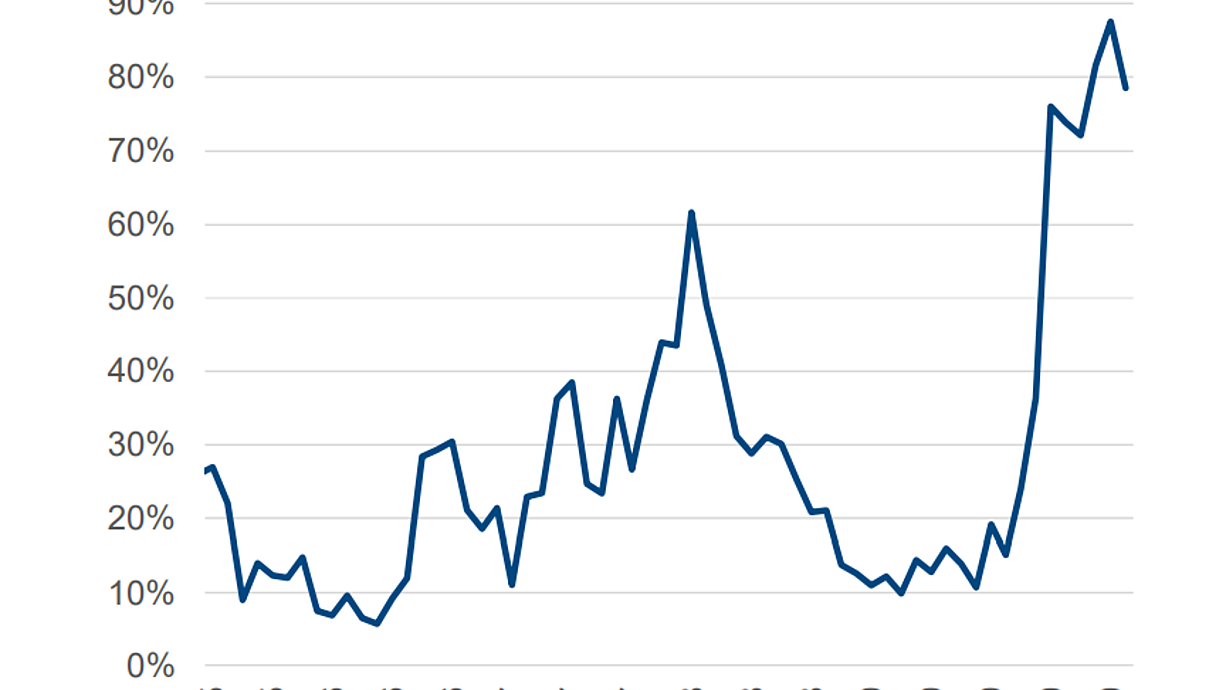 "There was actually a study done recently in the US that suggested that for every $1 billion of online sales you need about 85,000 square metres of warehouse space," said Wilton.
"So, if you just equate that to the $6.9 billion that was spent in online sales in Australia last year, that equates to about 580,000 square metres of additional warehouse space that will be needed," he said.
Not only that, technology companies and cloud storage are also on the rise. Data centres are pegged as a largely untapped opportunity in Australia as increasing cybersecurity risks mean more companies prefer locally held data, and colocation services (where the multiple data servers are stored together on behalf of different companies) are becoming favoured by companies as a more cost-effective and secure data storage method.
What to look for in an industrial property fund
There are a few underlying fundamentals for investors to use to analyse property funds that hold true for all asset acquisitions and these are location, tenant, cost and returns. While this list is non-exhaustive, the astute investor should have some awareness of these to make sure your fund manager's investment strategy is sound.
In theory, you're relying on your fund manager and, in turn, their asset managers to be across the detail of each asset and its tenants. Primarily, as an investor, you're looking to your income yields and your capitalisation rate (cap rate), but here are a few other features to examine closely.
1. Location, location, location
The adage "location, location, location" (a renowned expression well before it became a reality tv show) holds true for industrial assets. But it certainly doesn't mean you're looking for a premium beachfront site for your next data centre or warehouse. You want to make sure that the underlying tenant will be in a good position to access their primary business or client base, which also speaks to the strength of the covenant with the tenant: the fund's success depends on the tenants' success.
Let's take one of Centuria's industrial assets as an example.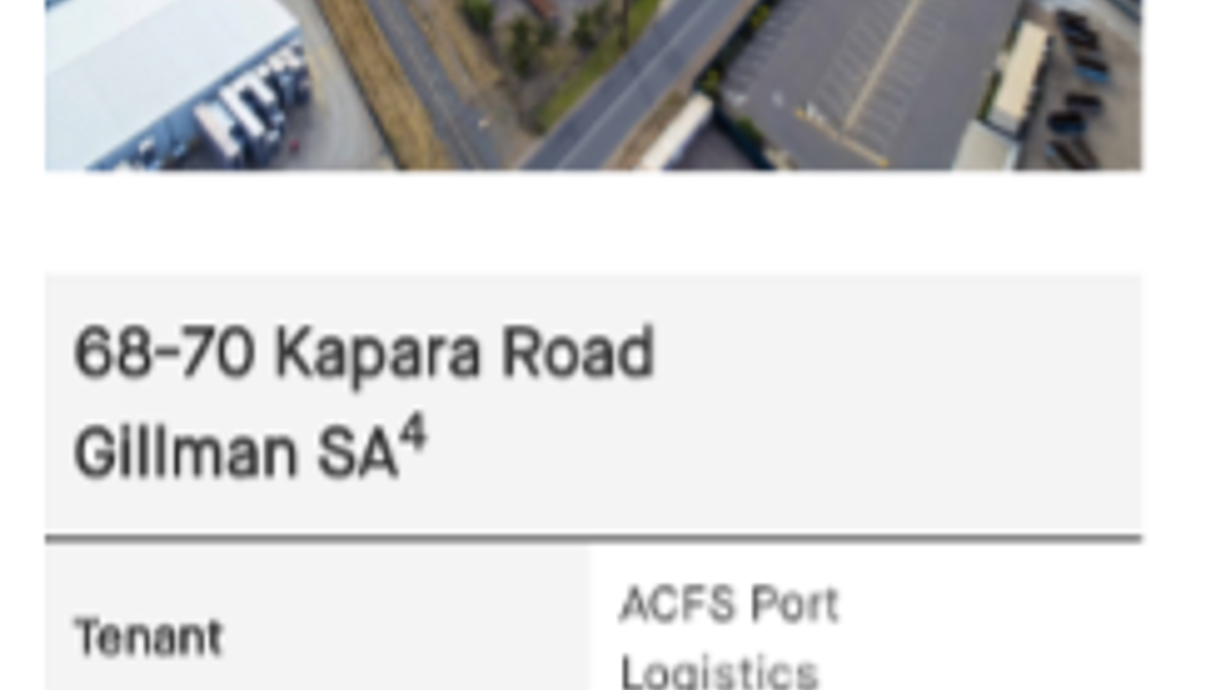 Image: ACFS Port Logistics; Source: Supplied.
The ACFS Port Logistics holding sits in Gillman, SA right on the edge of Port Adelaide. With no more than a quick Google Earth scan, you can see this asset is in close proximity to its primary business, the port itself. As the largest privately-owned port logistics company in Australia, there is a very low chance that this tenant is going to pack up shop and move somewhere else. Some other location issues the fund will pay attention to are around the vacancy rate in the local area and whether or not the tenant is likely to expand or contract in the near future.

"Through our contacts within the industry, we are relatively confident that the site suits them from a location point of view, but also it's somewhere they will need to be, and it will likely facilitate their needs into the future," said Wilton.
Zoning restrictions in Australia provide another layer of certainty, as the industrial market's supply is somewhat restricted and predetermined. In the life of a six-year fund, the market isn't about to become flooded with industrial assets, particularly in tightly held markets such as inner-city rings or sites with close proximity to rail and ports.
2. Acquisition by the numbers: costs and returns
This asset mentioned above was acquired on a 6.75% capitalisation rate (cap rate) with a 3.3-year weighted average lease expiry (WALE). For an attractive investment, you want a long WALE and a high cap rate, and Wilton has said the fund has a weighted average cap rate of 6.00% and WALE of 9.1 years
The cap rate is determined by dividing the net operating income against the current market value. So as the value of the asset goes up (as you hope it will) the cap rate should also rise, assuming outgoings stay the same, or similar. Some landlords also look at potential inflation to the rental income as a way of deriving better returns. The ability for a tenant to pay its rent is imperative to the income structure
The WALE is important relative to the life of the fund. When the fund is winding up you want to ensure the asset is tenanted, perhaps diversely tenanted, and you want to make sure you're not going to be loaded with an asset with no, or significantly lower income, for the duration of the fund. The lower the income over the life of the fund, the lower the rate of return. This is much easier to manage in a multi-asset, close-ended fund like Centuria's. 
3. A savvy fund manager
Every fund manager will tackle the key issues to a differing degree, and a smart fund manager will be able to look far into the future for possible upside as well as manage the underlying asset for successful income.
For Stuart Wilton, the ideal property investment features a few key things:
Secure cash flow underpinned by strong tenants within a high-quality asset
A location with limited supply or land available to develop
Potential for nearby infrastructure upgrades to improve access to major transport networks and amenity
A "sticky" factor for your tenant: why they are located within the area
Possible redevelopment potential, or conversion to alternative uses
"If you combine all of these characteristics, you hopefully end up with an investment that produces a good income return while the location improves and facilitates an uplift in the market rents or access to the redevelopment potential in order to maximise returns," said Wilton.
Conclusion
For some, property is a lumbering asset to invest in and it doesn't have the thrill of more volatile investments.
But the returns from a good fund manager are still out there and when looking for income, an ongoing yield from an asset is a great boon for investors. Like any investment, you need to know the market well, understand the fundamentals of the investment and be aligned with the investment philosophy of your fund manager. If you find yourself in this position it can be an incredibly rewarding investment class, if not, in part, because you can (and should) drive past and check out the buildings you own.
Compelling stories drive compelling investments
The Centuria Industrial Income Fund No.1 is an unlisted closed-ended industrial fund with a multi-asset portfolio. With a 6-year initial investment term and monthly distributions, it's a well-positioned portfolio for investors seeking income returns. Click here to find out more.
Footnote
(1) MSCI, Colliers International
........
Disclaimer: Centuria Property Funds Limited ABN 11 086 553 639, AFSL 231149 (Centuria) is the responsible entity for the Centuria Industrial Income Fund No.1 (Fund) (ARSN 646 752 178). This article is of a general nature only and does not take into account the objectives, financial situation or particular needs of any person. You should consider whether this information is appropriate for you and consult your financial or other professional advisers before investing. You should obtain and read a copy of the PDS relating to the Fund before making a decision to invest which is available at centuria.com.au/ciif1. Centuria and its associates will receive fees in relation to an investment in the Fund as disclosed in the PDS. Investment in the Fund is subject to risks including possible delays in payment or loss of income and principal invested. Centuria does not guarantee the performance of the Fund. CA-CPFL-02-02-21-001276.